/ Source: The Associated Press
Demand for big-ticket manufactured goods plunged in August by the largest amount in seven months, with widespread weakness signaling a slowdown in the United States' industrial sector.
The Commerce Department reported Wednesday that orders for durable goods, everything from commercial jetliners to home appliances, fell by 4.9 percent in August, the biggest decline since a 6.1 percent fall in January.
It was far larger than the 3.5 percent drop that economists had been expecting and resulted from across-the-board decreases in a number of categories. The concern is that the steep downturn in housing and turbulence in financial markets could start to affect the economy more broadly, raising the risks of a full-blown recession.
"The relatively broadbased decline in big-ticket item demand is another sign of the softening economy," said Joel Naroff, chief economist at Naroff Economic Advisors.
Of particular concern, orders in the category considered a proxy for business investment plans edged down by 0.7 percent in August, the second decline in the past three months. Business equipment spending has been one of the bright spots for the economy this year.
"Housing and financial market concerns present considerable downside risks to the short-term outlook for the factory sector," said Ciff Waldman, an economist for the Manufacturers Alliance/MAPI.
The Federal Reserve last week cut a key interest rate by a bigger-than-expected half-point, hoping to avert a slump. Analysts believe further rate cuts are likely at the Fed's final two meetings of the year in October and December.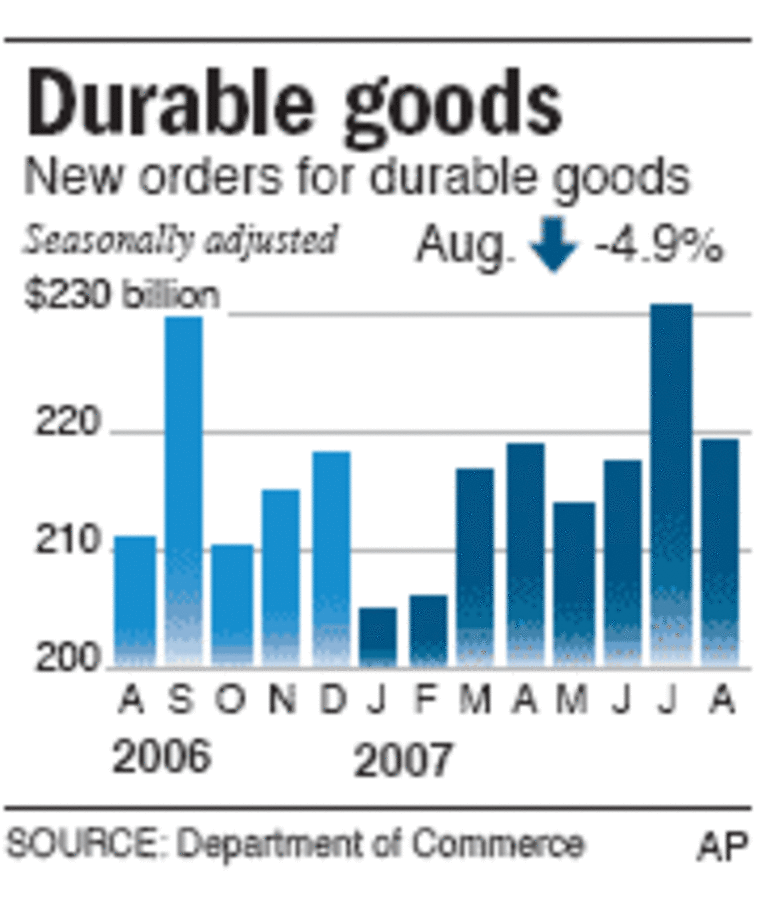 Many analysts believe the overall economy, after racing ahead at a 4 percent annual rate in the spring, slowed in the summer to growth in the gross domestic product of around 2.5 percent with the continued troubles in housing and the spreading credit crunch lowering growth estimates to 2 percent or less in the final three months of the year. Some economists are putting the chances of a recession as high as 50-50.
The 4.9 percent fall in orders for durable goods, items expected to last three or more years, followed a big gain of 6.1 percent in July. That increase reflected in part a jump in demand for autos as dealers tried to stockpile inventory in advance of a threatened strike.
For August, orders for transportation equipment fell 11.2 percent, the biggest setback since January. The weakness was led by a 41 percent drop in demand for commercial aircraft. Boeing Co. reported fewer orders in August after a big surge in both June and July.
Orders for motor vehicles and parts dropped 6.2 percent after having jumped by 10.5 percent in July. Offsetting the weakness somewhat, demand for military aircraft shot up by 43.2 percent.
Excluding the volatile transportation category, orders would have still been down by 1.8 percent after a 3.4 percent rise in orders outside of transportation in July.
Orders fell in a large number of categories including primary metals such as steel, machinery and communications equipment. Demand was up for computers and electrical equipment.