/ Source: Forbes Traveler.com
"Take a look. Cohibas."
I'm sitting in a taxi, speeding along the Malecon with windows down. The night air smells heavy with salt; the few lights that mark Old Havana sparkle in the distance. My driver had urged me — oddly — to sit in the front seat, then suggested I look in the glove box. Wrapped in a white plastic bag is a box of cigars. "Originales," he assures me.
Uh-huh. These "Cohibas" cost $20 each in the government-run stores, but my new friend is offering me a "deal": "$60 for all 25," he says with a smile. "Or $5 each." In the dark of the cab, I can't distinguish the cheapness factor, but they must be knockoffs. I buy one for amusement and step out into the bustling Plaza de la Catedral.
Tobacco may only be Cuba's third-largest export, but the cigar defines Cuba more than any other single product. It's a $240 million industry, offering work to farmers, scientists, rollers, and exporters (and of course the omnipresent phony-stogie hawkers): each year, the country produces some 150 million cigars, exporting most to Europe.
But though some say Honduran or Dominican cigars have eclipsed Cubans, they maintain their famous mystique. The combination of quality, the forbidden nature of Cuban travel, and the regal air of those who have enjoyed them — from JFK to Fidel — have combined to make the Cuban stogie the ultimate symbol of prestige.
So I flew to Havana for a look behind the smokescreen and to have a seemingly simple experience: find some great cigars and smoke them in cool places.
Leaves of class
Cigars have a storied history on this island, dating to the 18th century, when the first plantations arose in the east and moved progressively to the west. Though sugar was king, tobacco quickly grew in popularity, with Cuban natives (who named cigars cohibas) using them for religious, political and social ceremonies. It didn't take long, of course, before word — and demand — spread to Europe; soon thousands were toiling in the tobacco fields.
I figure those fields are the logical place to start. I wait for a ride out there at the Hotel Ambos Mundos in Old Havana, where Hemingway did some toiling of his own (and where his preserved room is on display). The faint air of colonialism still lingers in the woodwork and swirling fans of this open-air lobby, the perfect place to light up a Romeo y Julieta, Churchill's preferred brand.
As horses, buggies, and 1960s Chevys pass outside, I take in the smoothness of the Panetelas. "Nice, right?" says the man next to me. He's a Canadian named John and says he comes to Cuba several times a year. Though these stogies are legal in Canada, he buys boxes here — they're a bargain. "So you come back to buy cigars?" I ask. "No," he says. "Just to vacation." But when tell him I'm a journalist and casually ask why he comes so often — and what his last name is — he grows uncomfortable. "Smith," he says, and annoyingly storms off, tamping his stub in the black plastic ashtray.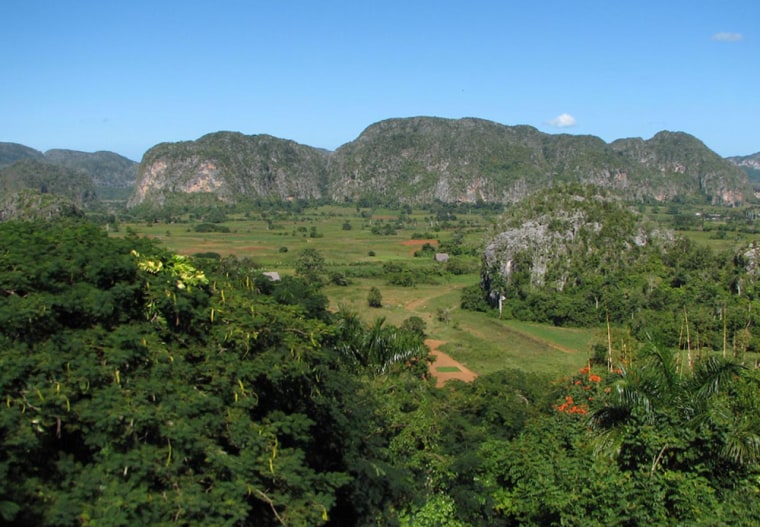 I'm doing the same when my ride arrives to Pinar del Rio — tobacco country. I travel west from Havana, and it isn't long before mountains appear in the distance and thatched roofs by the side of the road. The scents of eucalyptus, orange and grapefruit trees commingle in the humidity, which hovers around 70 percent year-round — ideal for growing tobacco.
In November, the plants were just starting to peek through the soil, but in the spring, there would be an explosion of leafy green. When farmers harvest, they pick leaves lower on the plant for lighter-flavored fillers and binders, saving those that have received the most sun for full-flavored fillers. The large leaves are cured on racks (traditionally inside thatched-roof huts) for a month or more; heat and shade reduces the sugar and water content and prevents them from rotting.
While some use more modern drying methods, it's not surprising that this land of old cars still uses traditional drying huts. Looking out over the gorgeous Vinales Valley, I see these thatched sheds dotting the landscape, while in between, farmers struggle behind lumbering oxen. Beyond, exposed limestone mountains block the horizon, trees jutting out of them with rounded tops that look like Brobdingnagian broccoli.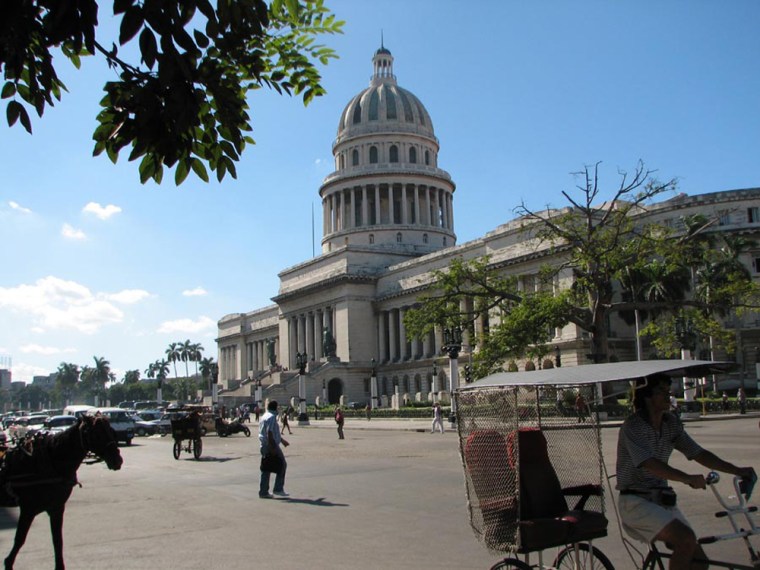 As the sun begins its descent, I head back to my hotel, the Nacional. Built in the 1930s to resemble the Breakers in Palm Beach, the Nacional quickly became the island's home of celebrity and royalty. The walls advertise their fabled guest list: Nat King Cole, Churchill, Jean-Paul Sartre, John Wayne, and more recently, Kate Moss and Hu Jintao.
But like most of Cuba, the Nacional retains merely a shadow of its former grandeur: rooms are dowdy, carpet has been patched in, the pool is dirty. Perhaps not surprisingly, the biggest names the hotel could claim by 2002 were two members of the Backstreet Boys, and by 2005, the governor of Nebraska.
I step out on the back patio, where the calm and serenity make up for the hotel's shortcomings. Looking out over the Malecon and the water beyond, backlit by the setting sun, it seems the perfect place for my Montecristo No. 5.
I order a mojito and light up the short cigar. It's rather like an aperitif itself: smooth, medium-bodied with hints of leather and oak. It's almost a shame the smoke drifts off toward the hotel's towers. I'm very content, but as darkness settles, the patio lights flicker on and suddenly I'm surrounded by fluorescents. This is romance, Cuba style. People continue their conversations, unaffected, but for me the mood is lost and I go inside.
Rolling shown
Tabacuba — the government agency that runs the tobacco industry — keeps a heavy veil over its domain, so it's not always easy to what happens when leaves arrive at the factory. The Cohiba facility, for example, is closed to everyone but VIPs (Tabacuba told me I didn't qualify).
In fact, one of the only factories offering tours of the manufacturing process is Partagas, founded in 1845 and conveniently set near the capitol building. I check my camera as mandated and join the obligatory tour group, though not before a security guard says "Psst" and pulls a box of 5 "Cohibas" from his blazer. I shake my head.
The guide says this factory produces 20,000 cigars per day — all for export — under different labels; even Cohibas are manufactured here. We're shown a room full of leafy bundles from the farms; 10 women sort them into piles as the guide passes around a binder leaf, which feels like vinyl.
The leaves go through at least a couple rounds of fermentation (leaves slated for Cohibas go through three), which reduces acidity, tar and nicotine; it's a process that can take as long as a few months. In between, the leaves must be moistened, sorted and classified by size, color and flavor, with the best leaves reserved for the best cigars. They're sent to a warehouse for anywhere between one to five years of aging, then blended. Tabacuba keeps their blending formulas as secret as Coke.
We're led to a room with some 300 workers layering, moistening, pressing and cutting the leaves into perfect cylinders. Since other countries are growing excellent tobacco, expert rolling is where Cubans now stake their claim. These are no amateurs — the training process takes nine months — and even independent experts say it pays off, that Cubans are some of the world's finest rollers. But the scene is depressing, with poorly clad (and, presumably, poorly paid) workers rolling like drones, some of them smoking the products of their labor, which seems like a bad idea with so many dried leaves around.
As long as they make their quota — some 100 cigars per day, depending on the size and brand — they can smoke what they want and take home three each day (so yes, some real cigars do end up on the black market). The tour leader moves on, and a worker flashes me yet another small box of "Cohibas." But with wooden latticework in between us, I can't fathom how the transaction would go down. I follow the group.
We end up in the label/boxing room and then, of course, the gift shop, where I buy what the clerk calls a "very strong" cigar — a Partagas Series D #1, limited edition 2004 — and take it to Floridita, a Hemingway hangout, figuring Papa would be proud. Hemingway has become a brand name in Cuba, and this bar is one of the only places with a neon sign (forming his signature). The restaurant is pretty in a heavy, formal way and serves theme dishes like tenderloin "Papa style" (with choron sauce) or "Gregorio style" (with ripe plantains and hunter sauce).
I sit at the bar and light up the Partagas; it's so strong it makes me dizzy. Outside it's a gorgeous day, and there's something about being in this dark, tourist-filled bar drinking overpriced daiquiris that also makes me slightly queasy. I put out the stogie and step out into the sunshine.
Private's booty
Clearly, my quest is not going well. But things look up when I hear about a private club with a private beach in Havana's suburbs. It seems the ideal place to smoke my Cohiba Siglo III, the highest-rated corona in Cigar Aficionado's latest taste test.
Club Habana is the most upscale locale in the city, and possibly the entire country. Diplomats and VIPs flock to its Italianate buildings, protected waters, 100-meter-long beach, immaculate pools, Jacuzzis, and restaurants. Yes, it's private, but $10 and my passport get me in.
I enjoy an afternoon of dipping in the pool, dining on fresh-caught fish, walking on the beach, cooling off in the ocean. It's a relaxing place, but it's sterile, absolutely lacking in character; and when as the sun goes down, all the people disappear. Disappointed again, I call for a taxi back downtown.
My favorite time for a cigar is after a great meal, but a gourmand's paradise Cuba is not. The few exceptions are the privately run restaurants, called paladares. One of those is a little place called La Guarida, where the Oscar-winning Cuban film "Fres y Chocolat" was filmed. Just getting here is a bizarre experience: you step into a dilapidated building, walk past dominoes players and rusted cars, climb a darkened staircase and arrive at a simple door.
Outside may be Syria, but inside is SoHo. Modern art hangs on red walls and looks down on a mosaic floor, as strains of Coltrane drift softly into the candlelit space. The food arrives with a combination of flavors that's hard — if not impossible — to find in this bereft nation. I'm tempted by the pork medallions with mango but go for the swordfish filet with vanilla and saffron sauce — it's the best meal I've had all week.
Sated, I walk back through the darkened streets of Centro Habana, determined to find a great place to enjoy my Cohiba. The Parque Central, a newer hotel, has a nice roof deck with a pool, but there are loud tourists there drinking heavily. I'm about to give up when I see a sign outside the Hotel San Miguel advertising a roof patio. The hotel is a 1920s mansion on the edge of Havana Vieja, and the fourth-floor balcony offers a dramatic view overlooking the city harbor and its forts.
What's even better, I'm all alone when the bartender brings me a beer and offers to light my cigar. I ask him to light two: the "Cohiba" I bought from the taxi driver and the Siglo. He's quizzical but he agrees, wafting the flame from a cedar stick deep into the dried leaves of both.
Left alone, I take a pull on the "Cohiba," already so dry its leaves are flaking off. The loose wrap attests to its machine-made roots, and it tastes a bit like tar. I give it a rest and pick up the Siglo III: solid and tightly wrapped, it smells inviting before I even pull on it. When I do, my mouth fills with a rich flavor that reminds me of slightly sweetened coffee. Between puffs, I get a spicy aftertaste with a hint of chocolate. I'm happy.
I'm happy with my perch as well. Watching pedestrians and cuddling couples in the park below, it's easy to feel like Fidel addressing the masses. A '57 Chevy drives by, followed by a late-model BMW. It's part of the confusing nature of today's Cuba — mostly old, with international investment bringing a sprinkling of new. When the U.S. ultimately lifts its trade embargo, Americans and cigars will pass freely — and liberally — across the Straits of Florida. But will the Cuban mystique disappear when stogies flood South Beach?
A deep horn interrupts my thoughts — it's a barge pulling out, chugging slowly toward the sea, probably laden with cigars. I watch its slow progress, enveloping my mouth with smoke, fully enjoying the moment.