PICKAWAY TOWNSHIP, Ohio — At 8:25 every weekday morning, Jim and Judy Little stand on their front porch to make sure their granddaughter, Shelby, gets safely on the school bus that takes her to her elementary school. Then they watch as the bus drives across a bridge that, at the beginning of the school year, was more than a year late for its safety inspection.
After 13 people died in August when a freeway bridge fell into the Mississippi River in Minneapolis, governors across the nation rushed to calm fears. Using almost identical language, states assured the public that bridges are safe, because federal regulations require inspection of "every bridge at least once every two years."
In fact, at least 17,000 bridges in the U.S. went more than two years between safety inspections, according to federal records analyzed by msnbc.com. These newly released records from the National Bridge Inventory include inspections through 2006. Although Congress in 1971 ordered rigorous standards for inspecting bridges every 24 months, the records reveal a system in which the buck is passed down from federal to state to local governments, without penalty for those that fail to protect the public.
Bridges reported past two years since their last inspection include the obscure, crossing the Dangerous River in Alaska and Bayou Funny Louis in Louisiana, and the heavily traveled, carrying traffic on Interstate 5 in Los Angeles and Cicero Avenue in Chicago.
Fame is no guarantee of an on-time inspection. San Francisco's Golden Gate Bridge is being checked now, nearly a year behind schedule.
The bridges reported missing a two-year inspection include 1,411 on interstate highways. That's three out of every hundred freeway bridges.
Take a drive across America on Interstate 40 from Barstow, Calif., to Wilmington, N.C., and you'll cross 2,563 bridges — including at least 167 that went more than two years between checkups.
Bridges can slip years beyond their due date, such as a Minnesota bridge crossing the Mississippi at Sauk Rapids, just an hour upriver from the one that fell. When msnbc.com asked why the 65-year-old bridge went four years without an inspection, state officials said it had been scheduled to be replaced, but when the demolition was delayed no one put it back on the inspection list. It checked out in satisfactory condition the week after the Minneapolis collapse, and was closed in October when a new bridge opened.
All told, an estimated 107 million cars and trucks per day cross rivers, streams, highways and railroad tracks on bridges that missed their two-year inspection. That works out to about 1,200 trips per second.
You can check the inspection dates and condition ratings of more than 100,000 heavily traveled bridges using our interactive map.
Wide variation among the states
The collapse of the Interstate 35W bridge in Minneapolis reminded Americans that aging bridges are at risk. One out of four bridges in the nation is labeled as deficient or obsolete. In the new records including inspections through 2006, 25.0 percent of bridges are labeled as either structurally deficient or functionally obsolete, a slight improvement from 25.4 percent in the previous year, according to msnbc.com's analysis. These bridges are not necessarily unsafe, but a deficient bridge needs significant attention, and an obsolete one doesn't meet current design standards.
But without the billions needed to fix all the bridges, a driver can only hope that at least all the bridges are being inspected regularly.
The records, however, show that 2,728 bridges that had already been labeled as deficient or obsolete went more than two years since their inspection.
Some reassurance is found in the records. The great majority of the nation's 592,000 vehicular bridges — 97 percent of the total — were inspected within two years, according to the new records. That is, the bridges met the federal standard when msnbc.com gave states the benefit of the doubt, assuming that every bridge was inspected immediately after the inspection records were collected. That's why we say "at least" 17,203 missed the two-year inspection.
Still, it's little comfort that most bridges are inspected on time, if you cross one of the overdue bridges on your way to work or the grocery store.
Nearly half the states make it look easy. Four states — Delaware, Georgia, Nevada and Tennessee — were perfect, reporting that they inspected every bridge within two years. Another 19 states managed to report fewer than 1 percent of their bridges sliding beyond two years.
"No bridge should ever be late," said Ben Rabun, assistant to the chief engineer at the Georgia Department of Transportation.
Other states fell far behind. The worst rates, not counting bridges owned by federal agencies, were in:
Hawaii, where at least 46.5 percent of all bridges went beyond two years;
Rhode Island, 27.5 percent;
Arizona, 26.7 percent;
New Mexico, 17.4 percent;
West Virginia, 12.2 percent;
Illinois, 11.5 percent, and
the District of Columbia, 11.5 percent;
'There's no penalty' Although federal regulations assign to states the responsibility to make sure bridges are inspected on time, an official at the Federal Highway Administration said it has been at least 15 years since it has used the only disciplinary power it has: withholding highway funds for late inspections. (The official was allowed by the agency to speak only if his name was not published.)
Besides, the official said, withholding money might be counter-productive, making it harder for local governments to afford the inspections.
In Ohio, "As far as I know, there's no penalty," said Robert E. Parker, the county engineer elected by the voters of Pickaway County,
Ohio, just south of Columbus. Parker explained that he postponed the inspections of 76
bridges, including the one crossed each weekday by Shelby's school bus, saving about $200 per bridge.
Parker has a financial incentive to delay inspections. Because the money to inspect bridges comes from the same pot as the money to fix them, he said, he scrimps on inspections so he'll have a bit more for repairs.
"Nobody is saying we aren't going to get federal highway funds or state highway funds," Parker said, "so that's why we do it the way we do it."
His 76 bridges blew past a 12-month inspection deadline under Ohio law, the toughest law in the nation, then missed the federal 24-month deadline. Finally he paid a consultant to inspect the bridges after about 29 months each. One of the bridges is 107 years old and known to be vulnerable.
The Littles send Shelby, a fifth-grader, on the bus over a 25-year-old steel bridge crossing Scippo Creek, which is prone to flooding when debris backs up at the bridge. The bridge was inspected in mid-September 2007, 29 months after its last inspection, Parker said. He would not provide the results of that inspection, but its previous report shows it to be "satisfactory," one step below "good."
"The county is trying to save $200 instead of inspecting it?" Jim Little asked incredulously, just after putting Shelby on the bus with 30 other children.
"It scares you."
'Errors and inconsistencies'Even regular inspections can't guarantee that a bridge is safe. The I-35W bridge in Minneapolis was inspected on time, with inspections in June 2005 and June 2006. Investigators with the National Transportation Safety Board said in mid-January that they are focusing on a design flaw, a metal plate too thin to carry the load. Such a problem would not have been detected during inspections, which focus on wear, they said. The investigation may take months more to complete.
Nevertheless, regular inspections are intended to identify safety problems, hold down the cost of maintaining bridges and increase public confidence.
It can cost as little as $50 for a visual inspection of a simple concrete culvert, or more than $10,000 for a hands-on inspection of an older steel bridge.
Certified bridge inspectors climb over and hang under bridges made of iron, steel, stone, timber and concrete, checking every pin, pier, bolt, beam, brace, weld, truss, joint, splice, rivet, cable, girder, stringer, abutment and gusset plate, looking for rust, mold, cracks, scour, scaling, spalling, warping, corrosion, honeycombing, efflorescence, delamination and peeling paint, which can be caused by salt, wind, water, fatigue, friction, freezing, thawing, termites, fungi, earthquakes, chemicals, vibration, vegetation, barge strikes and mollusk borers, also known as shipworms.
Unlike elevators, bridges have no signs proclaiming, "Last inspected in ..."
So msnbc.com went to the records, asking for an updated copy of the National Bridge Inventory under the Freedom of Information Act. States and federal agencies submit these inspection records to the Federal Highway Administration. The new records, reflecting inspections through 2006, were submitted by the states in April 2007. Msnbc.com followed up with a survey of every state about inspection procedures.
The records aren't perfect. Although the Federal Highway Administration offered assurances that the records are "checked for errors and inconsistencies before being loaded into the database," several states thanked msnbc.com for pointing out mistakes in their records — errors that any modern data management system should have red flagged.
When Kansas provided latitude and longitude for mapping its bridges, for example, it placed 2,363 of them at the same location just a few miles north of the capital — not Topeka but Reykjavik, the capital of Iceland.
Kentucky officials didn't submit their inspection records at all this year, because of problems switching to new software, but promise that they have been keeping up with inspections.
In Pennsylvania, officials say they missed the deadline for data entry on many bridges. Most of the hundreds of bridges that they reported as being late were actually inspected on time, they said.
And several states objected to being held to the records they submitted in April. Bridges are being inspected every day.
Even if reporting of the bridge information sometimes lags, the National Bridge Inventory is the only comprehensive source of information on the health of the nation's bridges.
And many bridges do go years past their inspection due dates. In Wichita, Kan., 200 city-owned bridges went five years between inspections, from 2002 to 2007. No penalty was levied.
"We acknowledge that the city had fallen behind the formal inspection process, as had most Kansas communities," the city public works director, Chris Carrier, said in a press release when the inspections were finished in December. "However, because of our ongoing maintenance efforts, the safety of Wichita motorists has always been assured."
'We don't have responsibility' State departments of transportation across the nation told msnbc.com that many of the overdue bridges were not their problem, because the bridges are owned by counties, cities or towns.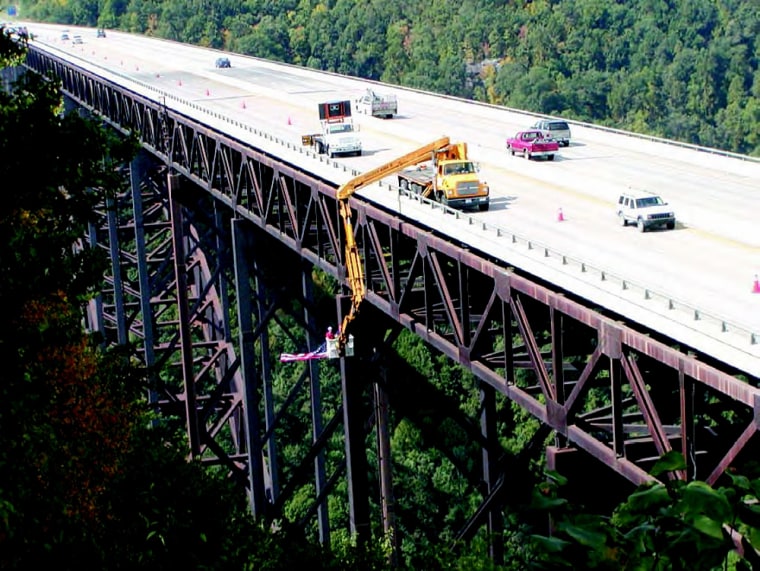 When Arizona officials were asked why some bridges were late, the answer came back: Those bridges are in Phoenix.
"Responsibility for the bridges remains with the local jurisdictions," said spokesman Doug Nintzel of the Arizona Department of Transportation.
In Ohio, "under state law we don't have responsibility for those bridges," said Scott Varner, spokesman for the state Department of Transportation. "I'm not saying that to wash our hands of the responsibility, but our ability to take action is limited by state law."
But the federal regulations are explicit: While states can delegate to local governments the task of bridge inspection, they cannot delegate the responsibility. States are responsible for every bridge within their borders, aside from those owned by federal agencies and private individuals.
States own overdue bridges, too. The greatest number of bridges that were reported past 24 months were owned by states (7,961), followed by local government (6,276), federal agencies (2,939), and other owners (27).
Hawaii, the state with the worst inspection record, also has one of the highest rates of deficient or obsolete bridges.Transportation officials said they leave bridge inspections to districts and counties, which employ no full-time bridge inspectors and rely mostly on contractors. "Many factors account for the late inspections," state transportation officials said in a statement, "including lack of manpower, lack of personnel to concentrate primarily on bridge inspections, personnel performing dual duties with unclear priorities, poor timing of procurement for consultant services, etc."
The officials said this week that Hawaii is catching up on inspections, down from 500 overdue bridges to about 100, with a goal of being caught up in February. And the state is considering a new approach: "The only changes we are discussing and evaluating at this time is to emphasize that the bridge inspections should be done in a timely manner and given the priority that it demands."
Rhode Island, with the second worst inspection record, also ranks second in bad bridges, just behind the District of Columbia. State officials in Rhode Island said their inspection delays stemmed mostly from a decision to hand bridge inspections over to contractors. That meant the state went from 12 in-house bridge inspectors in 2000 to only three in 2007. It fell behind during that transition. The state also had delays inspecting bridges over Amtrak railroad tracks, but recently reached an agreement with Amtrak to get those checked, they said. As of this week, officials said they have 80 past-due bridges, down from 199, and should be caught up by the end of February.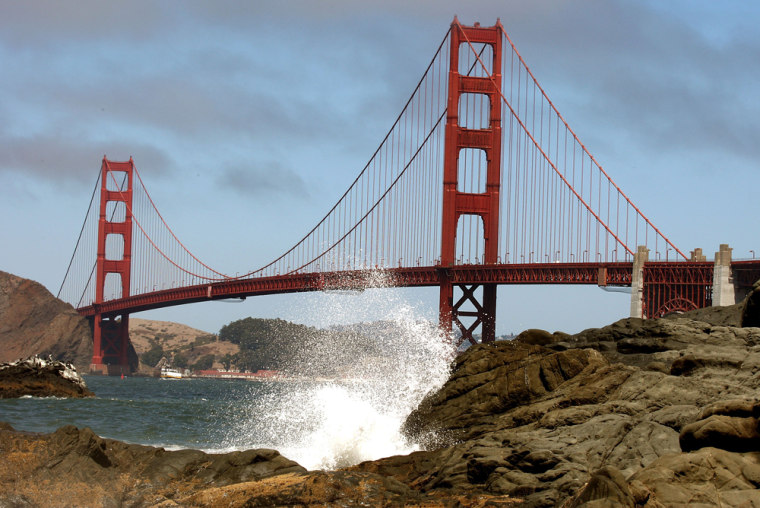 In San Francisco, the Golden Gate Bridge is running nearly a year behind schedule, but for good cause, an official said. The previous inspection started in June 2004, and continued for nine months until March 2005. The next inspection began on time in March 2006, but stopped, blocked by construction to bolster the bridge against major earthquakes. Inspection resumed in March 2007, and is expected to be finished early this year.
The 70-year-old landmark is closely watched and has workers on it nearly every day, said Mary Currie, spokeswoman for the Golden Gate Bridge, Highway and Transportation District. On its previous inspection, it scored 7.4 out of 9 points on its overall structural evaluation, or "better than present minimum criteria."
'Two years' doesn't mean 24 monthsSeveral states have redefined the concept of lateness, apparently with federal acquiescence.
In Maine, when Gov. John E. Baldacci announced in August that all bridges are inspected "every two years," his statement didn't mention that state records showed 86 bridges had not gotten that timely checkup.
Maine transportation officials said they had been considering a bridge as "on time" if it was inspected during the same calendar year as its due date. So a bridge inspected in January 2005 became past due, under the federal rules, in January 2007, but Maine wouldn't consider it late until a full year later, when the calendar turned over to January 2008.
Baldacci also appointed a task force to study the state's bridge program. Its recommendations were announced in November, including this one: The state should start inspecting its bridges every 24 months. Just as federal regulations require.
Why hadn't the state been following the rules? "We just continued to operate the way we have," said Ben Foster, assistant bridge maintenance engineer for the Maine Department of Transportation.
Besides, he said, the state's program was recertified each year by the Federal Highway Administration. "We got nothing from them saying you must comply now."
Maine was by no means the only state to boast incorrectly of two-year inspections. In the days after the Minneapolis collapse, nearly every state department of transportation put out a similar press release.
The national association of transportation officials gave them the language: "States carefully examine every bridge at least once every two years," said a statement in August by Jerome F. Williams, chairman of the public affairs committee of the American Association of State Highway and Transportation Officials, and director of the Rhode Island Department of Transportation, which in April had submitted records showing one in four bridges not meeting that test.
The association no longer makes that claim. After an interview Monday with msnbc.com, the association amended Williams' statement on its Web site. Now it says, "Except where federal exemptions are granted, states are required to inspect bridges on the National Bridge Inventory at least once every two years."
Uninspected bridges are not necessarily dangerous, the association said in a press release this week. "Even if an inspection falls outside the 24-month period, that alone is not an indication that the bridge is unsafe for public travel, or cause for public alarm.  States take immediate action on bridges with critical needs."
In New Mexico, Gov. Bill Richardson, then a presidential candidate, said in a press release that bridges are inspected "every two years." His state had reported 636 bridges that hadn't been checked within two years.
And in Ohio, the Department of Transportation reassured the public: "Ohio law requires that every bridge in the state be inspected every year."
The press release didn't mention that the state's records showed 2,068 Ohio bridges overdue for that inspection.
Taking responsibilityTexas officials say they take to heart their responsibility for every bridge within the state's borders. Because many counties are too poor to do the inspections, the state Department of Transportation does it for them.
"We inspect every bridge with rubber tire traffic over it," said department spokesman Chris Lippincott. "The public on the highway doesn't give a damn whose bridge it is."
State officials in Kansas, which has more than 130 local governments inspecting bridges, say they need to find a better way, perhaps taking over more of the inspections. After the Minneapolis collapse, the Kansas Department of Transportation started discussions with cities and towns. The price: A change might require holding back some highway money that has been passed down. A task force is scheduled to start meeting in February.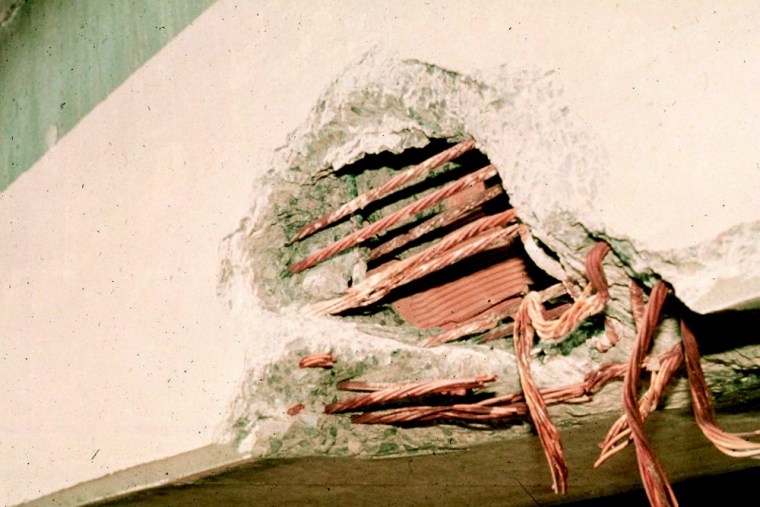 "We're not doing what we should be doing to comply with the federal law," said Jerry T. Younger, Kansas deputy secretary for engineering.
"And, frankly, not doing what we can to reassure the public about the safety of the bridges."
Although the National Bridge Inspection Standards require every bridge to be inspected at least every 24 months, states can get permission to extend the schedules for certain types of bridges, such as newer bridges in excellent condition.
About half of the 17,000 bridges that were reported going past 24 months between inspections may have such permission. Those 8,314 bridges are listed by their states on schedules longer than 24 months, but the records also show that thousands of these bridges violate federal guidelines for such lax treatment, because they are too deteriorated, too old or too busy to qualify for delayed inspections.
The federal highway administrator, J. Richard Capka, would not agree to an interview about bridge inspections. A spokeswoman for the Federal Highway Administration, Nancy Singer, said Capka would not talk because twin investigations are under way, by the inspector general of the U.S. Department of Transportation as well as the federal Government Accountability Office, to determine whether bridge inspections and funding are adequate, and because the investigation of the Minneapolis collapse is continuing.
Singer also said that the National Bridge Inventory isn't used to monitor inspections but exists primarily to hand out federal highway money to fix the neediest bridges. The real work of monitoring inspections is done by highway administration staff working around the country, using the live data kept by states. But she said that the information in the National Bridge Inventory is extracted from those working databases, so if a bridge was reported overdue in the national file, it was overdue in the local file, too.
Several state transportation officials said in interviews that, although they want to do the right thing, there's not enough money to inspect all the bridges on time. They don't lack for staff — in response to msnbc.com's questions, every state said it has sufficient inspectors, when counting outside contractors. But some said they lack for money to pay those contractors and supervise all the counties and communities that own bridges.
"It is a function of funding, ultimately," said David Severns, the assistant chief structures engineer for Nevada, one of a handful of states with a perfect record.
"I don't think there's anybody who gets up in the morning and says, 'I want to have unsafe bridges.'
"My wife and my kids drive over other people's bridges, too."