/ Source: msnbc.com news services
Secretary of State Condoleezza Rice insisted on Thursday that the Bush administration was serious about global warming and tried to assure skeptics that President Bush's gathering of major emitting nations would not undermine U.N. efforts.
But some participants and environmentalists were unconvinced, voicing concern that Washington was trying to rally support for voluntary emissions cuts rather than the mandatory reductions called for in the 1997 Kyoto Protocol.
"I want to stress that the United States takes climate change very seriously, for we are both a major economy and a major emitter," Rice said at the start of the two-day conference.
"Climate change is a global problem and we are contributing to it," Rice said. "Therefore, we are prepared to expand our leadership to address the challenge."
Outside the State Department, where the sessions were held, dozens of protesters held up anti-Bush placards that read "Bush is a criminal" and "Stop Global Warming Now."
Diplomatic security formed a line to stop protesters from entering the building. Nearly 50 demonstrators were arrested.
By most counts, the United States is the world's top emitter of greenhouse gases. But Bush, who rejected the Kyoto Protocol because it does not include developing nations, continues to resist binding targets, calling instead for voluntary approaches.
Rice said individual nations should set their own goals to curb climate-warming emissions, especially carbon dioxide from coal-fired power plants and petroleum-fueled vehicles.
The challenge cannot be dealt with entirely as an environmental question, she added, but "in a way that does not starve economies of the energy that they need to grow."
'Devil is always in the detail'
Critics questioned whether such voluntary targets would work.
"We appreciate the sentiments expressed by Secretary Rice, but the devil is always in the detail," South African Environment Minister Marthinus van Schalkwyk told Reuters.
"That is still the crux of the difference between the approach of the U.S. and the approach of the rest of the world," he said, referring to the split over voluntary and mandatory targets. "For us this meeting is obviously to determine if the U.S. is willing to change (its) approach on that issue."
Added Angela Anderson, vice president for climate programs at the Washington-based National Environmental Trust: "I do think this meeting is a deliberate attempt to suggest a very different framework for the new international agreement, one that's based on voluntary measures."
But an Indian official said U.S. official had repeatedly said they were not trying to circumvent the United Nations. "We are fairly reassured on that point now," he said. "The great thing is the U.S. is engaging on climate change."
Chief U.N. climate change representative Yvo de Boer told the conference he thought the discussions could contribute to the U.N. process. At a December U.N. meeting in Bali, Indonesia, representatives will consider a way to cut emissions after the Kyoto pact expires in 2012.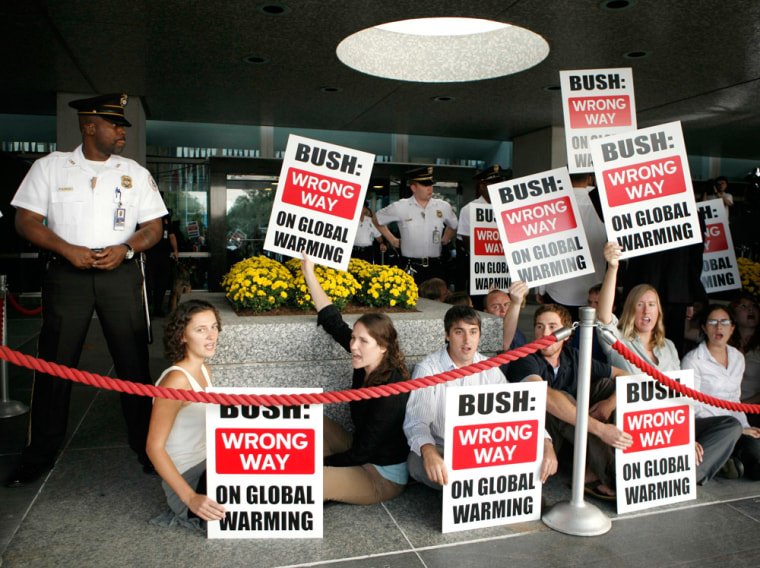 De Boer said it was crucial that industrialized countries commit themselves to an aggressive approach that would involve "going well beyond present efforts, given their historic responsibility and their economic capabilities."
One of the Bush administration's objections to Kyoto was that it exempted fast-growing economies like China and India while penalizing rich countries like the United States.
At least one study this year indicated that China is now the leading emitter of greenhouse gases, ahead of the United States.
A U.N. meeting on Monday drew more than 80 heads of state and government to focus on the problem of global warming. Bush skipped that meeting although he attended a working dinner hosted by U.N. Secretary-General Ban Ki-moon.
Other participants at the U.S. climate meeting were the European Union, France, Germany, Italy, the United Kingdom, Japan, Canada, India, Brazil, South Korea, Mexico, Russia, Australia, Indonesia and South Africa.
British envoy's plea
European leaders, who concede that the biggest emitting nations must be part of any solution, are walking a thin line between skepticism and optimism.
"What would really galvanize the international efforts on climate would be a set of policies in the United States to put the United States on a fast track to building a low-carbon economy," John Ashton, Britain's climate envoy, said in a telephone interview. "We now need to stop talking about talking and start deciding about doing."
"We know that a voluntary approach to global warming is about as effective as a voluntary speed limit sign in the road," he said in a separate interview. "We don't just need an approach that works; we need an approach that works very quickly."
The U.S. meeting competes for attention with the U.N. climate change summit that was held Monday in New York City at which Ban warned world leaders that "the time for doubt has passed" and urged fast action to save future generations from potentially ruinous effects of global warming.
In addition, three U.N. envoys on climate change and the German environment minister urged U.S. lawmakers Wednesday to commit to binding caps on emissions of carbon dioxide and other greenhouse gases.
Haves, have-nots
The U.S.-led talks unite some countries at both ends of the economic spectrum, the haves and have-nots, that are opposed to mandatory cuts in greenhouse gases — but for different reasons. The Bush administration and a few allies worry about harm to local economies. Developing nations, for their part, do not want to give up ground toward industrializing and meeting basic human needs.
"For a developing country, the main task is to reduce poverty," Xie Zhenhua, vice chairman of China's national development and reform commission, told a forum Wednesday sponsored by the Center for Clean Air Policy, a think tank.
Mexico's environment minister agreed. "We have always to bear in mind that half our population is at the poverty line," said Juan Rafael Elvira Quesada. "We are also extremely concerned about the consequences, the adverse effects of climate change."
They expressed a strong preference for the climate negotiations later this year in Bali, Indonesia, sponsored by the U.N. Framework Convention on Climate Change, for which Ban's summit Monday was intended to build momentum.
"All these discussions should be taken within the framework of the UNFCCC and the Kyoto Protocol," Xie said.
But developing countries still are trying to curb their emissions while lifting the welfare of their citizens, said Sergio Serra, Brazil's envoy in charge of global warming issues.
"It is a myth to think the developing countries are doing nothing to address climate change," he said.