The U.S. economy grew at a slightly slower but brisk 3.8 percent annual rate in the second quarter, and fresh signs of a surprisingly buoyant job market emerged last week, government reports on Thursday showed.
The Commerce Department revised down its estimate for gross domestic product, the broadest measure of total output of goods and services within U.S. borders, from 4 percent it announced a month ago because of faster imports.
Separately, the Labor Department said new claims for unemployment insurance dropped by a steep 15,000 last week to 298,000, reinforcing an impression the economy remained resilient despite the drag from a slowing housing sector.
"It suggests the economy is still doing well outside of housing and it suggests that the bad employment news we got in August will not be repeated in September," said economist Gary Thayer of A.G. Edwards & Sons Inc. in St. Louis.
Economic expansion in the April-June quarter was close to economists' expectations and handily eclipsed the first quarter's anemic 0.6 percent rate. Growth is expected to slow because credit problems that originated in subprime mortgage markets are expected to make consumers more reluctant to spend and businesses wary about investing.
But there is considerable doubt how abrupt the slowdown will be and the better-than-expected jobless claims number added some optimism to analysts' outlook.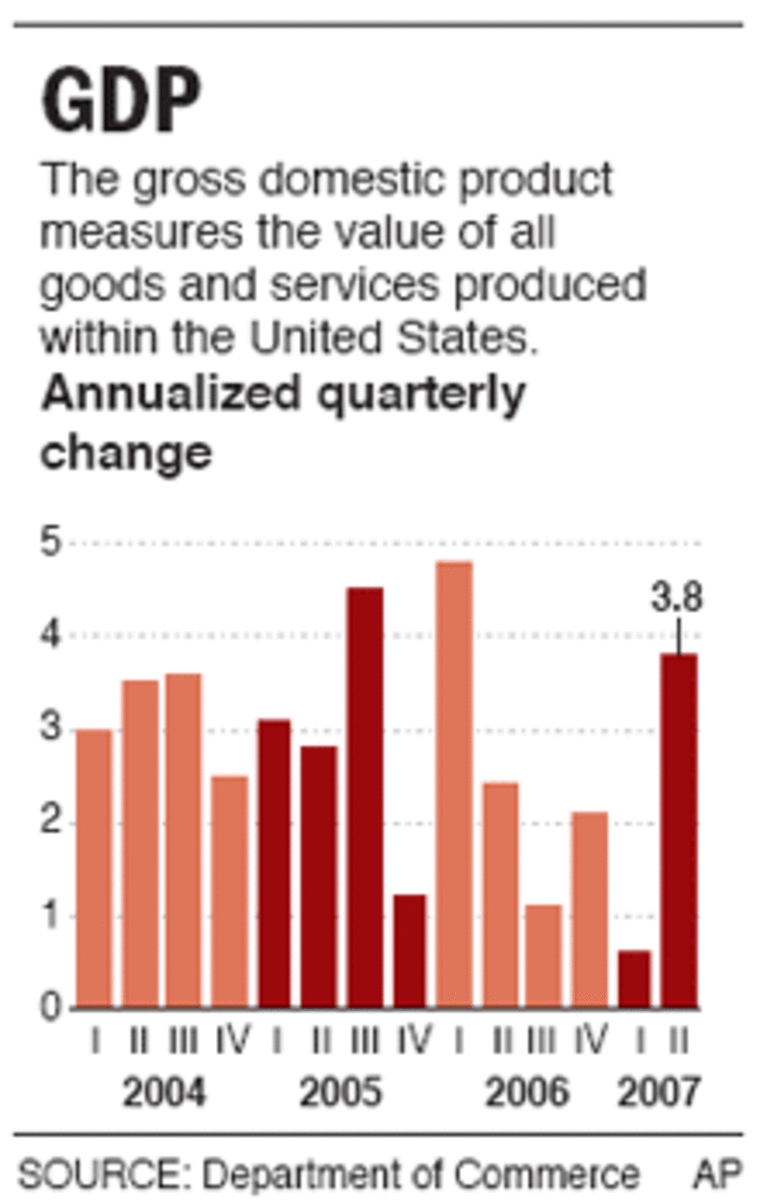 "Jobless claims dropping below 300,000 is a very good sign," said Michael Darda, chief economist for MKM Partners LLC in Greenwich, Connecticut. "It really doesn't look like the labor market is falling off of a cliff here."
The Labor Department's closely watched report on monthly employment, for September, will be issued on Friday, October 5.
U.S. Treasury debt prices pared gains after the surprise drop in weekly jobless claims while stock futures added to gains.
The U.S. dollar, which plumbed record lows just before publication of the latest batch of U.S. economic news, edged higher versus the Japanese yen after the data.
The U.S. Federal Reserve cut official interest rates by a half-percentage point last week, saying it wanted to try to forestall some of the impact of a credit squeeze, which policy-makers fear will take a toll on both U.S. and global expansion.
Consumer spending, which accounts for more than two-thirds of national economic activity, was left unrevised at a 1.4 percent growth rate in the second quarter, slowing from 3.7 percent increase in the first quarter.
Business investment was revised down to an 11 percent annual growth rate from 11.1 percent estimated a month ago, still far ahead of the first quarter's 2.1 percent rate of increase and the strongest since the first quarter of last year.
There was little sign of inflation pressure. So-called core prices, which exclude food and energy items, increased at a revised 1.4 percent annual rate instead of 1.3 percent estimated a month ago. That was well below the 2.4 percent rate of core price rises in the first quarter and was the slowest pace of price rises in four years.
Corporate profits remained solid, rising at a revised 5.2 percent rate in the second quarter instead of 5.4 percent estimated a month ago. That was well ahead of the 1.5 percent rate of profits increase posted in the first three months of the year.