/ Source: The Associated Press
Congressional passage of a resolution labeling as genocide the World War I-era killings of Armenians by Turks would hurt U.S. relations with Turkey - "perhaps beyond repair," Defense Secretary Robert Gates said Thursday.
Gates told a Pentagon news conference that he has encouraged congressional leaders not to pass the resolution. Earlier, he met at the Pentagon with Armenian Prime Minister Serzh Sargsyan. Gates said neither of them raised the subject.
"Having worked this issue in the last Bush administration ... I don't think the Turks are bluffing. I think it is that meaningful to them," Gates said. "I think there is a very real risk of perhaps not shutting us down" in terms of access to Turkish airspace for resupplying U.S. troops in Iraq, but of at least restricting it.
"I will say again it has potential to do real harm to our troops in Iraq and would strain - perhaps beyond repair - our relationship with a key ally in a vital region and in the wider war on terror."
It was Gates' first joint news conference with Navy Adm. Michael Mullen, who became chairman of the Joint Chiefs of Staff on Oct. 1, succeeding Marine Gen. Peter Pace, who has retired.
Asked about recent statements by President Vladimir Putin about modernizing Russia's nuclear arsenal, Gates, who visited Moscow last week, said he interprets such comments as an indication that Russia wants to be taken more seriously.
"What you see is that these kinds of things that he's talking about are basically an assertion that Russia is back and intends to play a major role on the world stage," Gates said, noting that the Russian military has been holding more exercises lately and spending more on defense.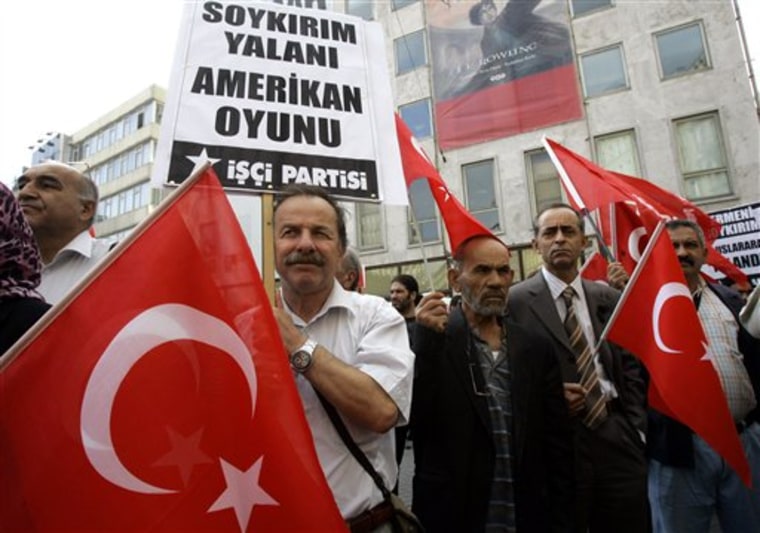 Gates also said he believes that Putin is serious about trying to play a constructive role in defusing the crisis over Iran's nuclear program.
"President Putin takes Iran seriously as a security concern for Russia, and I think they are prepared to take some actions as befits that," Gates said.
For his part, Mullen said Iran's actions are a cause for great worry.
"Their support for terrorists and all of that adds up to a huge and growing concern about Iran and where it's headed," Mullen said. "There is a significant amount of activity right now to try to influence them diplomatically."
Asked whether the U.S. military is too stretched by the wars in Iraq and Afghanistan to take action against Iran, Mullen said, "From a military standpoint there is more than enough reserve to respond if that is in fact what national leadership wanted to do. I don't think we're too stretched in that regard."
The administration is trying to soothe Turkish anger over the Armenia matter. The House Foreign Affairs Committee defied warnings by President Bush with its 27-21 vote last Wednesday to send the nonbinding measure to the full House for a vote. The administration will now try to pressure Democratic leaders not to schedule a vote.
On Wednesday, House Speaker Nancy Pelosi said the prospects of a vote on Armenian genocide were uncertain after several members pulled their support amid fears it would cripple U.S. relations with Turkey.
"Whether it will come up or not, or what the action will be, remains to be seen," Pelosi told reporters.
Historians estimate that up to 1.5 million Armenians were killed by Ottoman Turks around the time of World War I. Scholars view it as the first genocide of the 20th century, but Turkey says the toll has been inflated and that those killed were victims of civil war and unrest.
Turkey closed its border with Armenia in 1993 during a war between Armenia and Azerbaijan, a Muslim ally of Ankara, and maintains a virtual blockade that hurts Armenia's economy.