/ Source: msnbc.com staff and news service reports
Faced with unrelenting winds whipping wildfires into a frenzy across Southern California, firefighters conceded defeat on many fronts Tuesday to an unstoppable force that has chased an estimated 1 million people away.
Unless the shrieking Santa Ana winds subside, and that's not expected for at least another day, fire crews say they can do little more than try to wait it out and react — tamping out spot fires and chasing ribbons of airborne embers to keep new fires from flaring.
"If it's this big and blowing with as much wind as it's got, it'll go all the way to the ocean before it stops," said San Diego Fire Capt. Kirk Humphries. "We can save some stuff but we can't stop it."
Tentacles of unpredictable, shifting flame have burned across nearly 600 square miles — an area larger than New York City — killing one person, destroying more than 1,300 homes and prompting the biggest evacuation in California history, from north of Los Angeles through San Diego to the Mexican border.
Gov. Arnold Schwarzenegger said the flames were threatening 68,000 more homes.
"We have had an unfortunate situation that we've had three things come together: very dry areas, very hot weather and then a lot of wind," Schwarzenegger said. "And so this makes the perfect storm for a fire."
In Rancho Santa Fe, a suburb north of San Diego, houses burned just yards from where fire crews fought to contain flames engulfing other properties. In the mountain community of Lake Arrowhead, cabins and vacation homes went up in flames with no fire crews in sight.
"These winds are so strong, we're not trying to fight this fire," said firefighter Jim Gelrud, an engineer from Vista, Calif. "We're just trying to save the buildings."
16 firefighters injured
More than a dozen wildfires blowing across Southern California since Sunday have also injured more than 40 people, including 16 firefighters. The U.S. Forest Service earlier reported a fire death in Los Angeles County's Santa Clarita area, but officials said Tuesday that information was erroneous.
Jose Alvarez, a San Diego County public information officer, told NBC News that five people had died from the fires in San Diego County, but only one person died trying to save a home. The other four died during or after being evacuated, he said.
The fires also forced the evacuation of more than 350,000 houses, most of them in San Diego County. With the area's average household size of 2.6 people, that means the evacuation could encompass nearly 910,000 people.
"It's basically a mass migration here in San Diego County. The numbers we're seeing are staggering," said Luis Monteagudo, a spokesman for the county's emergency effort.
President Bush, who plans to visit the region Thursday, declared a federal emergency for seven counties, a move that will speed disaster-relief efforts, White House press secretary Dana Perino said.
"The president wants to travel to California to witness firsthand what the people there are going through with these wildfires," Perino said. "He wants to ensure that the state and local governments are getting what they need from the federal government, and he wants to make sure to deliver a message in person to the victims that he has them in his thoughts and prayers."
State insurance official estimates damage
The state's insurance commissioner estimated that the fires have likely caused several hundred million dollars worth of damage to home and business properties.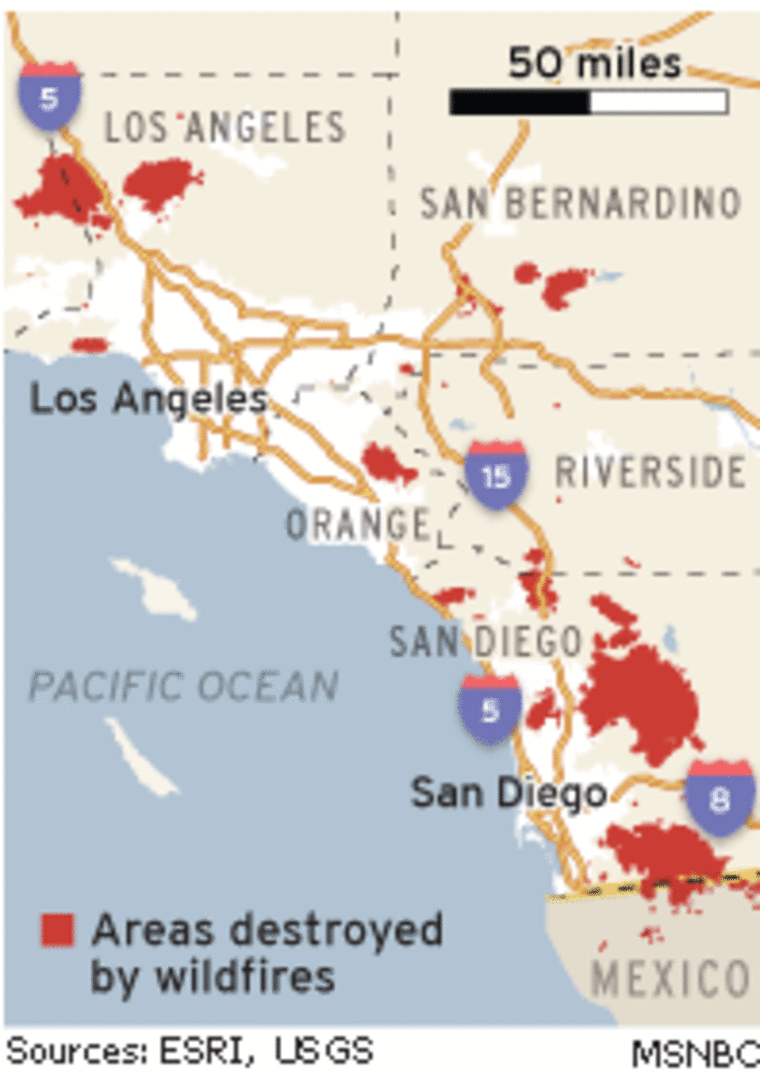 "In South Lake Tahoe, where we just finished working with the victims there over the last several months, you had 254 homes destroyed at a total cost of $150 million," California Insurance Commissioner Steve Poizner said. "Here the damage is much more widespread, more than a thousand homes destroyed so far, plus, you know, scores of businesses."
"This is just a terrible disaster; it's going to be one of the worst ever," he said, adding the total destruction would easily be in the hundreds of millions of dollars.
The sweeping devastation was reminiscent of blazes that tore through Southern California four years ago, killing 22 and destroying 3,640 homes.
The ferocity of the Santa Ana winds in 2003 forced crews to discard their traditional strategy and focus on keeping up with the fire and putting out spot blazes that threatened homes.
Gusts surpass 100 mph
Fire crews were especially concerned about dense eucalyptus groves in Del Mar and Rancho Santa Fe, fearing the highly flammable trees could turn neighborhoods prized for their secluded serenity into tinderboxes.
The usual tactic is to surround a fire on two sides and try to choke it off. But with fires whipped by gusts that have surpassed 100 mph, that strategy doesn't work because embers can be swept miles ahead of the fire's front line. In those cases, crews must keep 10 to 30 feet back from the flames or risk their own lives, Los Angeles County firefighter Daryl Parish said.
Added Rocklin Fire Department Capt. Martin Holm: "We do what we can. A life's a lot more important than a house."
Choosing battles
Any flame longer than 8 feet is considered unstoppable, and even water and fire retardant will evaporate before they reach the ground, said Gordon Schmidt, a retired U.S. Forest Service deputy director of fire management.
"In these situations, the strategy generally is to fall back," he said. "You pick and choose your priorities in terms of what you can protect. Instead of trying to stop the fire, you try to prevent it from burning resources."
In the suburbs north of San Diego, firefighters did just that as fingers of flame pulsed across a 10-lane freeway and raced up a hill on the opposite side in just seconds. The fire engulfed white-washed homes at the top of the ridge.
Groves of eucalyptus trees exploded in the heat in one ritzy cul-de-sac in Rancho Santa Fe, sending off a scattered popping that sounded like machine gun fire.
Firefighters parked their rigs in the driveways of the most threatened homes and hosed down fences and open space around homes as a blood-red sun set over a sky choked with smoke and falling ash.
Fast-moving blazes
Firefighters battling two fast-moving blazes in Lake Arrowhead, in the San Bernardino Mountains about 130 miles east of Los Angeles, were also taxed by steep terrain, winding roads and a forest packed with dead or dying trees.
More than 200 homes burned in Lake Arrowhead and Running Springs, fire officials said.
At least three times in the past two days, fire crews have been forced to "pull off, and wait for things to calm down" because of danger, said San Bernardino National Forest Ranger Kurt Winchester.
"In a lot of places, you just have to back off and let the fire go," he said. "There's nothing we can do."
The one person confirmed dead was identified as Thomas Varshock of Tecate, a town on the U.S. side of the border southeast of San Diego. He died over the weekend after he ignored warnings to evacuate and authorities left to take care of other evacuations, the San Diego County Medical Examiner's Office said.
In Rancho Santa Fe, neighbors tried to protect a friend's home with a garden hose Monday night as flames raced up a ridge directly behind the house. Yards away, an engine crew kept watch as another home, already fully engulfed, burned to the ground.
"We told the firemen about (this house) and we put out a few hot spots," said friend Gary Rich. "They told us once they put out that house, they'd come over here."
But, Rich said, encroaching flames were making him nervous and he might leave before then.
Firefighters in harm's way
Fighting a gusty blaze also puts the firefighters in harm's way. At least twice in the last two days, firefighters have had to unfurl their emergency fire shelters — small fire-resistant tents to shield them when they can't escape a fire.
Weather conditions only grew worse, with temperatures across Southern California about 10 degrees above average. Temperatures were in the 90s by mid-afternoon and wind gusts up to 60 mph were expected in mountains and canyons.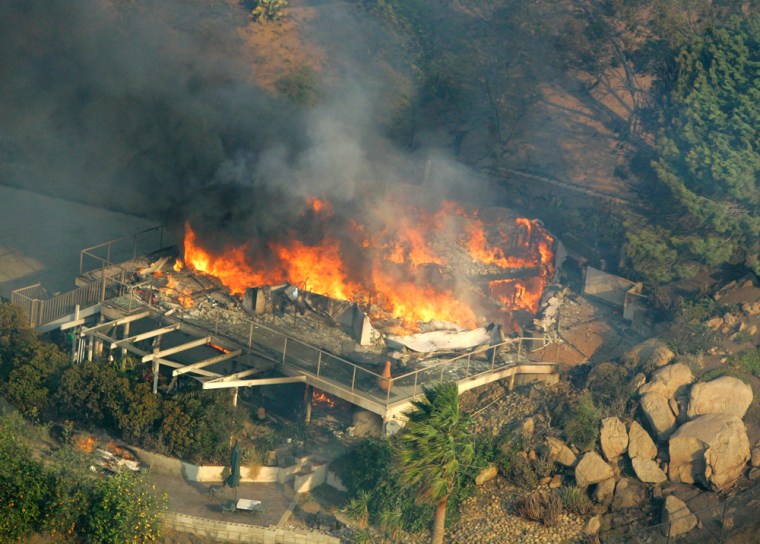 In the San Diego suburb of Del Dios, fire destroyed one home but seemed to touch other items at random. Two lawn chairs and an umbrella were left in a burned, melted heap on the patio. But behind the house, near a murky brown swimming pool, two chaise lounges and a four-foot-tall decorative fountain survived unscathed.
J.C. Playford, an evacuee from the nearby community of Ramona, surveyed the damage and wondered whether his own home was still standing.
"I've got two reports, one person told me it's gone, and one person said it's still there," he said, "So I have no idea."