One hundred tons of TNT were used to blow up a two miles of levees in southern Oregon — all in the name of restoring wetlands and protecting two endangered fish species.
The explosives were placed at four spots along the levees inside the 7,400 acre Williamson River Delta Preserve, which is managed by the nonprofit Nature Conservancy.
Once demolished on Tuesday, the levees released water that caused Upper Klamath Lake to flood 2,500 acres within one hour.
The Nature Conservancy called the strategy unprecedented and said it followed months of intense study, engineering, and construction.
"The use of this wetlands restoration technique at such a large scale is unprecedented," Nature Conservancy CEO Stephanie Meeks said in a statement. "Maintaining healthy freshwater systems is one of the greatest conservation challenges we face today. We lose 60,000 acres of wetlands every year in the U.S. alone, but the Klamath Basin project will help ease this trend by revitalizing the area's natural wetlands, restoring habitat for endangered species, and helping local communities."
Small blasts scared away fish, birds
Breaching the levees dropped the lake by about two inches, the group said, adding that steps were taken to protect wildlife and the lake: Small blasts were set off just prior to the explosions to scare away any nearby fish and birds; and dirt from the explosions was directed inward toward the land, not into the lake.
The demolition restores some of the natural flow of the Williamson River, which used to deposit sediments across a huge delta until 22 miles of dikes were built in the 1950s to convert rich bottomland soil into farmland.
That helped farmers, but hurt wildlife. "It eliminated extensive critical habitat for fish and wildlife and contributed to a decline in water quality in Upper Klamath Lake and the Klamath River downstream," the Nature Conservancy stated.
"Wetlands are critically important resources for wildlife and people alike," said Mark Stern, Klamath Basin conservation director for The Nature Conservancy. "They filter pollutants, store water to prevent flooding, and provide nursery and nesting habitat and feeding areas for fish, birds, and other aquatic life. We've seen the grave consequences of eliminating those wetlands in Klamath Basin, and today, we're bringing some of them back."
Fish species declared endangered
In 1988, two local species of fish, the shortnose sucker and the Lost River sucker, were declared endangered in 1988, and scientists concluded that a primary cause was the loss of marshlands.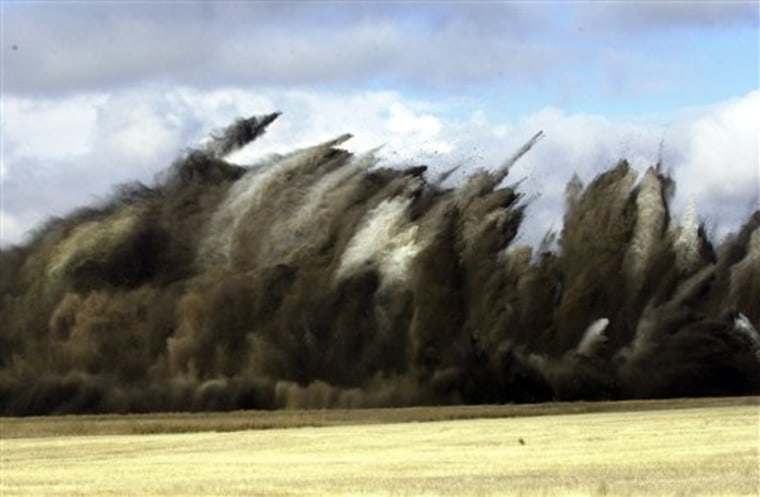 That and other local issues prompted the Nature Conservancy to draft a restoration plan. And since 1996, it has been doing so in conjunction with local farmers, industries, tribes and government agencies.
The Nature Conservancy added that while wildlife will benefit, the restoration plan also allows for continued farming on 750 acres of adjoining uplands. The group said it is working with a local grower to farm organic alfalfa.
Background on the restoration is online at