Fueled by strong demand, worries about supplies and the eroding purchasing power of the dollar, crude oil prices continued to close in on the $100 a barrel mark Wednesday — up $35 in just the past six months.
With oil prices advancing so rapidly, the immediate unknown is where they will stop before taking a breather. But the longer-term question may be even tougher to answer: How high can oil prices go before the higher cost of energy tips the U.S. economy into recession?
The rising cost of energy was one of several factors that send stock prices tumbling Wednesday, with the Dow Jones industrial average losing 360 points, or nearly 3 percent. The Dow and other major indices have lost about 6 percent in the past month, largely because of problems at big banking and brokerage firms related to bad mortgage loans.
Despite brief pauses, crude oil prices have risen relentlessly since May, as a strong global economy continues to burn through supplies as quickly as producers can replace them. A falling U.S. currency, meanwhile, has increased the price in dollar terms and stoked buying by investors looking for a place to hedge the dollar's decline.
As a result, the short-term peak price is anybody's — and everybody's — bet.
"I think that $100 a barrel for oil is going to be near the peak for oil in the near term," said Sam Stovall, chief investment strategist at Standard & Poor's. With prices heading nearly "straight up, our feeling is that's not sustainable. We could see oil come down to $75 or $70 per barrel level."
But so far, oil contracts on the futures markets have taken on the momentum of a runaway tanker car. On Wednesday, trading was brisk in contracts for delivery in coming months at prices well above the $100 mark. The benchmark near-month contract topped $98 a barrel before settling at $96.37 on the New York Mercantile Exchange.
"I'm not in the camp that we're going to $100 and stop," said John Kilduff, an energy analyst with MF Global. "I think we're going to keep going. There's no reason for it not to keep going."
No supply cushion
Buyers of oil are worried about more than the falling dollar. Until earlier this decade, global oil production capacity included a bit of slack, most of it controlled by the Organization of Petroleum Exporting Countries, which tried to manage prices — with mixed success — by increasing or withholding production. That supply cushion has been all but eliminated as global demand, fueled by rapidly growing economies, has risen faster than new supplies are found and developed.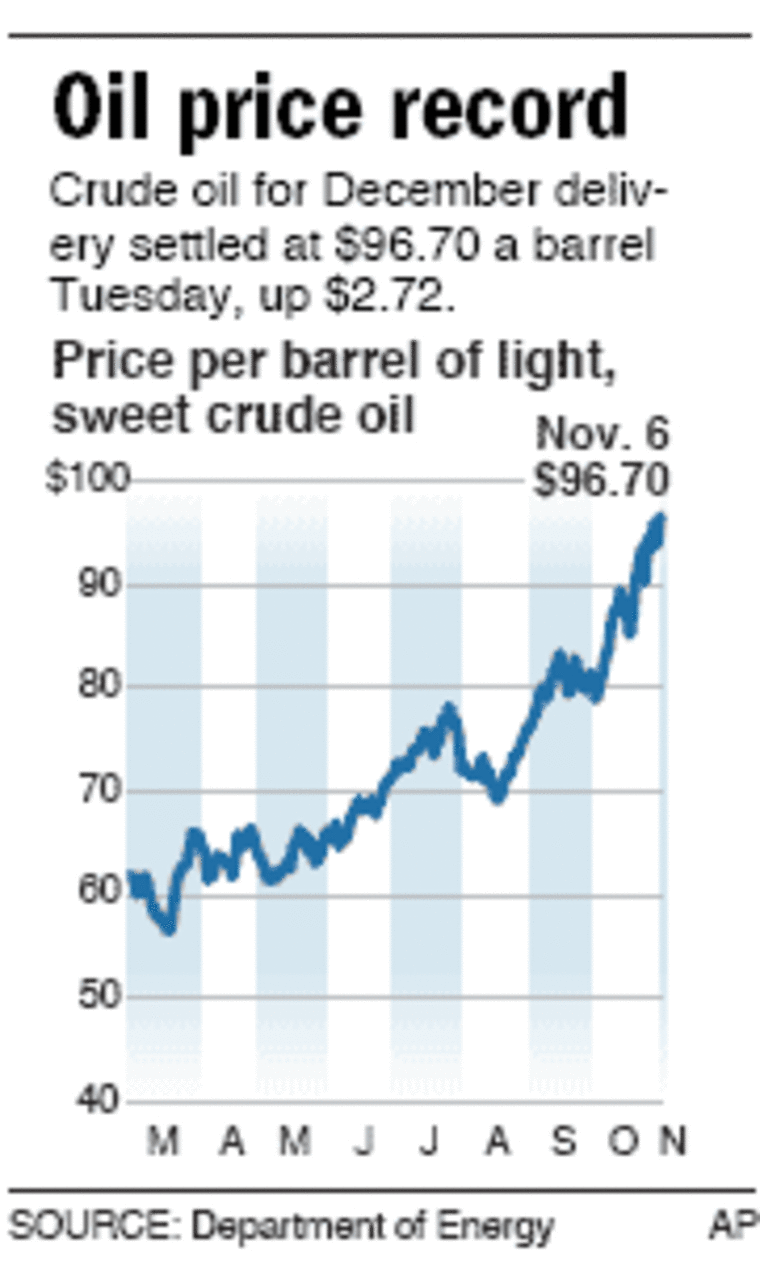 "China, the United States and the Middle East countries are the main drivers of consumption growth," according to the U.S. Department of Energy's latest report on oil prices. China and the United States alone are projected to account for half the growth this year and next.
At the same time, oil producers, both state-owned oil companies and private global giants like ExxonMobil and Chevron, haven't been able to increase supplies fast enough to meet that new demand. Part of the problem is that the cost of developing new supplies — everything from drilling rigs to the people who operate them — has skyrocketed. The cost of building new oil and gas production facilities has roughly doubled since 2005, according to a report released Wednesday by Cambridge Energy Research Associates.
"That explains some of the lag on the supply side," said CERA Chairman Daniel Yergin.
Meanwhile, political instability in major oil producing regions — from Nigeria to Venezuela — threatens to further crimp the flow of oil. Recent U.S. saber rattling with Iran has added to concerns about possible supply interruptions.
"I have never seen so many various supply threats in my career," said Kilduff. "It's just myriad threats to the supply chain at a time when we're not producing enough oil in relation to how much we're consuming."
For U.S. consumers, the surge in crude prices has not yet been fully felt at the pump, but that may soon change. Until a few weeks ago, gasoline prices had been falling from peak levels reached in May, even as crude prices began to climb. That drop in pump prices was due largely to the seasonal drop in demand that comes with the end of the summer driving season, along with ample gasoline supplies. The combination took a big bite out of oil industry profits, who saw their profit margins erode as the retail price didn't keep pace with their increased costs.
But with no letup in the higher cost of crude, pump prices are beginning to swing back up again. The average price for a gallon of regular gas shot up 14 cents in the latest week to $3.01, according to numbers released Wednesday by the Energy Department. That's still below peak price of $3.21 in the week in May, but up 81 cents from this time last year.
At some unknown price point, say economists, higher oil prices should eventually begin to curb economic growth — or possibly drag the U.S. into a recession. Even after adjusting for inflation, prices are nearing the record level set in the 1970s.
Most analysts acknowledge there is a "tipping point" where high oil prices would knock the eocnomy into recession, but there is little agreement on where that point lies. A lot depends on how well consumers, who account for roughly 70 percent of U.S. economic activity, hold up under the increased price pressure at the pump.
So far, the run-up in oil prices doesn't appear to have done much damage to the U.S. economy, at least according to the most recent statistics. The government's initial tally showed third-quarter gross domestic product growing at an annual pace of nearly 4 percent; figures showing strong job growth in October seemed to confirm that the economy is still on track.
"I think the higher gas prices are likely to crimp consumer spending to some extent, but people have been waiting for the demise of the consumer for a long time, and it just never happens," said Julia Coronado, senior economist at Barclays Capital. "The key to the consumer has always been and continues to be the labor market, and the latest reading on the labor market shows that income is growing quite nicely, and there are still jobs being added."
Economists have several explanations for why the surge in oil prices has dampened growth.
One big reason is that its take a lot less oil to produce each dollar of GDP than it did 30 years ago, the last time the U.S. faced runaway crude prices. More people today make their living sitting behind a computer screen with relatively low energy demands, while the role of energy-intensive industries like manufacturing has declined.
As oil prices have risen, consumers are using it more efficiently. Despite stalled gains in U.S. auto mileage, new buildings and appliances are more energy efficient. Electric power producers have turned to other fuels like coal and natural gas. Overall, U.S. oil consumption flattened out at a little over 20 million barrels per day over the past five years — and even dipped slightly last year — as the economy continued to grow.
For the moment, those efficiency gains are helping the economy keep a lid on the spillover impact of higher oil costs on the prices of goods and services. As oil prices neared the $100-a- barrel mark Wednesday, the government reported that business productivity rose by 4.9 percent in the third quarter, more than double the 2.2 percent gains in the second quarter.
But oil prices aren't the only cloud on the economic horizon. The ongoing slump in housing, along with continued uncertainty about rising mortgage default and foreclosures, could have a more serious impact. Most U.S. recessions since World War II have been lead by housing downturns, and the current slump is the deepest in decades. If the housing market continues to worsen, higher energy prices would only add to the headwinds faced U.S. businesses and consumers.