OK, it doesn't fly, but if George Jetson had to stay grounded on Earth this is the car — er motorcycle — that he'd use. Question is: Will real humans want it?
It is the Typ-1, a three-wheeled machine made by a company called Aptera, Greek for "wingless flight."
Backed by Idealab, a well-known "technology incubator" in the world of venture capital, Aptera is promising an all-electric vehicle next year for the California market that's street legal, relatively affordable ($30,000) and can get a lone driver into carpool lanes.
While some might see three wheels as unusual, it's that feature that allows the Typ-1 to be classified as a motorcycle — and thus eligible for carpool lanes, even with just one person in the car.
But that's not the only sales pitch made by Aptera. A few others:
The Typ-1 can run 120 miles before needing a recharge via regular electric outlet, a process that takes just a few hours, Aptera says.
"Two plus one" seating that allows for two adults in front and an infant (with carseat) in the middle behind them. That back area also has "enough space to fit 15 bags of groceries, two full-size golf club bags or even a couple of seven foot surf boards with the infant seat removed."
A front end that "redirects crash energy in a frontal impact, steel and composite side and rollover protection as well as driver and passenger side airbags."
Solar cells on the roof that power an "always on" climate control system, "ensuring the interior never gets too hot or too cold."
An "Eyes Forward" vision system that replaces the side mirrors with "embedded cameras that display a 180-degree rear view in the front of the instrument panel." The system "gives the driver complete situational awareness without taking their eyes off of the road, Aptera says.
LED interior and exterior lighting for energy efficiency.
The company adds that once the all-electric Typ-1 is in production and on the market, it will then roll out a plug-in hybrid Typ-1 that gets more than 300 miles per gallon of gasoline with a range of more than 600 miles before it needs a fill-up.
Deposits being taken
Aptera plans to sell first in California, and says it is accepting fully refundable deposits of $500.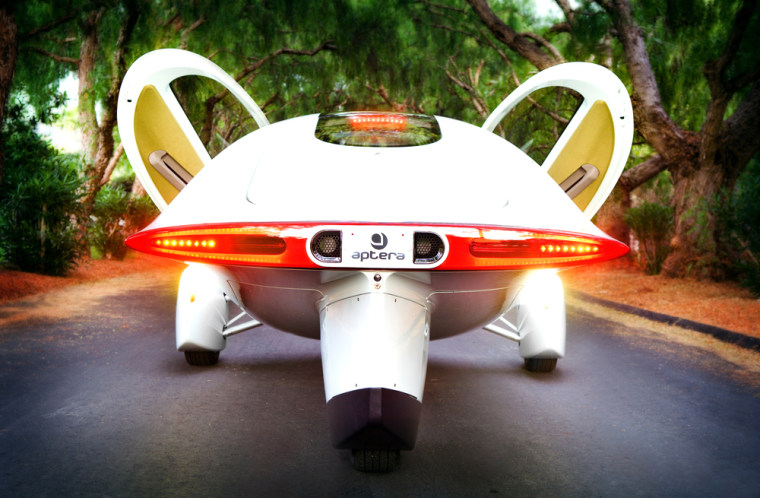 "Through word-of-mouth alone, we've already received more than 400 pre-sale deposits," CEO Steve Fambro said in a statement.
But while Aptera promises vehicles for purchase in 2008 it also notes that it is still in the process of "raising additional capital to begin manufacturing."
And beyond the production issue, the bigger question is: Will the concept fly?
"Early adopters and plug-in car advocates will love these cars," says Felix Kramer, who heads the California Cars Initiative, a group aiming to see plug-in hybrids mass produced. "Every carmaker watching the competition will be motivated to join the great automotive race of the 21st century: to electrify transportation."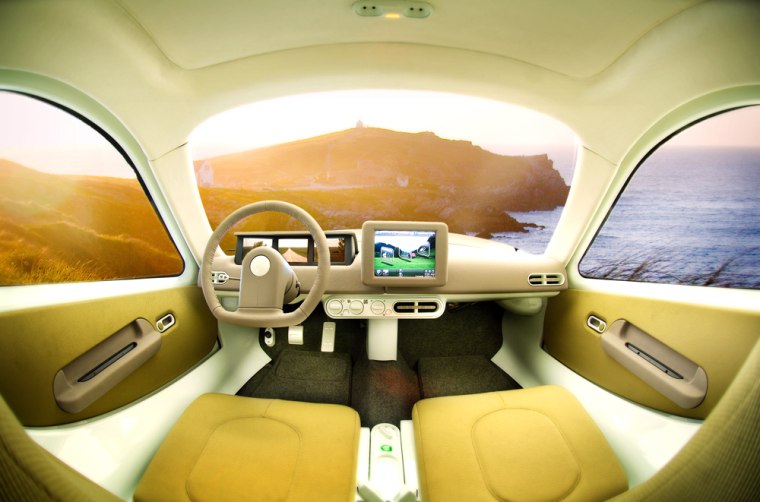 But Jim Motavalli, author of "Forward Drive," a look at green car development, has his doubts. The concept "just looks wildly impractical to me," he says. "The 'pod' concept wastes all the interior space to be had by building a enveloping body on top of the wheelbase."
Kramer, for his part, wonders how the Typ-1 would hold up in crashes.
But overall he's excited about the development.
"People have been waiting to see Jetsons-style cars on the road for decades, but had to settle for very mild versions," he says. "Maybe their time has finally come."