/ Source: The Associated Press
Five years from now, you might not even recognize this place.
A burst of new, luxurious mega-casino projects to be built by 2012 will transform the face of Atlantic City into a more futuristic — and crowded — gambling resort.
At least four companies are betting a combined $9 billion that the makeover will help Atlantic City catch up with Las Vegas as a place to come — and stay — for more than just gambling.
In early November, Revel Entertainment Group unveiled drawings of its new $2 billion casino-resort, to be called simply "Revel." Due to open in the second half of 2010, at 710 feet, it will be the tallest building in Atlantic City — at least for a while.
It will feature two thin towers standing perpendicular to the ocean, with as many as 3,900 rooms, and even Atlantic City's first casino wedding chapel. The interior complex, between the towers, is curved and rounded so that it looks as if it has been shaped by gentle ocean waves.
Revel is partnering with investment firm Morgan Stanley on the project.
It will become Atlantic City's 12th casino, and the first new one to open since the Borgata Hotel Casino & Spa debuted in 2003 and redefined the public's image of what the Las Vegas experience should look and feel like in New Jersey.
Hot on the heels of "Revel" will be other mega-casinos to be built by Pinnacle Entertainment on the site of the former Sands Hotel Casino, opening in late 2011 or early 2012. The granddaddy of them all, a $5 billion casino resort planned by MGM Mirage in the marina district next to the Borgata, will be the largest project Atlantic City has ever seen when the first dice start tumbling in 2012.
The burst of new investment is the largest in Atlantic City since the start of casino gambling in 1978.
"Since the inception of New Jersey's gaming industry, there has been approximately $12 billion of capital investment to date," said Joseph Corbo, president of the Casino Association of New Jersey. "While that is significant by any standard, what is very encouraging is that about $4 billion of that investment was made in the past four years or so."
Pinnacle has been tight-lipped about its Atlantic City project, other than to estimate its price at between $1.5 and $2 billion. It won't say what it will look like or even what it will be called.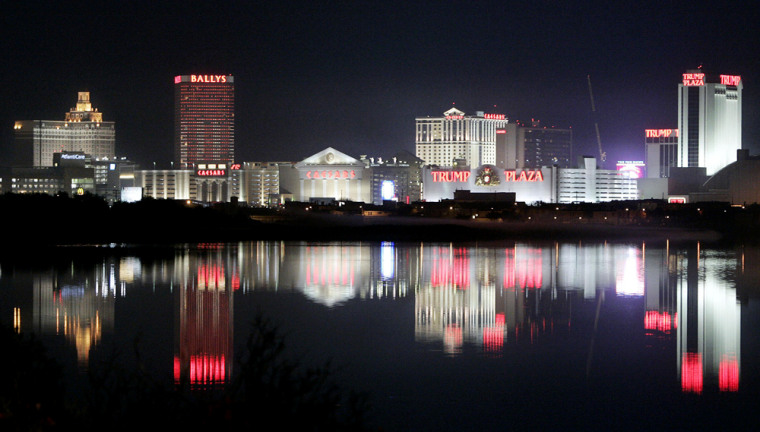 But the company's chairman and CEO, Daniel Lee, said that in addition to its Boardwalk project, Pinnacle might consider joining the scrum of casino operators vying to build on the former Bader Field airport property, a 150-acre tract whose land alone could fetch $1 billion on the open market.
"We have two in St. Louis; we could have two in Atlantic City," Lee said.
It marked a turnaround for Pinnacle, which had threatened for months to scrap its Boardwalk project if the city and state permitted someone else to build a casino on Bader Field. The company maintained it would be at a competitive disadvantage because the newcomer would not have to buy multiple parcels, knock down buildings and clean up the site — as Pinnacle is doing on the Sands property.
Corbo estimated as many as three new casinos could be built at Bader Field if a city panel determines casino development is right for the area.
Saving the biggest for last, "MGM Atlantic City" will wrest the title from Revel as Atlantic City's tallest building when it opens in 2012. It will have three hotel towers with a combined total of more than 3,000 rooms, the largest casino floor in Atlantic City with 5,000 slot machines, 200 table games and 500,000 square feet of retail space, among other attractions.
MGM is a partner in The Borgata with Boyd Gaming.
A possible fourth new casino to be built on land near the Atlantic City Hilton Casino Resort by Curtis Bashaw, the former Casino Reinvestment chairman, and Wally Barr, the former chief executive officer of Caesar's Entertainment, is also on the drawing board.
The new casinos will join an already-expanding skyline: The Borgata, Trump Taj Mahal Casino resort, and Harrah's Atlantic City are all building second hotel towers. Earlier this year, the Hilton floated the idea of a $1 billion expansion, but company officials won't say if that's still on the table.
The new investment is not only attracting others interested in entering the Atlantic City market, but also forcing those already here to spend more to keep up or risk becoming irrelevant.
"This is exactly the development cycle that Las Vegas has experienced over the past 15 to 20 years, and is what Atlantic City is poised to achieve as well," Corbo said.