/ Source: The Associated Press
Typhoon Mitag, packing winds of 109 mph, barreled toward the northern Philippines on Saturday, prompting thousands of panicked east coast residents to evacuate. A separate typhoon meanwhile weakened to a tropical storm and veered away from Vietnam.
Mitag, powering northwestward in the Philippine Sea, was forecast to slam into Aurora and Isabela provinces on the east coast of Luzon island late Sunday, said chief government forecaster Nathaniel Cruz. It had initially been forecast to hit southern Luzon.
Authorities urged tens of thousands of people living in areas at risk in Aurora and Isabela to evacuate immediately.
"Those whom I have asked to evacuate from the coasts and riverbanks, please do so now. Let us not wait for tomorrow because that may be too late," Aurora Gov. Bellaflor Angara Castillo told DZRH radio.
Up to 54,000 people would have to be evacuated from coastal and flood-prone areas in Isabela province, Gov. Grace Padaca told President Gloria Macapagal Arroyo during a National Disaster Council meeting broadcast live on local television.
Cruz said Mitag had sustained winds of 109 mph with gusts of 131 mph, and forecasters across the region said it could become a super typhoon _ with wind speeds of 138 mph _ by the time it makes landfall Sunday night.
Philippine forecasters also warned of storm surges and a rise in the sea level in areas directly affected by the typhoon, and said heavy rains and strong winds should be expected across the country.
Mitag had initially been expected to make landfall in the southern tip of Luzon. More than 250,000 people had already fled or been evacuated from coastal communities and areas prone to floods and landslides in the provinces of Albay, Sorsogon, Camarines Sur, Camarines Norte and Catanduanes, according to Glenn Rabonza, administrator of the Office of Civil Defense.
Typhoon Hagibis, which weakened to a tropical storm a day earlier, veered away from Vietnam on Saturday. Forecasters said the storm, which killed 13 people in the Philippines nearly a week ago, would linger in the South China Sea and remained a threat to shipping in the area.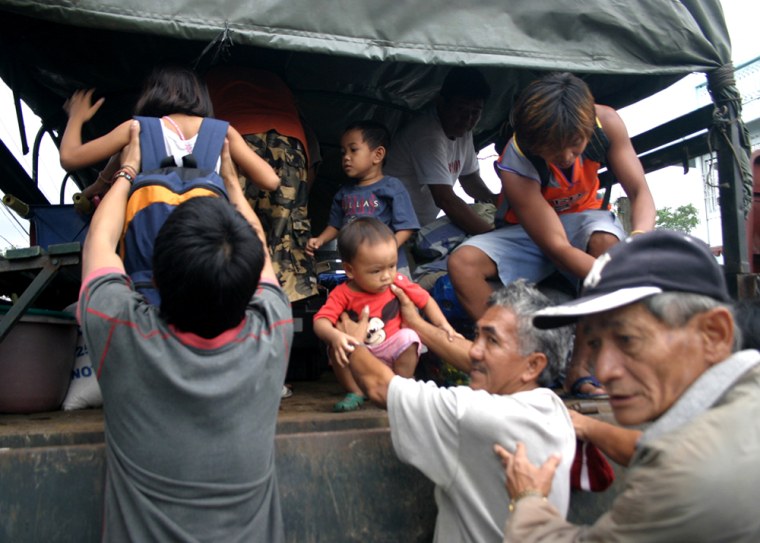 Philippine coast guard spokesman Lt. Armand Balilo said Chinese sailors were still searching for 26 Filipino fishermen whose boat capsized in the South China Sea on Friday. Authorities earlier reported that 25 fishermen were missing.
Vietnamese soldiers, police and border guards began returning nearly 200,000 evacuees to their homes Saturday after Hagibis changed course. Vietnam has been battered by six major storms this season.