Like a lot of Americans, Anne Violette is having trouble with her mortgage.
Violette, a self-employed photographer, moved to Delray Beach, Fla., in 2004 and bought a home with a 30-year fixed-rate loan. A year later, she said, a friend in the mortgage industry sold her on the idea of refinancing with an adjustable-rate mortgage that saved her hundreds of dollars a month.
Now she is unable to keep up with her rising house payments but has found it virtually impossible to work with the lender on a new payment plan. Her story illustrates the plight faced by millions of Americans who have seen payments soar on their adjustable-rate mortgages or will face such "resets" in the next few years.
State and federal lawmakers including Bush administration officials and presidential candidates are racing to come up with ways to head off a wave of potential foreclosures that could be the result.
Violette said her problems began when she learned that the rate on her loan could nearly double, despite assurances that it would not rise more than a half-percent a year for the first three years. Eventually her monthly payments rose by $900, and she was unable to keep up. She began making calls to the lender, moving from one department to another, to see if she could work out a payment plan.

"They say, 'I'm sorry, but we can't restructure your loan until you're caught up,'" she said. "But I keep saying, 'I can never be caught up until you restructure my loan.'"
After more phone calls, Violette found a bank representative who agreed to help modify her mortgage. That was in August. The bank had her house appraised, but then she got a letter from another bank saying they had taken over her loan. In October, she called the first bank to find out where things stood and learned that the title company she used when she bought the house is out of business and that her loan is "in limbo," she said. (A spokeswoman for the lender said the company's policy forbids disclosing customers' financial information.)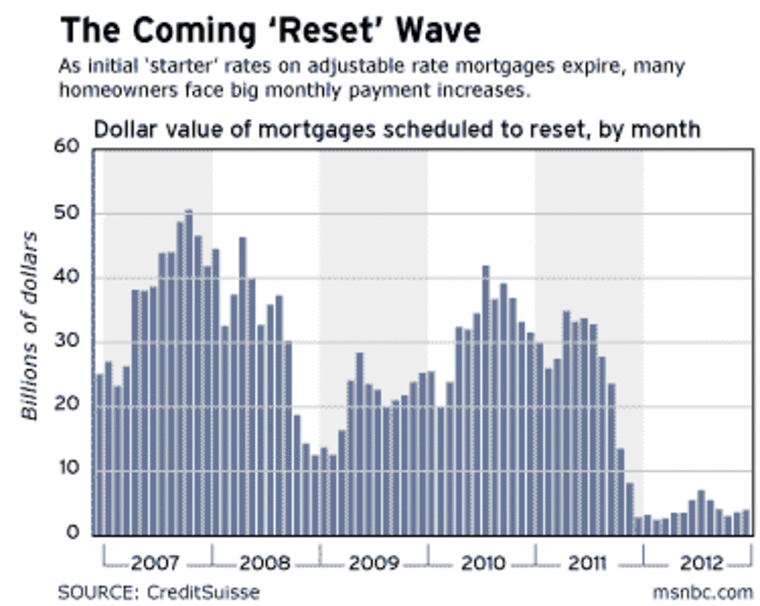 "We very much want to avoid these kinds of wide-scale foreclosures," said Sheila Bair, chairwoman of the Federal Deposit Insurance Corp., which is working to encourage lenders to modify loans. "Not only is it going to hurt borrowers and hurt neighborhoods and hurt communities, it's going to spill over more broadly into the housing market generally and have more systemic implications."
The systemic implications already are being felt. Uncertainty about the extent of future losses  has hammered the stock market and tightened credit for businesses as the economy shows signs of slowing. In many areas foreclosures are adding inventory to an already-glutted housing market. As consumers watch home prices slump and their equity melt away, some economists fear the housing recession could spill over to the broader economy.
"The housing recession, which is continuing and probably will get worse, has not spread to consumption yet," said Sung Won Sohn, an economist and president of Hanmi Bank. "But I think it's only a matter of time."
Homeowners facing higher rates on their adjustable mortgages have reason to be concerned.  Over the next four years, some $1.5 trillion in mortgages are scheduled to reset, according to an analysis by Credit Suisse.
The most problematic loans came with 'starter' rates, usually fixed for the first two or three years, that were written in the tail end of the lending boom. Unlike conventional adjustable mortgages — with payments that can fall if market rates go lower — monthly payments on these loans are destined to jump to substantially higher levels regardless of market rates. Unless lenders agree to modify the terms, many of these borrowers will likely default.
Treasury Secretary Hank Paulson said Monday said he is confident an agreement will be reached soon with lenders working on a plan to freeze loans at "starter" rates for many homeowners. In a speech to a housing conference, Paulson said the White House is also working with state and local housing finance agencies to help refinance borrowers in trouble. And he called on Congress to pass legislation giving the Federal Housing Administration more leeway in providing insured loans to borrowers who are having trouble refinancing their loans.

So far, progress in heading off these looming foreclosures has been extremely slow. Of some $950 billion in loans scheduled to reset this year or next, only 1 percent have been modified after resetting earlier this year, according a survey by Moody's Investors Service released in September.
Unless the pace of foreclosures can be slowed, the housing market is going to get worse before it gets better. But based on interviews with borrowers, mortgage brokers, regulators, attorneys and other foreclosure experts, the process of modifying these loans is badly broken.
"You've got this massive gridlock," said Ira Rheingold, executive director of the National Association of Consumer Advocates, which represents attorneys who act on behalf of homeowners facing foreclosure. "People sort of think they need to do something, but no one knows what to do. You've got all these different parties involved. How do you bring them all together?"
Paulson acknowledged the difficulties in getting various players involved to agree on new guidelines.
"The company collecting your mortgage payment every month is most often doing that on behalf of those who own the mortgage," he said Monday. "And they are limited in decisions that they can make on behalf of those ultimate owners who are spread all over the world."
The gridlock starts with the borrower who has fallen behind — or knows that they're about to once their monthly payments jump. Most of the mortgages written at the height of the lending boom were resold to other lenders or bundled in portfolios with hundreds of other loans, chopped up into securities and sold to investors. As a result, some borrowers are having trouble even identifying the right company to contact.
Once the mortgage holder is identified, borrowers face a daunting task getting through to the right person. Foreclosure specialists like John Reed, president of a St. Mary's, Pa., firm that works with borrowers to head off foreclosure, say they're not having much luck either.
"We leave messages with people, calls are not returned or they're returned the day before a foreclosure date is scheduled," he said. "We'll get phone calls — and I'm talking routinely — that are just completely after the fact and aside from the point and just too little, too late. And they're dead serious about, 'Now what can we do about this?'"
Some homeowners say they get conflicting information from different departments at the same lender. Sometimes, that's because of miscommunication within the lender. The department devoted to modifying loans, for example, may not have received notice that the foreclosure process has already begun, according to Ellen Harnick, a policy analyst at the Center for Responsible Lending.
"Once things get referred to the foreclosure attorneys, (the lender) needs to communicate a new game plan to them — that (their) job is not to do everything possible to foreclose as quickly as you can," she said. "The new game plan is work with the borrowers to modify."
The foreclosure process itself can baffle homeowners.
Carlos Hall, a production manager for a Dallas-area packaging company, has spent almost a year in foreclosure limbo. In January, after his monthly payment jumped from $931 to $2,400, he began falling behind. He said he tried to refinance with his lender but was told his house had lost too much value. In August, he said he got a letter saying the loan was in foreclosure and the house would be sold the next month. A community housing group he was working with was able to postpone the sale. In October, he says he answered a knock on his door from someone offering to refinance his loan who told him house was due to be sold in foreclosure Nov. 6.
"I've been going through this since January — it's been very stressful," he said.
On Monday, Hill said, his lender told him that the investor holding his loan would not go along with a modification and that his new foreclosure date was in January. He said his interest rate, which started at 7.9 percent, is now at 12.9 percent and will soon rise to the 14.9 percent cap.
Some borrowers wait too long before asking for help, so many lenders try to contact them when they see a potential default coming. But lenders often have trouble getting through, according to Alexis McGee, president of foreclosures.com, a Web site that tracks foreclosure activity.
"There's a huge fear of dealing with the bad, mean bill collector on the phone," she said. "A lot of (homeowners) have disconnected phone numbers, or they're throwing out their mail. They've got hundreds of letters sitting there and they're just frozen in fear of what to do."
Part of the problem stems from the sheer volume of loans going bad — an outcome that few lenders were prepared for. The fact that so many mortgages were pooled and sold to investors adds another level of complexity.
"The problem is just so big and so unanticipated that to have the sufficient manpower to do this, Wall Street and these other servicers need to go outside their four walls," said Nicholas Bratsofolis, chairman of Refinance.com, a mortgage bank based in New York.
Modifying a mortgage loan is a complex task under the best of circumstances. In many cases, the information in the original loan may be incomplete, especially in the case of "no documentation" loans that were popular with both lenders and borrowers at the height of the boom. Today, underwriting standards are much tighter, making many loans difficult to modify, according to Michael Zoretich, a mortgage broker in Brookings, Ore.
"If you switch from a non-verification of employment status, and income and asset status —where you're going to fully verify everything during this transition — you're going to see in excess of 50 to 60 percent of the notes in California go into the can, because they're not going be able to qualify under those new guidelines," he said.
Many state and federal officials have called on the lending industry to streamline the refinancing process. Bair has proposed that borrowers with adjustable loans who are current and able to pay the starter rate be allowed to convert to a fixed-rate loan at the initial rate. (California recently won agreements from some lenders to adopt similar guidelines, but the agreements are voluntary.)
Fixing those starter rates for the life of the loan would vastly simplify the process of modifying loans and, in many cases, would amount to refinancing homeowners into mortgages at current market rates. Bair estimates that about half of subprime loans written in 2006 have starter rates above 8 percent.
But it remains to be seen whether the investors who bought the bonds backed by these high-rate loans will agree to give up the return they expected. Though the loan servicers managing these portfolios have some discretion to make changes in individual loans, they have to show that any changes improve the overall performance of the portfolio. By cutting rates — and return — on too many mortgages, the loan servicer who agrees to new terms with borrowers risks the wrath of investors, according to Zoretich.
Last month, Federal Reserve Board Chairman Ben Bernanke told Congress' Joint Economic Committee that pushback from investors is another reason why lenders need to set up standard guidelines to modify mortgages in greater volume.
"By providing a systematic approach to addressing these mortgages, (lenders) actually protect themselves against claims by investors or others who feel that they are arbitrarily changing or modifying the loans," Bernanke told the panel.
So far, those guidelines have been devilishly difficult to establish, in part because there are so many different types of loans and parties involved in servicing them. 
For example, after an explosion of second mortgages during the lending boom, many borrowers facing default have more than one lender to contend with, and those lenders may have conflicting interests. A lender holding a first mortgage who wants to modify terms may face opposition from a holder of a second mortgage, who may be left with little equity to cover the loan.
With the industry unable to develop strategies for heading off bad loans as fast as they wrote them, some loan servicers have apparently focused on coping with the aftermath of bad loans rather than negotiating new terms to keep the homeowner current. As a result, some borrowers facing big payment increases say they're being told that there's nothing that can be done until the loan is in default.
"They're being urged to miss their payment, and then they can do a workout with the lender," said McGee. "(The lender is saying) that they don't have the authority to do anything until people start missing their payments."
One proposal making its way through Congress could provide some relief. Under current bankruptcy laws, a borrower can ask the court to work out a new payment schedule for all debts — except a primary mortgage. If Congress changes the law, homeowners could declare bankruptcy and ask a judge to modify their loan terms. If the judge agrees, lenders would have no choice but to go along.
Consumer advocates say the change could speed up loan modifications without even getting the bankruptcy courts involved, as lenders face the prospect of negotiating their own new terms — or having a judge do it for them.
"The lender needs to show up in court," said Harnick. "There's none of this put somebody on hold forever, because the ship is going to sail without you if you don't. It's the judge who gets the final say as to what's reasonable, as opposed to the lender."