/ Source: The Associated Press
Four rare gorillas at the center of a five-year international tussle were due to fly from South Africa just after midnight Friday to a wildlife sanctuary in Cameroon.
Tinu, Izan, Oyin and Abbey were all lightly tranquilized as they were loaded into giant wooden crates Thursday for the 18-hour journey to their new home. They seemed fine as they emerged from that initial sedation, and were to lightly tranquilized again before the flight, said Christina Pretorius of the International Fund for Animal Welfare.
Clifford Nxomani, executive director of the Pretoria zoo, said he did not expect any hitches in the operation.
The Western Lowland gorillas, dubbed the Taiping Four — were smuggled as young animals to Taiping Zoo in Malaysia, via South Africa, using forged documents in 2002. The Malaysian government sent them back to South Africa in 2004 and they have since been kept at Pretoria's zoo.
South African officials relented earlier this year after at first claiming that under international law they should remain where they were as there was uncertainty over their true origin.
"These animals have become the poster children of the ugly side of the trade in endangered wildlife," said Pretorius, her voice choked with emotion. "They have really caught the international imagination."
"Africa's wildlife is disappearing from the earth right in front of our eyes," she said. "The return of the Taiping Four sends a clear message that Africa's wildlife is worth fighting for and that international law must be upheld."
Although the circumstances of the gorillas' capture as infants remain uncertain, they were probably victims of the bush meat trade. Typically adult gorillas are killed for meat and their young taken to sell. At least four out of five infants die before they get proper help.
Gorillas are protected from capture, killing or export under the Convention on International Trade in Endangered Species. Experts believe that fewer than 100,000 Western Lowland gorillas remain in the wild in West Africa. The International Union for the Conservation of Nature recently upgraded their status from endangered to critically endangered, largely as a result of being hunted, killed and captured for commercial use.
The gorillas — three females and one male — will be kept at the Limbe Wildlife Center sanctuary, which has a good record in rehabilitating orphans.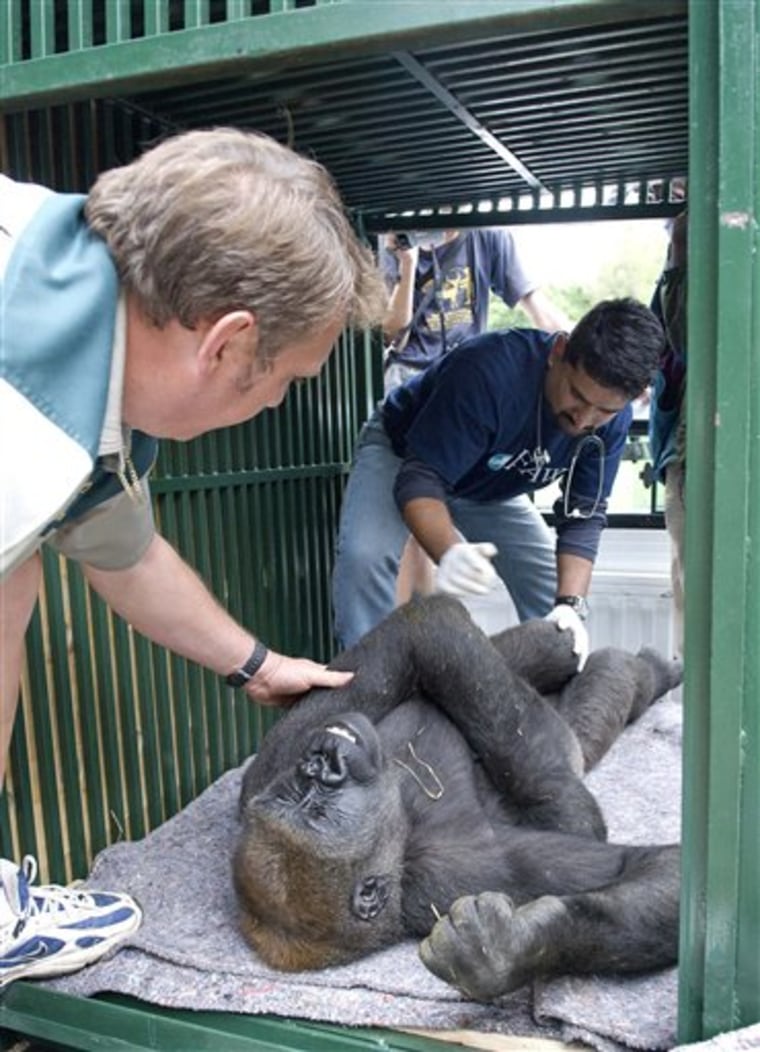 Limbe staff spent the past few weeks at the Pretoria zoo to get used to the animals and two Pretoria zoo staff will accompany the gorillas to Cameroon to make sure they settle in, said Pretorius.
The six-year-old gorillas — which were all tested and declared free of disease — will be kept in quarantine for several months while they acclimatize.
"They are sociable animals and you can't just release four adolescent animals into a family group. They have to adapt," said Pretorius, whose organization helped meet the costs of the repatriation.
Kenya Airways agreed to fly the animals for free on a scheduled flight from Johannesburg, via Nairobi and onto Douala in Cameroon, and the zoo said it would cover all the medical costs.