One month before Iowans kick off the long march to the November 2008 election, Democrat Barack Obama and Republican Mike Huckabee are threatening to turn the tense U.S. presidential race upside down.
Democrat Hillary Clinton and Republican Mitt Romney have seen once stable leads in Iowa evaporate as their challengers surge forward, leaving a tight and unsettled contest for both parties' nominations in the Midwestern state.
"Everything is in flux, but I don't see anyone breaking away from the pack," said Mark Smith, president of the Iowa state AFL-CIO, a federation of labor unions.
"This could all shift again. Some people are just starting to think about the race and a lot of people aren't sure about it yet."
A Des Moines Register poll on Sunday found Obama narrowly leading Clinton and John Edwards among Iowa Democrats, and a Pew Research Center-AP poll on Monday gave Clinton a slight edge.
Huckabee held a small lead over Romney among Republicans in the Register poll, with Rudy Giuliani, who is ahead in national polls but has not focused on Iowa, trailing badly in third place.
The leads were within the Register poll's margin of error, and more than half of Iowa voters said they could change their minds before the January 3 contest that opens the state-by-state battle to pick general election candidates.
The findings mirrored other surveys showing tightening races nationally and in New Hampshire, which votes five days after Iowa. The shifting ground has electrified campaigns in both parties.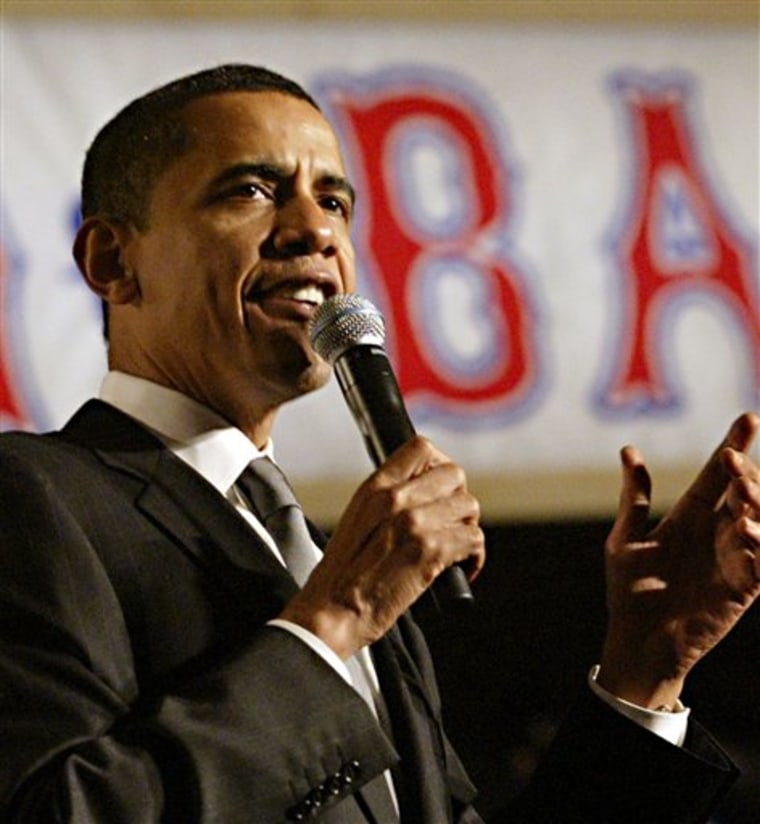 "It all starts here in Iowa," a cheerful Obama told reporters on Sunday, calling the latest attacks on him from Clinton a result of his rise in the polls.
Democratic candidates in particular are counting on Iowa to propel them into later states with momentum. A Clinton win could feed perceptions the national front-runner is unstoppable, while a loss could knock the wheels off her bandwagon and allow the winner to become the consensus alternative to her candidacy.
Edwards, the former North Carolina senator who finished second in Iowa during an unsuccessful 2004 White House run, almost certainly needs a win to keep his campaign afloat.
For Republicans, top contenders Giuliani, the former New York mayor, former Sen. Fred Thompson of Tennessee and Sen. John McCain of Arizona have focused more attention on later states, leaving Romney and Huckabee to duke it out at the top.
"We've got a lot of candidates with a lot of different strategies. Not every Republican is counting on Iowa," said Steve Roberts, a Republican National Committee member from the state. "For the Democrats, everyone is playing to win."
Romney has the most to lose in Iowa. The former Massachusetts governor has vastly outspent the fast-rising Huckabee in the state and has built a large organization.
But Huckabee, a former Arkansas governor and a former Baptist minister, has been aided by growing support among the state's sizable bloc of religious conservatives, who often effectively organize themselves through their churches.
Polls show that group is also the most skeptical of Romney's Mormon religion, which some evangelicals consider a cult. Romney plans a speech on Thursday addressing questions about his faith and the role it would play in his presidency, although aides said the tightening race was not a factor in the timing.
"It would be a severe blow to Romney if he didn't finish first here," said Dennis Goldford, a political analyst at Drake University in Des Moines.
The unusual nature of the Iowa contest -- a caucus that requires voters to go out on a winter night and gather with neighbors to publicly declare their support for a candidate -- places a premium on organization.
Obama, Clinton and Edwards have poured resources into identifying supporters and getting them to the caucus, while Romney has been the clear leader in that effort for Republicans.
The race's fluid nature can be seen in the heightened intensity of the campaign-trail rhetoric. Clinton, a New York senator, has been a target of criticism for weeks for her candor, electability and stances on Iraq and Iran.
But she has turned more aggressive as the race has tightened, criticizing Obama, a freshman Illinois senator, for his health care plan and perceived lack of experience.