To join the ranks of the world's extraordinary luxury hotels, you've got to offer something a little off-kilter.
That's what awaits those visiting the Propeller Island City Lodge in Berlin. Each of the hotel's 31 rooms embraces a different theme. Bedding, walls and carpeting in the orange room are decorated in varying shades of ginger, carrot and tangerine, while the symbol room (left) is lined with wooden blocks featuring 300 different symbols, including everything from Greek letters to dollar signs.
Guests of the the Winvian Hotel in Morris, Conn., find just as abstract amenities. Here, it's possible to bed down in a suite housing a helicopter. The property is made up of 18 individually designed cottages. Guests enjoy complimentary meals and drinks, as well as access to Vespa scooters and horseback riding.
Those in the hospitality industry say children of baby boomers are driving demand for such inventive inns. Bill Crow, a hotel-industry analyst with Raymond James & Co., a financial-services holding company, says the so-called echo boomers tend to travel more than their parents, and when they do, seek an "experience" rather than a standard place to lay their heads.
As a result, Crow says, "Everybody's looking for an edge."
One such spot: Quebec's Ice Hotel. The lodge is made each winter out of 15,000 pounds of snow and 500 pounds of ice. But you don't sleep directly on the cold, hard stuff—remember, this place is still considered luxurious. There's a wooden plank between the ice and a comfy mattress, plus you're insulated with a special sleeping bag that can withstand the harshest climes (here, that often means -40 degrees Fahrenheit).
Suzanne Brian of Scottsdale, Ariz., chose the hotel for a Valentine's Day getaway last year with her husband, Harvey. Often chilly even in Arizona, he was skeptical about sleeping in sub-zero temperatures. But on their night in the hotel, the Brians slept in sleeping bags in a sleigh carved out of the ice, comfortably insulated from the cold air outside.
"They don't have anything like that in the Ws, the Marriotts," he says.
Maybe in a couple of years the Brians will up the ante and take a trip to Quingdao, China, where the HydroPalace is scheduled to open in 2009. The 200-room hotel is to be anchored in—not on—the Yellow Sea. The company hopes to open additional underwater properties in Monaco and Dubai.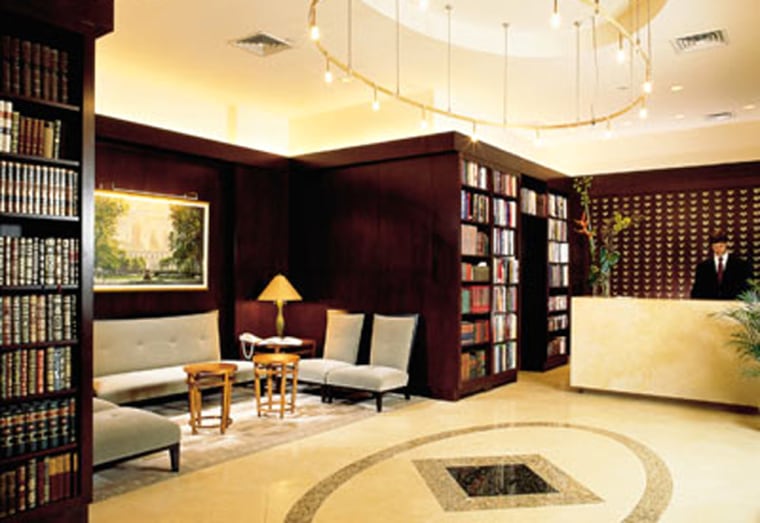 Currently operating underwater is the Jules Undersea Lodge in Key Largo, Fla., a former research lab where guests scuba dive down 21 feet to reach the main lobby. Luanne Betz and Dave Thompson chose the lodge as a memorable spot for their July wedding, sending the tuxedo and wedding dress down in airtight containers.
Then there are the less extreme (and drier) options. The Library Hotel in New York, with rooms categorized according to the Dewey Decimal system, uses a theme to differentiate the property from its mainstream business-segment competition. The Casablanca, a Times Square hotel owned by the same company, is modeled after the movie, right down to the Rick's Café.
Bjorn Hanson, a hotel analyst at PriceWaterhousecoopers, says the biggest risk in creating a "unique" hotel experience is going too far.
However, defining "too far" might be trickier than one would expect, given the choices currently available. Nudist Ramada Inn, anyone?