/ Source: The Associated Press
Mitt Romney is Deb Bartholoma's man —for now.
"It varies from day to day," says the 53-year-old Republican from Timmonsville, S.C., where she is a county government official. "I'm listening to everybody."
That's typical of the uncertainty rampant in the three important early voting states in the struggle for the GOP presidential nomination. In-depth polling by The Associated Press and the nonpartisan Pew Research Center shows that in Iowa, New Hampshire and South Carolina, no one is a shoo-in.
Across the three states, tight battles are being waged for voters' trust on Iraq, immigration and other key Republican issues and for control of pivotal groups including conservatives, white evangelicals and men. And it is Romney, not national front-runner Rudy Giuliani, who is ahead in New Hampshire and fighting for the lead in Iowa and South Carolina — three very different races. Former Arkansas Gov. Mike Huckabee has been surging lately in Iowa.
Underscoring the tumult so far, only 57 percent of Republicans in Iowa say they strongly support their favorite candidate. That figure is even lower in New Hampshire, 49 percent, and South Carolina, 44 percent, in an indication that many have yet to make up their minds for good.
The most "electable"
As for Giuliani, the former New York mayor is seen as the most electable candidate by Iowa and South Carolina Republicans and is tied with Romney in that category in New Hampshire. However, solid majorities in each state say that is less important than finding a candidate they agree with on the issues.
Further complicating Giuliani's chances, one-fifth of Iowa Republicans and more than one-tenth in New Hampshire and South Carolina say they cannot support him — a distaste only Arizona Sen. John McCain and Rep. Ron Paul of Texas approach. Giuliani is on his third marriage and has more moderate views than many Republicans on gays, guns and abortion.
"A guy you can't trust in his home and family, how can he be trusted to run a nation," Jesse Hill, 26, a pastor in Unionville, Iowa, said of Giuliani. Hill supports Huckabee.
Giuliani campaign officials have said that even without momentum-building victories in the earliest states, he can win the nomination by doing well later in Florida, New York, California and other big states.
According to the AP-Pew poll,
—In Iowa, where the Jan. 3 caucuses will provide the nation's first votes, Romney has 25 percent support among Republicans, Huckabee 24 percent, Giuliani 14 percent and former Tennessee Sen. Fred Thompson 12 percent.
—In New Hampshire, Romney has 37 percent, Giuliani 19 percent and McCain 15 percent. The primary is Jan. 8.
—In South Carolina, where the poll shows voters are less focused on the race, Romney and Giuliani have 19 percent each, Thompson 18 percent, McCain 13 percent and Huckabee 10 percent. Republicans there vote Jan. 19.
The topsy-turvy Republican contest in the three early states contrasts with the less chaotic Democratic races. Though Iowa is up for grabs, Sen. Hillary Clinton, D-N.Y., is a clearer front-runner than the GOP contenders and has stronger trust on her party's top two concerns, Iraq and health care. Democratic voters are also more committed to their candidates and have far less interest in immigration as an issue.
The Republican candidates' struggles to dominate on important GOP issues spotlight how unsettled the race is in the early states.
Romney wins more support than his rivals on immigration in Iowa and New Hampshire, but shares the lead on that issue in South Carolina with three other contenders. Most of the GOP candidates talk about how they would tighten U.S. borders and take other steps to deal with the nation's 12 million illegal immigrants. More Republicans in each of the three early states say immigrants threaten American customs than say they strengthen the country, the poll showed.
"I'm not saying round them up and ship them out, but we need at least to weed out the criminal element" among illegal immigrants, said Curt Ford, 53, a Romney supporter and small business owner from Conway, N.H.
McCain, the former Vietnam prisoner of war whose candidacy seemed nearly doomed last summer, is the most trusted on Iraq by Republicans in New Hampshire and is tied for the lead on the issue in Iowa and South Carolina. McCain has been a vocal supporter of President Bush's troop increase in Iraq and may be benefiting from recent reductions in casualties. Large majorities of Republicans in the three states think the U.S. military campaign is going well and favor keeping troops there until the violence has stabilized.
Giuliani, whose rise to national prominence was aided by his response to the Sept. 11, 2001, attacks on his city, is viewed by Iowa and South Carolina Republicans as the best choice for protecting the country from terrorists. He shares that perception with McCain in New Hampshire.
The evangelical lobby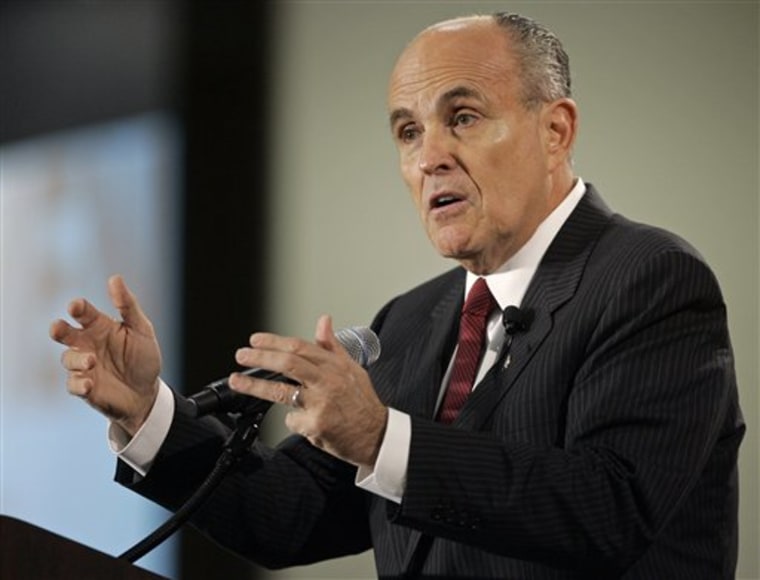 Huckabee's rise has been aided by white evangelical Protestants. They make up nearly two-thirds of his supporters in each of the three states — a larger proportion than any of the other candidates.
Yet evangelicals also illustrate how core GOP voters are divided.
Forty percent of evangelicals in Iowa support Huckabee, twice Romney's share. But the Arkansan's backing from that group drops to 24 percent in New Hampshire and 12 percent in South Carolina, where he divides their allegiance nearly evenly with Giuliani, McCain, Thompson and Romney.
Huckabee also exhibits significant weaknesses among non-evangelical Republicans. Only one in seven supports him in Iowa, and roughly one in 20 in New Hampshire and South Carolina.
Other GOP blocs also show fissures. Conservatives and men are evenly split between Romney and Huckabee in Iowa; Romney dominates both groups in New Hampshire, and Thompson is stronger in South Carolina. Republicans who go to church weekly or more prefer Huckabee in Iowa, Romney in New Hampshire and Thompson in South Carolina.
The telephone survey included interviews conducted Nov. 7-25 with 264 likely Republican voters in Iowa, for whom the margin of sampling error was plus or minus 7 percentage points; 446 likely GOP voters in New Hampshire, with a margin of sampling error of plus or minus 5.5 points, and 468 likely GOP voters in South Carolina, with a margin of sampling error of plus or minus 5.5 points.