/ Source: The Associated Press
Check your holiday credit card bills closely.
Some credit card companies are raising interest rates on good customers even if they pay down their balances, on time, every month. The reason they cite is that the customer's credit rating has fallen elsewhere.
That was a rude surprise to Janet Hard, a stay-at-home mother of two teenage boys from Freeland, Mich.
Depending on her husband's salary as a steamfitter while she raised the children was financially difficult, Hard said, especially with college tuition on the horizon. To keep the family's finances in balance, Hard said she paid more than the minimum payment on her Discover card every month, plus an $8.00 Internet fee.
Or so she thought.
In February, Hard noticed that despite her payments, the balance was "barely moving."
A phone call to Discover solved the mystery, but not the problem: The company had increased her interest rate from 18 percent to 24.24 percent after running a spontaneous credit report that showed her other credit card balances and available credit on inactive accounts put the family at a higher risk of defaulting on their payments.
Most stunning, $3,478.39 out of $5,618 in payments had gone to Discover for interest accrued over the previous two years, Hard told the panel. On a monthly level, about $176 out of her $200 payments went to finance charges. In the past year alone, Hard had paid $2,400 but reduced her debt by only about $350.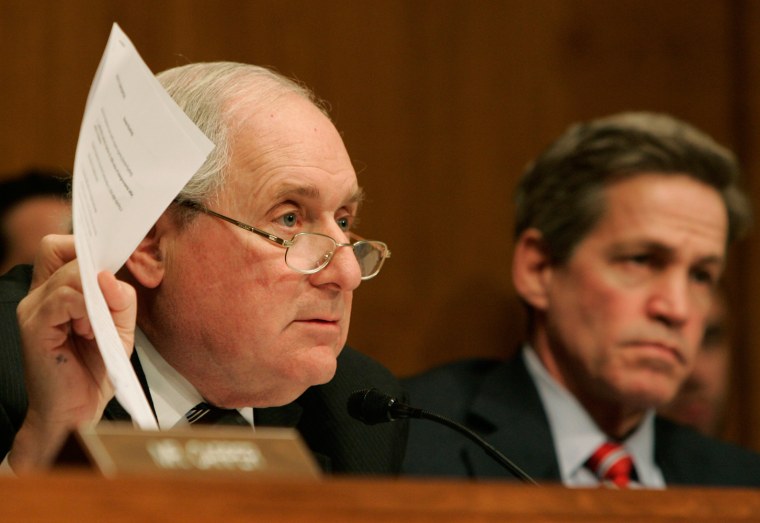 "My husband and I feel as though we have been robbed," Hard told the Senate Permanent Subcommittee on Investigations Tuesday. "As we struggle to overcome this financially, we also are struggling to overcome it on an emotional level. Some days, this feels more difficult than the paying off of our balance."
The panel's chairman, Sen. Carl Levin, D-Mich., is sponsoring legislation that would restrict credit card interest rate to certain instances — such as at the conclusion of a low, introductory rate period, contracts that have variable rates and when a cardholder violates the agreement with the issuer.
"When a credit card issuer promises to provide a cardholder with a specific interest rate if they meet their credit card obligations, and the cardholder holds up their end of the bargain, the credit-card issuer should have to do the same," Levin said.
Major credit card companies such as Citigroup Inc. and JPMorgan Chase & Co. have said they will discontinue the practice of raising a customer's interest rate based solely on a credit report. Capital One said its long-standing policy is not to change customers' interest rates if their credit scores go down.
But congressional efforts to make all credit card companies discontue the practice is running into a buzz saw of opposition from the banking industry.
Consumer risk profiles change as underlying costs to the lenders change and interest rates must reflect that, said Ken Clayton, managing director of card policy for the American Bankers Association.
Not considering changes to a card holder's credit rating "is like taking the batteries out of a smoke detector," said Roger C. Hochschild, president and chief operating officer of Discover Financial Services LLC. "It's important criteria."
Hochschild and other top credit industry executives told the Senate panel that card holders are appropriately notified of any changes, given time to opt out and pay off the card at the old rate, and to contact the credit bureaus whose reports may have spurred the rise in rates.
Consumers have other options, they added, such as contacting their credit card company and making new arrangements that might include fee waivers and new payment schedules.
Sen. Norm Coleman, R-Minn., said Congress should be mindful of unintended consequences by imposing new federal regulations on the industry, such as the return of high annual fees and less access to credit for people with questionable credit records.
With Americans weighed down by some $900 billion in credit card debt — an average $2,200 per household — practices of the very profitable industry have been ripe for scrutiny by the Democratic-controlled Congress. The Federal Reserve is paying attention as well and planning to require credit-card issuers to give customers at least 45 days' notice before raising interest rates and to provide clearer information on fees.
Levin assembled anecdotes from consumers across the country that had one thing in common: All say they received surprise credit card interest hikes — to as much as 30 percent — despite their history of prompt payments. None knew that their interest rate increases were triggered by lower so-called FICO credit scores.
Hard, for example, said she'd asked Discover why her interest rate had been increased. She said she was never informed specifically that it was because her FICO score had dropped, and so did not review her credit report.
Discover's Hochschild told the panel his company bases interest rates on a consumer's broad record rather than one factor. Discover cards, held by 50 million customers, have the lowest incidence of problems among the 10 largest issuers of credit cards, he said, quoting a recent J.D. Power and Associates survey.
In keeping with Discover's "holistic" approach, the company did not raise Hard's interest rate earlier when she was late three times in making a payment, Hochschild said. It was the subsequent drop in her credit rating combined with the three late payments that prompted her rate increase, he said.
He noted that the card had been issued only in Hard's name and was not a joint account also held by her husband, a factor that might have influenced Discover's assessment of risk.
Levin asked Hochschild if Hard's interest rate "was based mainly on her credit score going down. Is that correct?"
"Yes," Hochschild said.
Hochschild said he had been informed earlier Tuesday morning that Hard's interest rate had been reinstated at the original 18 percent level.
"It had nothing to do with this hearing," Hochschild said. "She called and requested a lower rate."