/ Source: The Associated Press
Thailand celebrated King Bhumibol Adulyadej's 80th birthday Wednesday with festivities, prayers and a nationwide effort to wear yellow -- the color that symbolizes devotion to the world's longest reigning monarch.
Tens of thousands of people in yellow shirts, waving yellow flags packed the streets around the Grand Palace in Bangkok where Bhumibol made a rare public appearance from the balcony of his ceremonial Throne Hall -- only the sixth such appearance in his 61-year reign.
Dressed in a gold brocade robe, Bhumibol stepped onto the balcony steadied by the arm of an attendant and took a seat in a golden throne as the crowd erupted in shouts of "Long Live the King!"
People traveled from cities around Thailand, hoping to catch a glimpse of the beloved monarch. Some camped out the night before along the path of his motorcade.
'I love the king'
"This is a once in a lifetime experience," said Chai Kanmanit, a grocer who traveled to Bangkok from the northern city of Chiang Mai. "I love the king. I want to see the king."
A woman in the crowd was ecstatic after seeing Bhumibol's cream-colored Rolls Royce drive past.
"I think he was waving at us!" said the woman, Sutida Rungsawat. "It's amazing. I think I might have seen him smiling."
Far from the center of celebrations, people everywhere donned yellow -- from supermarket cashiers and morning joggers to business people.
Bhumibol's birthday is a national holiday in Thailand and has increasingly become a day of nationwide tribute to the man who is the most influential figure in modern Thai history. Many Thais have never known another sovereign.
Though he is a constitutional king with no formal political role, he is regarded as a key to Thailand's stability. Bhumibol has stilled bloody uprisings, weathered military coups and has reigned through scores of governments, democratic and dictatorial. In his six decades on the throne, he took an active role in rural development and is respected for his dedication to helping the country's poor.
Succession?
Now frail and on the decline, Bhumibol's health and the royal succession is on everyone's mind. He was recently hospitalized for three weeks for symptoms of a stroke, the latest of many ailments, and now moves about with a walker.
Speaking softly but with his characteristic sense of humor, Bhumibol delivered his traditional birthday speech Tuesday to senior government officials and dignitaries. It was carried live on radio and then broadcast on television.
Bhumibol called for national unity as the country heads into divisive general elections later this month, likening the country's situation to difficulties he has in walking.
"(We) must be united, like our legs that must be united _ which means one goes forward and one pushes back before moving forward," he said. "This way, we could walk without falling. Without unity, the country will face disaster."
Bhumibol also addressed his recent penchant for wearing bright blazers. He has stepped out in pink, baby blue, light green, lavender, red, and other bright sport coats. Each outing has set instant color trends among his devoted subjects.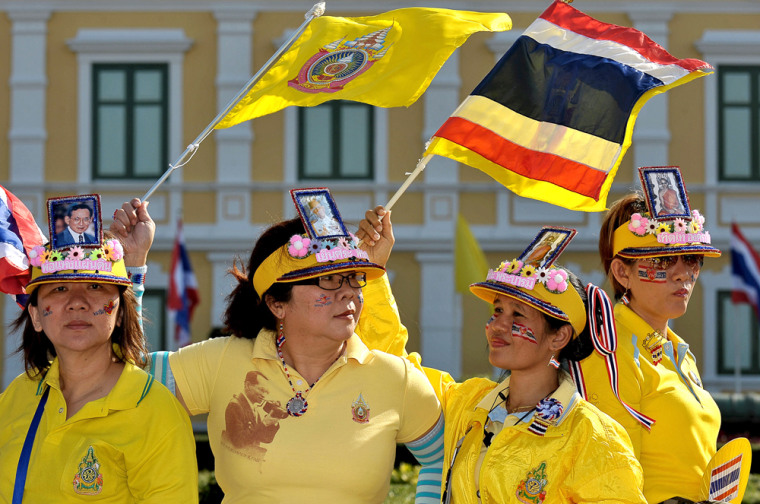 "Wearing a uniform all the time is boring," he said, adding that there was no reason for an old man to dress in dark suits.
"I never thought I would live to be 80," said the king, wearing a pale gray suit with a pink shirt and yellow tie. "We are old now. I don't want to dress boring."
Everywhere around the Buddhist nation, people planned to show respect for the monarch by saying prayers and performing merit-making ceremonies that typically involve freeing captive animals, including birds, turtles and fish.
Fireworks were to light the skies Wednesday night in several cities as part of weeklong celebrations.
Bhumibol was born on Dec. 5, 1927, in Cambridge, Massachusetts, where his father, Prince Mahidol, was studying medicine at Harvard University. At the age of 19, he became the ninth king of Thailand's Chakri dynasty on June 9, 1946 after his older brother Ananda died from a mysterious gunshot to the head.
The king has never publicly commented on his successor, an issue that weighs heavily on Thais minds.
His son, Crown Prince Vajiralongkorn, has been groomed to succeed him. But the 55-year-old prince has a less conciliatory personality than his father, and there is concern that he will have difficulty living up to Bhumibol's record of hard work and diligence.