There once was a time when identifying a product as the "Cadillac" of its category was a common shorthand denoting excellence, but no longer. Other carmakers have displaced Cadillac at the top of the car industry, and the automaker is fighting to reclaim its stake as the industry benchmark and the self-proclaimed "Standard of the World."
Ever since General Motors CEO Rick Wagoner booted out the Procter & Gamble-bred blunderers who used to rule the automaker and brought in Vice Chairman Bob Lutz to revitalize its moribund product development, the company has made steady progress. The new Cadillac CTS is the first evidence that it has reached its destination.
The original CTS was the first car to receive Cadillac's edgy new styling when it debuted, and the second-generation CTS is the first to receive the company's full, take-no-prisoners, make-no-excuses standard of execution.
As such, the CTS is a complete success. It's not only handsome, it's distinctive. It not only doesn't blindly follow BMW's much-criticized and much-imitated "flame surfacing" styling ("lame surfacing" to its detractors), it continues to blaze its own styling trail — one that's distinct from those of its competitors.
The old car had that unique styling in its broad strokes, but it fell down on the details. Now the car's grille no longer looks like a bit of chromed plastic frippery from Wal-Mart's toy aisle. The exquisite LED light pipes in the CTS' front marker lights and taillights are certain to become a Cadillac signature, at least until everyone else copies them.
Inside, the changes are just as dramatic.
The appalling shiny plastic is gone, replaced with opulent soft, often leather-wrapped, surfaces that are as kind to the hand as they are to the eye. The warm, low-gloss wood, leather and vinyl surfaces, silky switch gear and elegant instrumentation provide a virtual clinic in how interior car design should be done. (I've avoided describing the previous model's unlovely cabin as cheap, because as one Cadillac engineer confided: "The worst part was that it wasn't even cheap." Yikes, expensive and ugly all in one package? Thank goodness they've solved that problem.)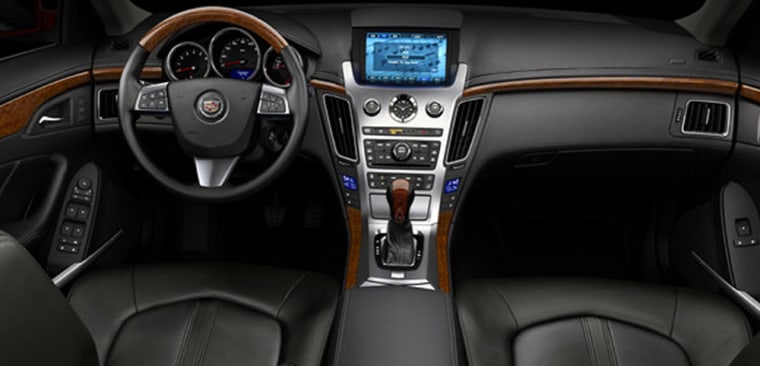 The CTS' seats are 10-way adjustable, supportive and coast-to-coast comfortable, and the new infotainment system also merits special mention, both good and bad. The computer touch-screen — no primitive BMW iDrive controller here — retracts into the dash to avoid marring its meticulously styled appearance. Innovatively, it continues to function as a small display because when retracted it leaves the top inch or so visible to provide basic information on the radio station or other musical source.
In addition to plain old CDs, the Alpine-supplied stereo-navigation system plays DVD audio discs for truly startling music clarity.  It will also play DVD video, showing them on the navigation screen when the car is stationary and on the available rear-seat display when the car's in motion.
You can not only plug in your iPod, you can control it with the CTS' stereo controls and see its contents displayed on the screen. You can also copy its contents (or your CDs) to the on-board 40-gigabyte hard drive. This system does everything except buy your concert tickets.
But in its wisdom Alpine, the infotainment system's manufacturer, has relied on Microsoft for the device's operating system, and anyone who uses a Windows computer can guess what is coming next.
The display periodically froze on the first song I played, declining to show any more songs, though it did actually play them. Sometimes it didn't recognize my iPod, and at other times it restarted on a static-y AM radio band when I'd been enjoying digital XM satellite radio before shutting the car off. All of these problems are known bugs, fixable by a visit to the dealer for a software patch, Cadillac reports. Sigh. (Msnbc.com is a joint venture of Microsoft and NBC Universal.)
Behind the wheel and under way, the CTS' dynamics are unassailable, at least when outfitted with the test car's optional FE3 sport suspension. Firm, communicative steering that would flatter any European product combines with a compliant but controlled suspension. Point the CTS into a curve and it goes where the driver intends, providing updates through the steering wheel along the way to confirm adherence to the intended flight path.
A remark regarding the FE3 suspension is that it includes Michelin Pilot Sport high performance tires — these are summer-only tires and are well-regarded for their contribution to the performance capabilities of some prestigious sports cars. However, driven in near-freezing temperatures the tires provide very little grip, even on dry pavement, and on wet roads they were even worse. Most drivers will be happier with the standard all-season tires, as these are really only suitable for use in the Sun Belt or during summer months.
The tested CTS featured the optional 304 horsepower direct-injected version of GM's 3.6-liter V6 engine. The engine provides the refined power this segment demands from any competitor, though while trolling along at medium speeds you can hear a faint under-hood clicking that may be the direct injectors blasting fuel into the cylinders at seemingly impossible pressure.  I've not noticed the sound in direct-injected Audis, so there is some room for improvement here.
But the six-speed automatic transmission's computer is smart enough to know when to shift gears and when not to — an accomplishment that isn't necessarily a given when it has six gears to choose from.
From a practical standpoint, the back seat is acceptably comfortable for two adults or three children, which isn't usually a priority among luxury sedan customers but bears mentioning. The seat bottoms are low to the floor, without an abundance of thigh support, although leg room and head room are just enough for a six-footer to sit without being squeezed.
The rear seat back does not fold for access to the trunk space, but there is a ski pass-through in the center armrest for long objects. The trunk itself is impressively capacious, but the lid's size is compromised by the CTS' racy looks, so wrestling a steamer trunk though the small aperture could be a challenge worthy of Hulk Hogan.
Professional athletes, entertainers and reality TV stars like Hogan have long been attracted to Cadillac's Escalade SUV because of its brash style and expansive cabin, but these and other wealthy trendsetters have stuck with foreign sedans for their combination of style, prestige and responsive driving characteristics. 
That could be about to change. The no-excuses, no-apologies CTS serves notice that Cadillac is back as a top contender in the automotive segment. You could even call the CTS the Cadillac of compact luxury sedans.