A former NFL wide receiver and two NASA spacewalkers are ready to tackle a tough construction job at the international space station once their shuttle Atlantis launches into orbit on Thursday.
NASA astronaut Leland Melvin, a professional athlete-turned-astronaut, will make his spaceflight debut alongside spacewalkers Rex Walheim, Stanley Love and four crewmates when Atlantis rockets spaceward to deliver a European lab to the ISS.
"I've played on some very dynamic teams in the past and this is one of the most dynamic," said Melvin, who was drafted by the Detroit Lions in 1986 before injuries prematurely ended his NFL career. "Everyone has each other's back and we work together."
Melvin and Love will make their first trips into space when Atlantis lifts off at 4:31 p.m. EST (2131 GMT) tomorrow on an 11-day mission to install the European Space Agency's Columbus laboratory at the ISS. Walheim, meanwhile, is returning to orbit on what will be his second spaceflight.
"It is really exciting to get a chance to go into space again," Walheim said Monday after arriving here at NASA's Kennedy Space Center spaceport.
Tackling spaceflight
Melvin, 43, credits a mix of sports and education for placing him on the path toward space. His ability to catch a football while growing up in Lynchburg, Va., led to a scholarship to the University of Richmond, where he obtained a bachelor's degree in chemistry.
"So I was playing ball and I was doing chemical research," Melvin said in a NASA interview. "It was a very exciting time."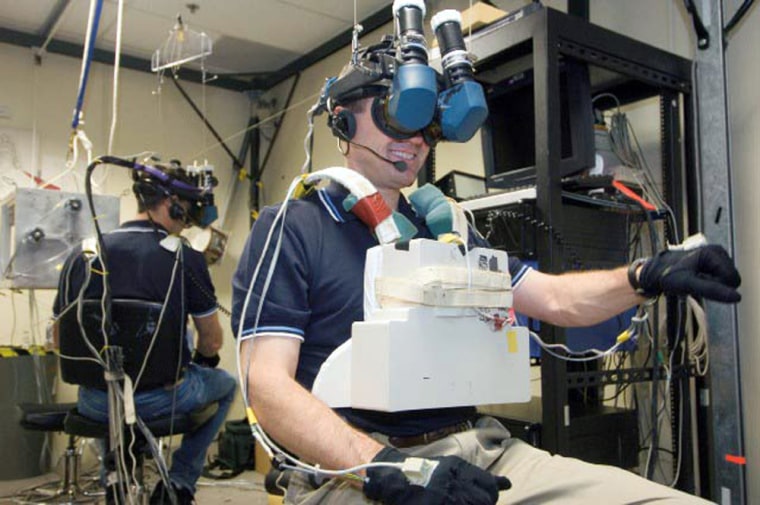 But Melvin didn't initially plan to become an astronaut. After graduation, he was drafted in the 11th round by the Lions, but pulled a hamstring in the preseason and was later released. He studied materials science engineering at the University of Virginia while training with the Dallas Cowboys, but another hamstring injury led him back into life as a research scientist.
"So that was pretty much the end of my NFL career," said Melvin, who has also stressed the importance of education to students as co-manager of NASA's educator astronaut program. "But I already had this backup plan already in work."
Melvin joined NASA's Langley Research Center in 1989 to help develop nondestructive ways of examining spacecraft and later led the Vehicle Health Monitoring team for the agency's X-33 reusable launch vehicle program. After a friend suggested he apply to NASA's astronaut corps, Melvin obliged and was selected in 1998.
"I think playing pro football, or playing any sport where you have to work together as a team, helps you become a better astronaut," he said, adding that the same non-verbal communication skills on the field can be used on a shuttle flight deck.
During STS-122, Melvin will serve as Mission Specialist-1 and the prime operator for the space station's robotic arm, which he will wield to install Europe's Columbus lab to the ISS.
"That's going to be another exciting time," he said. "We will have grown the station by another module and have brought our international partners from Europe on board to be part of this huge, expansive station."
Spacewalk chief
As the only veteran spacewalker on Atlantis' STS-122 crew, Walheim will participate in all three of the mission's planned spacewalks to install the ESA's Columbus lab and add new equipment to the station's exterior.
"I think the main thing is I want to develop really good timelines that are executable," Walheim, 45, said in an interview. "We try to make sure that our fellow spacewalkers have the experience that they need."
A native of San Carlos, Calif., Walheim is a U.S. Air Force colonel who obtained degrees in mechanical and industrial engineering before serving as space shuttle flight controller at NASA's Johnson Space Center in Houston. He trained as a flight test engineer and was serving as a USAF test pilot instructor when he was selected to join NASA's astronaut ranks in 1996.
"I didn't really think it was that much of an attainable goal, but I kept it at the back of my mind and I did want to shoot for it," said Walheim who is married to wife Margie and has two children.
He first reached orbit in April 2002 on NASA's STS-110 mission, where he flew alongside crewmate Stephen Frick, who is commanding the current STS-122 spaceflight. Aboard Atlantis, Walheim will serve as Mission Specialist-2.
Despite spending 10 days in space during his first spaceflight, Walheim said there is one thing he missed that he hopes to revisit on STS-122.
"You know your memories fade fast," he told reporters "And it bugs me that I can't remember seeing a big city in space at night, and so [that's] one thing I want to make sure I do."
An astronomer astronaut
Unlike Melvin and Walheim, Love's commitment to all things space took root in his youth and has only grown since.
"I devoured science fiction novels as a kid," he said in a NASA interview. "My make-believe games were like 'Star Wars' and 'Star Trek,' and I've always loved exploring."
Hailing from Eugene, Ore., Love holds a bachelor's degree in physics, as well as a master's and Ph.D. in astronomy. He worked at NASA's Jet Propulsion Laboratory in Pasadena, Calif., in 1997 as a staff engineer before being selected for the agency's astronaut corps a year later after multiple applications and no less than three interviews.
"I have tried to treat the astronaut career as a lottery ticket," said Love, 42, who is married and has two sons, ages 8 and 11. "I really like science and space, and as long as what I really like and what I'm doing are consistent with being an astronaut, I will send in an application and maybe I'll win the lottery." 
As Mission Specialist-4 for the STS-122 flight, Love is the primary shuttle robotic arm operator and will participate in one spacewalk to retrieve a broken ISS gyroscope and outfit the station's Columbus module with two experiments.
"I'm very pleased to be able to add laboratory space and two big instruments to the outside of Columbus as well," Love said in an interview, adding that he's looking forward to the view from the end of the station's Canadarm2 robotic arm. "I've got a camera. I'm going to take lots of pictures."
The international cooperation at work on the ISS, and human spaceflight in general have a more lasting impact on humanity than some of the selfish or even violent things nations can invest time, money and other resources in, Love said.
"Exploration is something that we can throw ourselves into and feel like we're doing something worthwhile," he added. "It's a noble cause and I'm very, very excited to be a part of it."