/ Source: Sport Diver Magazine
Once they were among the most hotly contested locations on the Spanish Main. Spain viewed them as an important place from which to safeguard treasure fleets, and England saw them as a place from which to make sure those fleets were anything but safe. Nor were theirs the only cannon on the water; like countless generations that followed him, Blackbeard was more than happy to spend his winters here.
But today, you're far more likely to see a dive flag than a Jolly Roger around the Bay Islands. Stories of buried treasure still abound, but visitors agree that the real wealth here lies beneath the glittering sea — in the form of ghostlike whale sharks gliding silently out of the mists, and mazelike dive sites that invite you to explore the next turn. Now part of Honduras, the Bay Islands nonetheless have an international personality, attracting expatriates and vacationers from all around the world. Climate is part of the draw, and great diving is another. But an under-explored asset of the place is variety — among the three principal islands here, you will find three distinct personalities.
Roatan: A Bay Island classic
So close to the Honduran mainland that you can see the mountains from the island's southern tip — and imagine ancient Maya priests staring back at you from those mountaintops — Roatan is the most developed of the Bay Islands. It's also the one best-known to divers.
Partly that's because, when it comes to the Bay Islands, "developed" is very much a relative term. Here it means not neon signs and mega-hotels, but the fact that the island has several communities connected by paved roads, and that, for several years now, electrical power has been available from a single, central provider. The vibe is still very much tropical and tranquil, but all of the essentials — from a choice of dining and accommodations to a plethora of stunning dive sites — are here in abundance. Yet entire communities here still revolve around fishing rather than tourism, and one town, Punta Gorda, was the first Garifuna settlement in Central America. The Garifuna, or "Black Caribs," originally came from the Orinoco delta in what is now Venezuela, and are descendants of shipwrecked African slaves and native Caliponan people. Marooned here by the British in 1796, they took root, and now celebrate their forced transplanting every year on April 12.
Roatan, like its two major Bay Islands neighbors, has an extremely strong sense of place, a cultural identity that virtually compels visitors to return again and again. And for visitors who blow bubbles, it doesn't hurt that the diving is legendary in every possible sense of the term.
Take Mary's Place — probably the best-known dive in Roatan. A set of mazelike underwater canyons, thick with gorgonians, it's home to a cast of thousands, and it seems custom-designed to accentuate the quintessential diving sensation of moving effortlessly in all three dimensions. Cruising between walls that plummet to perhaps 100 feet below, you want to explore each nook and cranny, but the twisting path draws you forward. Everyone, it seems, comes up from this dive with a different analogy, a comparison that has nothing to do with diving — Luke Skywalker making his final strafing fun on the Death Star, Spiderman threading through the streets of Manhattan, an out-of-body experience in a slick-rock canyon. But one thing all the descriptions have in common is a dreamlike, surreal quality. It's that sort of dive that can unleash the imagination.
Another name you'll hear a lot when experienced divers talk Roatan is Spooky Channel. Lying directly off the end of the Sunnyside Pier on Roatan's West End, it's easily done as a shore dive, and it too offers zigzagging canyons and swim-throughs. It's especially attractive to travelers with non-divers in their parties because, although an advanced diver can reach depths of nearly 100 feet on this dive, there's enough interesting fish and reef life very close to the surface to keep a snorkeler happy for hours. Many Roatan visitors will dive Spooky Channel at least twice on a dive trip — once from a boat on the outer moorings and then, later in the week, from the end of the pier. There's enough variety that it's like doing two different dives. And even though this site is very close to shore, whale sharks have been spotted cruising through from time to time.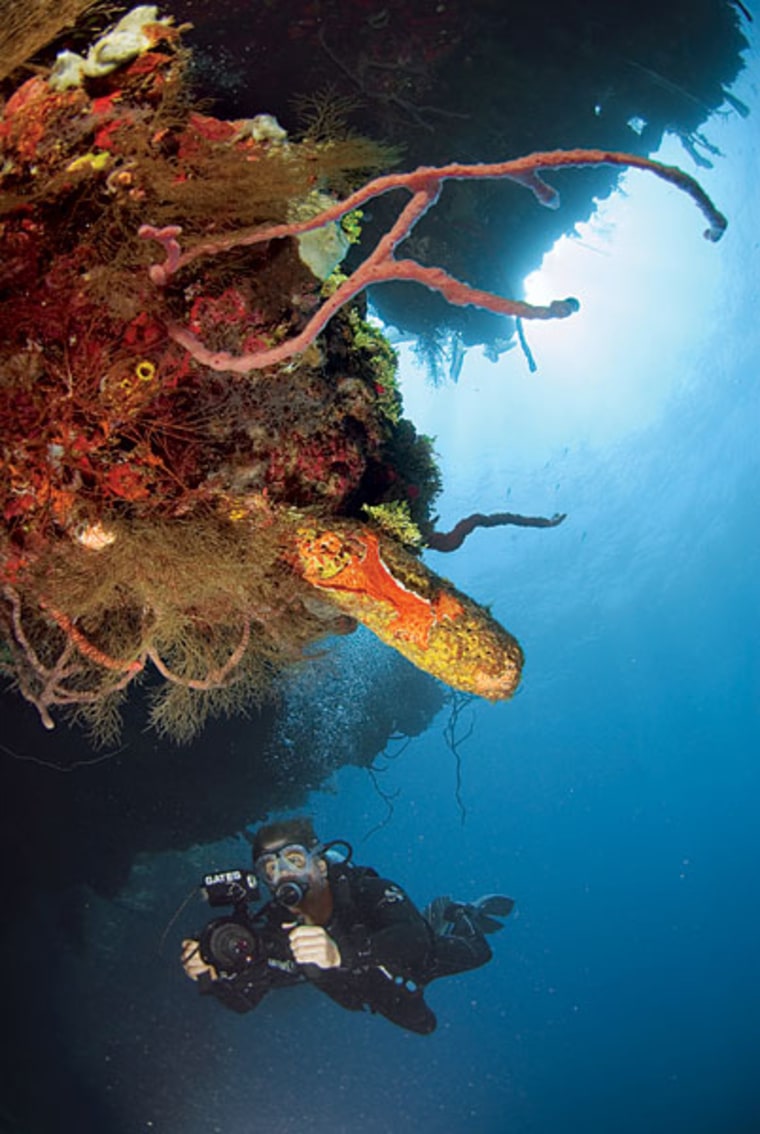 At PADI Dive Resort Fantasy Island Beach Resort, located on its own private island, guests have a choice of diving from one of the resort's six custom 42-foot dive boats or shore diving from the resort's "Dive Gazebo" — just a short kick to the airplane, the wreck of the Prince Albert or CoCo View wall.  
CoCo View Resort, with its PADI Five-Star Dockside Dive Center is set up so guests can even dream about diving — every room is either on or over the water. The resort has a fleet of four 50-foot dive boats, or guests can opt to shore-dive CoCo View Wall, the wreck of the Prince Albert, or Newman's Wall 24/7 from CoCo View's "Front Yard."
PADI Gold Palm IDC Anthony's Key Resort has seven custom Pro 42-foot dive boats that can whisk you away to all the top dive sites in Roatan, and those looking for a marine-mammal experience can find the last word in such encounters. Groups of no more than eight divers are taken for a supervised dive in open water with the resort's dolphins, which are free to interact as they wish. It's just one of a plethora of dolphin educational experiences available at AKR.
All told, Roatan has nearly 200 recognized dive sites — enough to keep even a three-tank diver going for more than two months without ever visiting the same site twice. The West End (which has the greatest concentration of resorts and dive operators) offers more than two dozen sites. The vast majority have low current, with easy access. This is the sort of place that's perfect for your very first Caribbean dive vacation — or your 500th.
And because the island is 33 miles long — nearly three times the size of the next largest Bay Island — and long-settled, there's plenty to do here during surface intervals (or to keep non-divers so engrossed that they, too, will be eager to return). Those things that everyone daydreams about when they think "tropical island" — like riding a horse along the surf line — can be done here. And because Roatan was an English colony far longer than it was a Spanish colony, shore activities can be arranged quite easily, without ever having to resort to your Berlitz phrasebook. Spanish may be the language of Honduras, but English is the language of Roatan (and of the rest of the Bay Islands as well).
You can hire a cab for the entire day here for less than 50 bucks, browse for Garifuna masks and colorful handmade hammocks at shops and galleries all around the island, enjoy island-style dining at places such as BJ's Backyard or Hole in the Wall, or (on non-diving days), enjoy a Port Royal beer in the city it was named after. Take a walk in the backcountry and search for colorful wild macaws, or take to the trees for a zip-line tour. Boredom's just not a possibility on Roatan. With world-class diving and a plethora of topside activities, your only problem will be narrowing down the possibilities.
Roatan must do: Zoom the canopy
Unleash your inner Tarzan with the any of four zip-line tours of the Roatan's rainforest. A harness, helmet and leather gloves prepare you for a breathtaking glide from platform to platform or from a jungle-thick crest to the beach.
Roatan must dive
Mary's Place
The Prince Albert
Spooky Channel
Valley of the Kings
Missing Link/Menagerie
Utila: Where the whale sharks roam
Westernmost of the Bay Islands, Utila is also a bit left-of-center chronologically. It is still a place where the most ubiquitous form of luggage is the backpack, where accommodations come mostly in the form of hostels and small lodges, and where it's easy to find a cold beer for a dollar. It's an island where most of the lights literally go out at midnight when the central electrical generator shuts down (although the larger dive resorts make their own power). The slower pace here is seductive, and you get the feeling that walking past the Internet cafes and the coffee shops in anything other than flip-flops would be some sort of travesty.
People come from all over the world to learn to dive here — poke your head into a dive shop, and you're liable to hear a PADI instructional video going in any of a half-dozen languages. It makes sense. If you're going to learn to dive on (or bring your open-water referral to) an island, it might as well be an island where you can afford a few extra days for the lessons. And it doesn't hurt that, when it comes to hitting the blue, you're looking at dive sites that even travelers with thousands of logbook entries can appreciate.
While most Caribbean islands have a lee side (with most of the dive sites) and a wild side (rarely visited except in rare dead calms), Utila is a happy exception to this rule. The island is circled by regularly visited dive sites. So even if a wind does come up, you'll always have a place to dive.
At Blackish Point, on the north side, you can dive all the way down to the bottom of your recreational limits, and still have more than 850 feet of wall yawning darkly beneath you. Aquarium, on the east end, features a diversity of fish life worthy of the site's name — everything from trunkfish and flittering spotted drum to gliding southern stingrays. Black Hills, also on the east side, is an up-from-the-depths seamount and a veritable magnet for pelagics, pulling in horse-eye jacks, Atlantic spadefish, yellow snapper and more.
On one signature dive off Laguna Beach Resort, divers giant-stride in from the dive boat, dive a wall with drops as deep as 100 feet, and finish up by exiting right onto the beach, with a mouth-watering buffet and cold drinks only a few steps away. And whether or not divers have seen whale sharks on their dive — Utila is one of the best places in the Caribbean to see the world's largest fish — their non-diving friends probably have. Laguna Beach Resort's new pool (long enough to comfortably swim laps in) is made in the shape of a whale shark.
Between dives you can rent a bicycle and pedal the island (with fewer than half a dozen cars on the island, traffic isn't exactly a concern). Or climb Pumpkin Hill for a view of all of Utila; go to the beach at Blue Lagoon (there is a nominal entry fee); or stop by Gunter's Driftwood Gallery to shop for carved driftwood or local art. If you're feeling really ambitious, stop by the Spanish Language School to brush up on your español before heading over to the Honduran mainland.
Guests at Utila Lodge can even take a specialty course on operating the island's hyperbaric chamber (it's on-site at the resort). But the most popular after-dive activity at Utila Lodge is either relaxing in an oversize hammock (every room has one on its private balcony) or watching the sun set from the water-jet hot tub on the dock.
Utila must do: Kick back with primates
Spend an evening seeking refreshment amidst the foliage of the Treehouse Bar; and check out the neighborhood for the resident monkeys.
Utila must dive
Black Hills
Blackish Point
Great Wall
Fish Bowl
Lighthouse Reef
Guanaja: Remote access
Guanaja, second largest (and easternmost) of the principal Bay Islands, is a study in contrasts. The tiny satellite cay of Bonnaca, "the Venice of Honduras," contains most of Guanaja's population. Houses here are so closely packed together that you'd be hard-pressed to fit another one in. Yet all of Guanaja has only a single road, crossing the northern third of the island, and "rush hour" in this Bay Islands backwater only means that all three of the island's licensed cars might be on that road at exactly the same time.
Getting around on the main island of Guanaja requires either that you be in excellent physical shape (there are footpaths, but Guanaja is the hilliest and highest of the Bay Islands) or that you be handy with a boat (or know someone who is). Much of the population falls into the latter category, which is good news for divers, as Guanaja's unusual triple barrier reef system takes skill to navigate, and provides a great choice of dive sites on all sides of the island.
"Guanaja is remote, but that's why people come here — because it is remote," says Bill Blakely, director of dive operations at Coral Bay Dive Resort. "Reefs here are vibrant, lively, colorful and above all very healthy. Yet despite our remoteness, we have a great diversity of diving, with 38 moored sites. And we can support it all with a world-class dive operation and the latest technology, including nitrox."
One of Guanaja's more unusual sites is Mestizo Reef. Columbus visited Guanaja in 1502 on his fourth and final voyage to the New World, calling the island "Isla de Pinos," in reference to the profusion of Caribbean pine he found growing here. He also found native Paya people living on the island, and coming out to meet him in dugout canoes that could carry two dozen paddlers apiece. In 2002, to celebrate the blend of New World and Old World that is modern-day Guanaja, lifesize busts of Columbus and Honduran hero Lempira were placed in 65 feet of water on Mestizo Reef, along with a number of 16th-century artifacts — a cannon, a bell, vases and more — that symbolize the first European contact. It's a moving tribute that also acknowledges the importance of the sea to Bay Islands culture.
Other dives around Guanaja seem custom-tailored to a variety of particular tastes. If you favor wall diving, Bayman Bay Drop and Vertigo both afford drop-offs down to the bottom of recreational limits. Looking for mazes and swim-throughs? Try the Pavilions, Volcano Caves or Black Rock Canyons. For pinnacles, you could hardly match the 80 feet of relief that is the Pinnacle, on the west reef, cited by many visitors as their favorite dive. Wreck divers will enjoy the Jado Trader, sunk intentionally in 110 feet of water in 1987, or the shrimper Ruthie C., in only 45 feet of water and reachable from shore or boat. Another shrimper, the Don Enrique sits at 90 feet next to a well-decorated wall. And as for coral — dive anywhere. It's there in abundance.
A true off-the-grid adventure, Guanaja is the least visited of the Bay Islands, and does not have as many resorts as its other two Bay Islands neighbors. But the resorts there are will typically pick you up at the airport — by boat. Sound like an adventure to you? It does to us. To check out Ty Sawyer and David Benz's recent helicopter tour of the Bay Islands, visit sportdiver.com/bayislandshelicoptertour.
Guanaja must do: Seek higher ground
Hike past a pair of picturesque waterfalls to the summit of Michael Rock, more than a quarter of a mile high — a fitting way to celebrate your arrival on the most mountainous of the Bay Islands.
Guanaja must dive
The Jado Trader
Pinnacle
Caldera del Diablo (grouper spawning)
Elkhorn Forest
The Ruthie C.