/ Source: The Associated Press
Robert Hawkins had been kicked out of his family's house, fired from McDonald's and had broken up with his girlfriend. He was 19, about the same age another sick man was when he terrified the state of Nebraska and the nation 50 years earlier.
Hawkins left a suicide note Wednesday at the home where he had been living. It said that he wouldn't be a burden on his family anymore and that "now I'll be famous," according to Debora Maruca-Kovac, who owns the home.
Armed with a rifle, he went to the sprawling Westroads Mall, filled with shoppers three weeks before Christmas. The Omaha World-Herald reported that the gunman had a military-style haircut and a black backpack, and wore a camouflage vest.
Witnesses said the gunman fired down on shoppers from a third-floor balcony of the Von Maur store. Terrified shoppers and workers ran to safety, some of them barricading themselves in dressing rooms.
Police had responded to a call of shots fired within six minutes, but said by then it was all over.
The gunman was found dead on the third floor with a self-inflicted gunshot wound, and his victims were discovered on the second and third floors, police Sgt. Teresa Negron said.
State's deadliest shooting since '58
Eight people, not including Hawkins, were killed. Five were wounded, two critically. It was Nebraska's deadly shooting spree since January 1958, when Charles Starkweather killed 10 people in that state and another in Wyoming in one of the country's most notorious murder cases.
Authorities gave no motive for the attack and said they did not know whether Hawkins said anything during the rampage at the mall, in a middle-class neighborhood on the city's west side.
When gunshots rang out in the mall, it took a moment for many to realize what was going on. Shawn Vidlak thought it sounded like a nail gun on a construction job.
'My knees rocked'
Then people "started screaming about gunshots," Vidlak said. "I grabbed my wife and kids we got out of there as fast as we could."
"My knees rocked. I didn't know what to do, so I just ran with everybody else," said Kevin Kleine, 29, who was shopping with her 4-year-old daughter. She said she hid in a dressing room with four other shoppers and an employee.
"Everybody was scared, and we didn't know what was going on," said Belene Esaw-Kagbara, 31, a Von Maur employee. "I was praying that God protect us."
Von Maur worker Mickey Vickory was wrapping gifts in the third-floor service department when she heard gunfire. She and her co-workers and customers went into a back closet behind the wrapping room to hide, then emerged about a half-hour later when police shouted to come out with their hands up.
As police took them to another part of the mall for safety, "We saw the bodies and we saw the blood," Vickory said.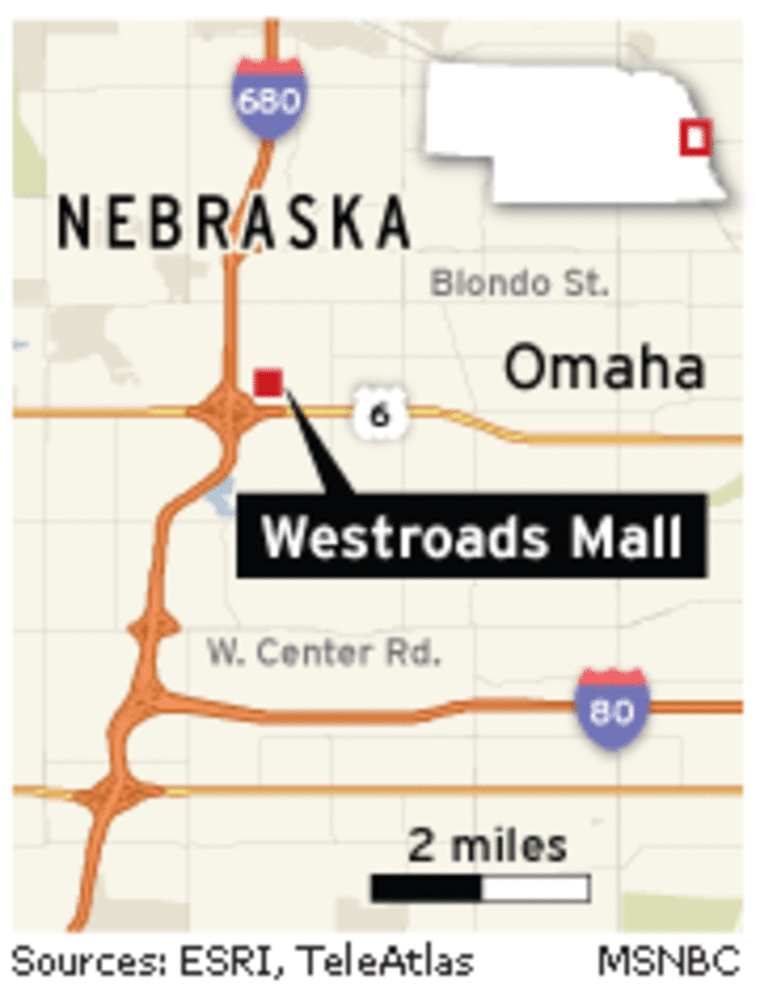 Shortly after the shooting, a group of shoppers came out of the building with their hands raised. Some still held shopping bags.
Hawkins lived for a little more than a year with Maruca-Kovac's family in their house in a middle-class Bellevue neighborhood after his family kicked him out, the woman said. She would not say why his family had kicked him out.
"When he first came in the house, he was introverted, a troubled young man who was like lost pound puppy that nobody wanted," Maruca-Kovac said.
Hawkins was fired from his job at a nearby McDonald's this week and had recently broken up with a girlfriend, she said.
Suicide note left
Maruca-Kovac said Hawkins phoned her early Wednesday afternoon, telling her he had left a note for her in his bedroom. She tried to get him to explain, but he hung up, she said.
Maruca-Kovac called Hawkins' mother, who went to Maruca-Kovac's house, retrieved the suicide note and took it to authorities.
The mass shooting was the second at a mall this year. In February, nine people were shot, five of them fatally, at Trolley Square mall in Salt Lake City. The gunman, 18-year-old Sulejman Talovic, was shot and killed by police.
President Bush was in Omaha on Wednesday for a fundraiser but left about an hour before the shooting.
"Having just visited with so many members of the community in Omaha today, the president is confident that they will pull together to comfort one another," White House press secretary Dana Perino said.
The Von Maur store is part of a 22-store Midwestern chain. The sprawling, three-level Westroads Mall has more than 135 stores and restaurants. It gets 14.5 million visitors every year, according to its Web site.