/ Source: The Associated Press
Floodwaters from a deadly wave of storms were receding in the Pacific Northwest on Thursday, rescue and evacuation work ended and lights were coming back on in thousands of homes and businesses.
Eight people were killed in the Pacific Northwest as a result of the storm and damages were likely to reach into the billions of dollars, but remained to be tallied.
Interstate 5, closed since Monday about 30 miles south of the state capital in Olympia, could reopen as early as Thursday night with one lane of traffic in each direction, state Transportation Secretary Paula Hammond said at a Thursday morning news conference. Earlier officials had said it might take until next week to reopen the interstate.
Gov. Chris Gregoire said flooding hit record levels on the Chehalis, Skokomish and Elwha rivers.
Recalling scenes of blown-down trees, Gregoire said, "The visual is nothing like I've ever seen other than my recollection of Mount St. Helens" after the volcano's devastating 1980 eruption.
Residents, rescue workers and others involved in the massive cleanup were relieved that drier weather seemed to be sticking around.
"Mother Nature is still cooperating — it's not dumping gallons of rain," Grays Harbor County emergency spokeswoman Lynn O'Conner said late Wednesday.
Thousands still lack power
State officials believed about 33,000 customers remained without electricity early Thursday, mostly in outlying areas of coastal Pacific and Grays Harbor counties.
Officials learned late Wednesday of an eighth death related to the storm. A person died in a fire that was ignited by a candle in a house without electricity in Pacific County, said Mark Clemens, a spokesman at the state emergency management center.
Six people died in Washington, and another two died in Oregon in deaths blamed on the storm.
An elderly man was missing after he was believed to have fallen into a raging creek behind his house in rural Winlock, Wash.
Helicopters brought flood-stranded residents to safety at the height of the storm. By the time helicopter operations ended Wednesday evening at least 300 people had been taken to safety in what Gregoire described as the state's largest aerial search-and-rescue operation in a decade.
"Those folks who are literally homeless today still have a spirit in them," the governor said. "They are determined to get back to their homes and get their lives back together again."
Hoquiam police Detective George J. Kelly, a spokesman at the emergency command center in Washington's Grays Harbor County, said officials were relieved when an anticipated tidal surge that threatened to worsen flooding along the lower Chehalis River failed to materialize late Wednesday night.
"Everything seems to be running pretty smoothly," Kelly said. "The tide was actually fairly low, relatively speaking."
'It's real bad' in Centralia
The storm left behind a terrible mess.
Dodging tires, furniture and geysers of water, Bert Carver paddled a borrowed plastic boat through the murky streets of a flooded neighborhood in Centralia, Wash.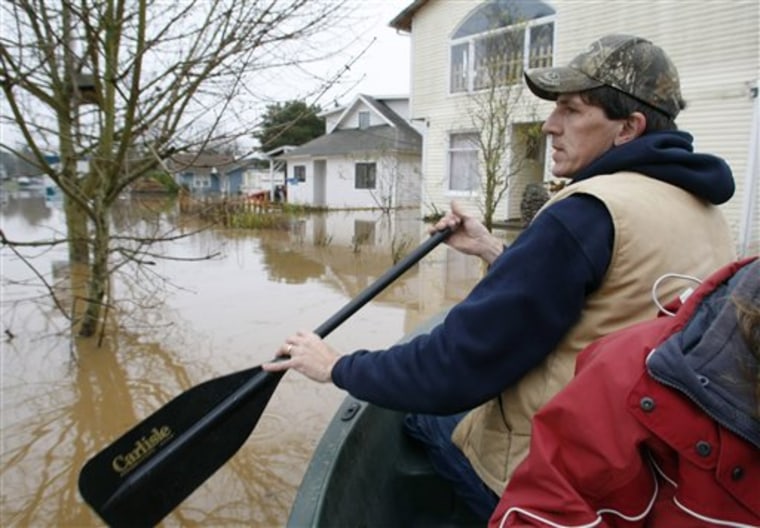 After surveying his wife's submerged car and the high-water mark at his first-floor windows, Carver glumly pointed out the "For Sale" sign still hanging in front of his newly remodeled house Wednesday.
"Honey, it's bad," neighbor Sandra Lund called from her front door. "It's real bad."
The storm dumped several inches of snow over the Midwest, where the weather snarled road and air travel, resulting in hundreds of delayed or canceled flights. More than 350 flights were canceled alone at Chicago's O'Hare International Airport.
Gregoire, who flew over the ravaged region for the second time Wednesday, said the damage could ultimately be in the billions of dollars.
She had begun working with federal officials to assess the damage and expected a presidential emergency declaration to help speed humanitarian relief.
An aide to Oregon Gov. Ted Kulongoski said that state would also seek a federal disaster declaration.