/ Source: The Associated Press
The drooping value of the U.S. dollar means Canadian Christmas tree growers are seeing less green this season.
Canadian Christmas tree growers have seen their U.S. sales decline in recent years because of increasing costs and competition from U.S. growers. But it's their own currency that's causing them the most grief these days.
Compared to the U.S. greenback, the Canadian dollar is 15 percent higher in value than it was at the beginning of the year. Because growers are paid in U.S. dollars, their revenues are dropping by the same amount.
Canadian exporters of products ranging from seafood, lumber and auto parts to Canadian Club whiskey are all in the same boat. But Christmas trees are an especially visible example at this time of year.
The situation is blamed for driving Canada's largest Christmas tree grower, Nova Scotia's Kirk Forest Products, out of business.
"That put the dagger to the heart," said the company's founder, Rick Kirk, who is shipping about 250,000 trees, most of them to the U.S., in his company's final holiday season. "We know that the market is going to be squeezed year after year."
More than half of Canada's Christmas trees are shipped to the U.S., but the figure has dropped by about 20 percent, to about 2 million trees, since 2002. During that period, the value of the Canadian dollar grew by about 50 percent.
The effect on U.S. consumers is minimal because Canadian trees account for less than 10 percent of the total number of trees sold.'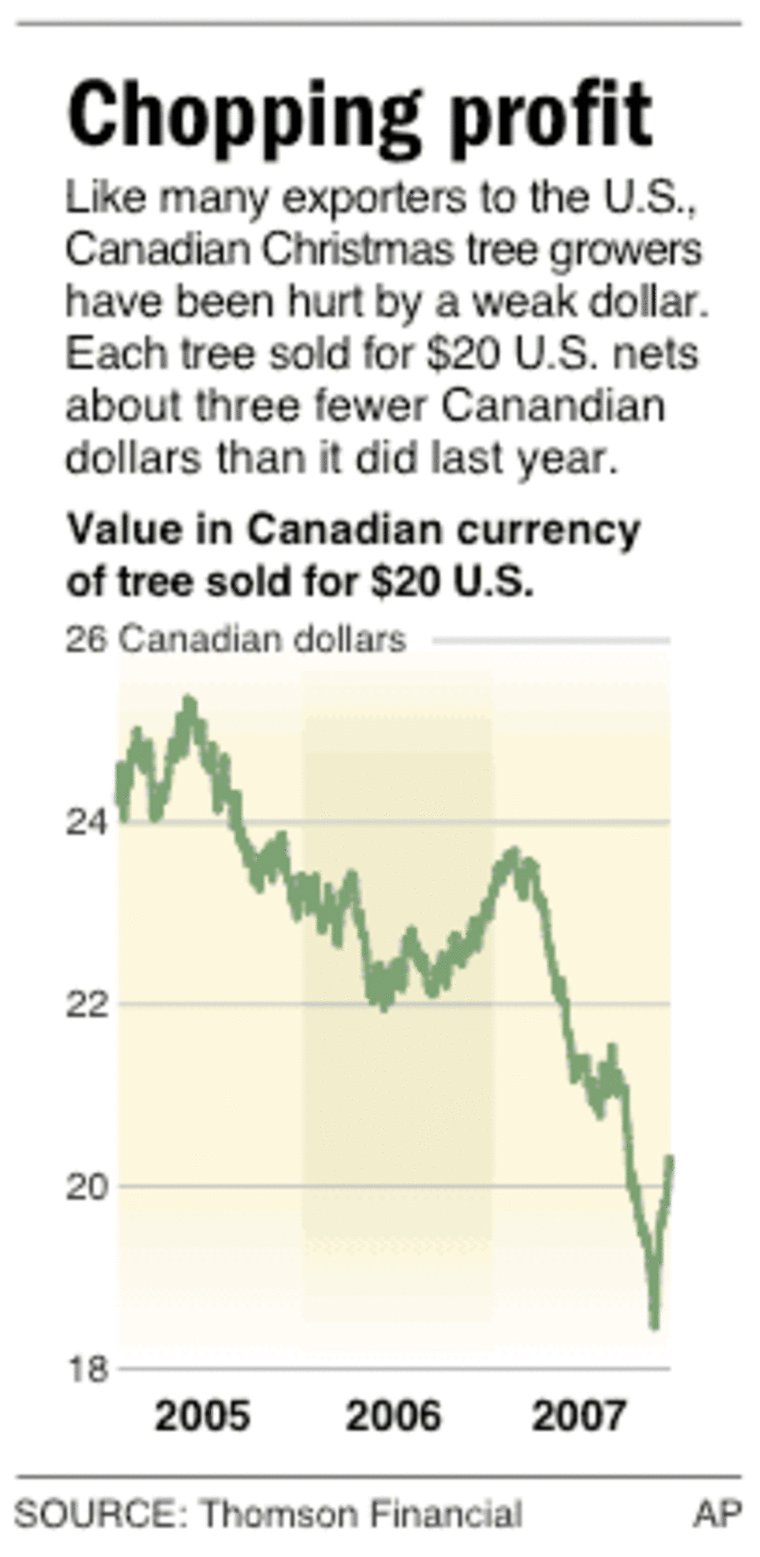 This season, the average purchase price for a live Christmas tree in the U.S. is expected to be similar to last year's average of $40.50, said Rick Dungey of the National Christmas Tree Association in Chesterfield, Mo.
While the exchange rate is bad for Canadian exporters, it's a boon for U.S. retailers because Canadians are flocking across the border this month to shop.
All probably thought they had seen the peak last summer when the Canadian dollar — called the loonie — reached a 28-year high against the greenback.
But the loonie's value has continued to grow, reaching levels not seen since the Civil War 140 years ago, said Michael Woolfolk, senior currency strategist with the Bank of New York Mellon Corp. in New York. The Canadian dollar surged to an all-time high of $1.10 against the greenback in November, a gain of 28 percent from Jan. 1, before falling back a bit.
In dollars and cents, a Canadian grower who receives $20 U.S. for a tree would have pocketed $23.30 Canadian last December. This month, the same $20 U.S. per tree translates to about $20.20 Canadian, a drop of about $3.
"It erases our profits, or very close," said Larry Downey of Cookshire-Eaton, Quebec, president of the Canadian Christmas Tree Association.
The problems for Canadian Christmas tree growers began in 2002, about the same time the Canadian dollar began rising in value. Since then, Canadian tree exports to the U.S. have declined about 20 percent to 2.1 million trees last year.
Some Canadian growers have protected themselves to some degree by entering into futures contracts that are based on currency. For the rest, the only other choices are to ride it out and hope for better times or get out.
Though Kirk is getting out, many Canadian growers have are staying in hopes of negotiating better contracts next year, said Tom Ernst, another Christmas tree grower in Mahone Bay, Nova Scotia.
Ernst exports only 30 percent of his trees, so he's hurt less than others who sell a greater percentage of their trees abroad. "We aren't putting all of our eggs in one basket," he said. "That was part of the idea behind it."
Higgins Family Christmas Trees also is sticking it out even though the company — also in Nova Scotia — exports all of its trees. Forrest Higgins said the company plans to ship about 30,000 trees this season to Maine and down the East Coast.
"We've been in business a long time and you have to accept that there are real strong years when there's a lot of money to be made," Higgins said. "You take those years when it's profitable in stride with those years when it's tough."
Based on this season, however, Canadian growers can expect spirited competition when they start negotiating for Christmas 2008.
Phil Roberts, owner of Broadway Gardens in South Portland, Maine, said he may have to switch to locally grown trees, even if some Canadian suppliers have an edge on quality. His tree prices are going up and he can't pass on all the increases to this customers.
Roberts is already paying $3 to $4 more per tree from Quebec Province than last season. That's because growers raised their prices over the summer in anticipation of the strong loonie.
"They're at a point where they're higher than the Maine trees," Roberts said. "I'll definitely be looking at Maine trees next year."