/ Source: The Associated Press
South Korea's Coast Guard mobilized thousands of people Sunday to clean up a disastrous oil spill polluting a swathe of the country's scenic and environmentally rich western coast.
About 100 ships, including Coast Guard, navy and private fishing boats, were to help contain and clean up the spill, South Korea's worst ever, said Coast Guard official Kim Young-hwan.
Kim said about 6,000 people, including government personnel, local residents and volunteers, were expected to participate, nearly triple the number Saturday.
"This will be difficult work," Kim said. "We are just in the initial stage."
The oil started hitting beaches, including Mallipo, on Saturday after a Hong Kong-registered supertanker was slammed the day before by a South Korean-owned barge that came unmoored from its tugboat in rough seas.
A total of 66,000 barrels (2.7 million gallons) of crude gushed into the ocean, more than twice as much as in South Korea's worst previous spill in 1995.
Thick, smelly waves of crude washed ashore, turning seagulls black and threatening fish farms along an 11-mile stretch of coast, despite efforts to block it, including dropping oil fences into the ocean and the use of chemicals to break it up.
The Coast Guard said the last of three leaks in the tanker had been plugged Sunday.
Fisherman despondent
Mallipo is one of South Korea's best-known beaches, an important stopover for migrating birds, including snipe, mallards and great crested grebes, and has an abundant fishing industry.
Choi Kyung-hwan, a 58-year-old fisherman, came to the beach Sunday to help, but despaired for the area where he has lived for 30 years.
"Mallipo is finished," he said, referring to the disaster's economic impact.
Choi, wearing a thick winter coat, said the strong odor of oil had sickened his wife.
"But I came here because I have to do something," he said. "I don't know when we can finish. But we have to continue. I feel dizzy."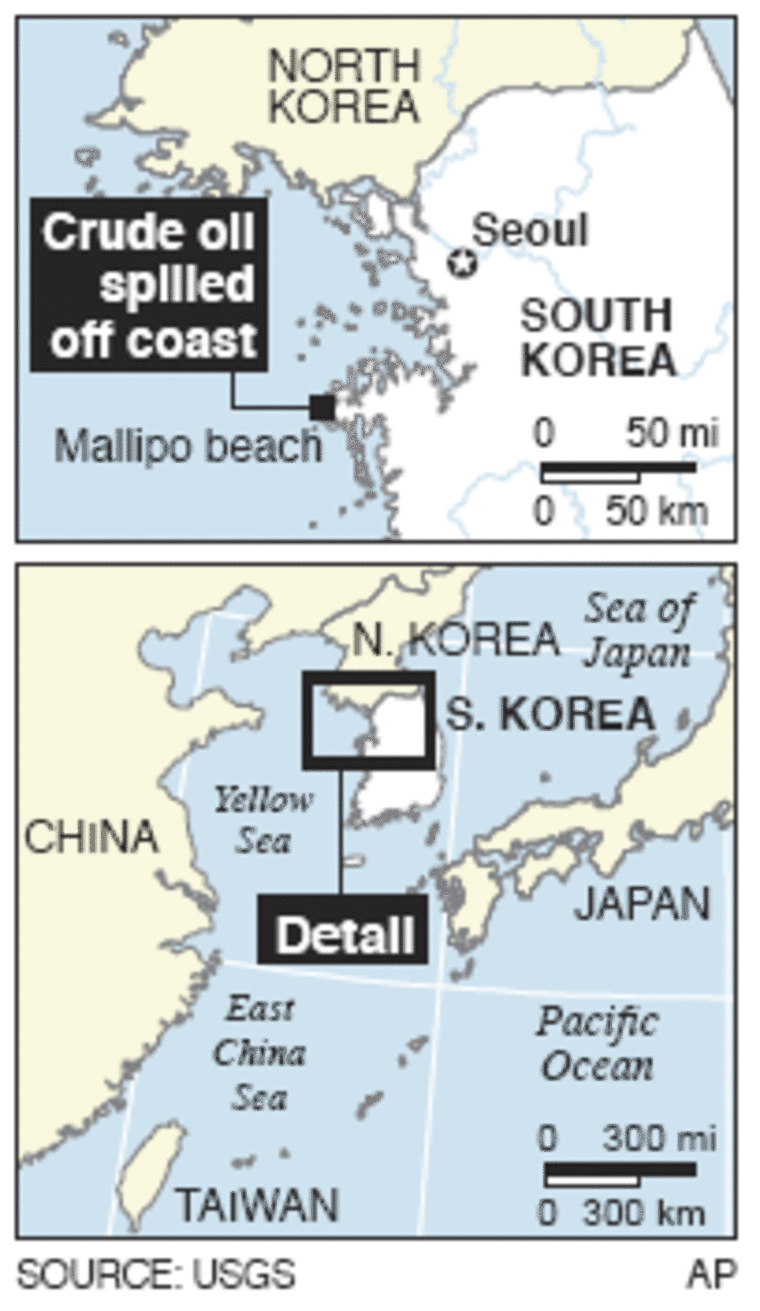 The affected areas include 181 maritime farms that produce abalone, brown seaweed, laver, littleneck clams and sea cucumbers, said Lee Seung-yop, an official with the Taean county government, which includes the beach. Aquatic farmers in the area number about 4,000, he said.
"A lot of damage is feared to these farms, although we don't have an estimate yet," Lee said Saturday.
Local raw fish restaurants, like Lee Ok-hwa's, were suffering.
"I haven't had any customers since news of the oil spill Friday," said Lee, who had previously served 200 tourists and others a day.
"I don't know how to make a living," she said. "I don't know how to pay the rent. I believe this situation will last for at least one year."
The central government has designated the oil spill a "disaster," which makes it easier for regional governments to mobilize personnel, equipment and material to cope with the situation. But it stopped short of declaring the region a "disaster area," which would make residents eligible for government financial aid, despite pleas to do so.
The accident occurred about 7 miles off Mallipo. The area also includes a national maritime park.
The Coast Guard said it was unclear how many days the operation would take.
Disaster of historic proportions
The accident occurred Friday morning when a crane-carrying barge en route from a construction site lost control after a wire linking it to the tugboat was cut due to high winds, waves and currents. The vessel then slammed into the Hebei Spirit tanker. Neither ship was in danger of sinking and there were no casualties.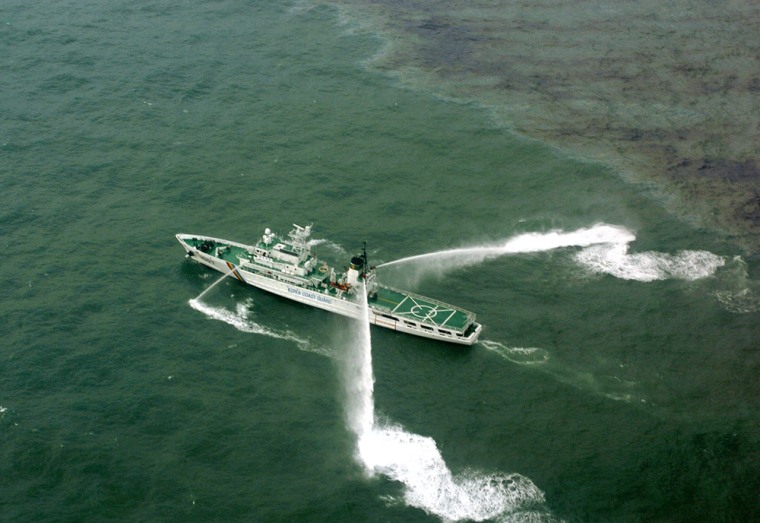 The tanker had been at anchor and carrying about 260,000 tons — about 1.8 million barrels — of crude oil to be loaded into boats from a nearby port.
The size of the leak reported by the authorities would be about one-fourth that of the 260,000 barrels, or 11 million gallons, spilled into Alaska's Prince William Sound by the Exxon Valdez in 1989.
The spill was also smaller than one in Pakistan in 2003 when a Greek-registered ship ran aground near Karachi, leaking some 195,940 barrels (8.2 million gallons) of crude that polluted the city's main beaches.