/ Source: msnbc.com news services
For more than a week, Dr. Scott Myhre didn't wear a mask or other protective gear when treating the listless patients who were flocking to his hospital in western Uganda.
Only now does the American physician know the risk he took. The patients were suffering from a new strain of Ebola, a highly contagious disease that has already killed 22 people, including four health workers, among them a doctor Myhre counted as his best friend.
"I'm not in the clear yet, but I'm hopeful," Myhre told The Associated Press by telephone from Bundibugyo Hospital, which is at the epicenter of the outbreak. Myhre, who has lived in Uganda for 14 years, must wait 21 days from his last unprotected contact with an Ebola patient to be declared clear of the disease.
For now, he is studiously following the recommended precautions: gowns, gloves, goggles, masks and boots.
No cure, no treatment
Ebola typically kills most of those it strikes through massive blood loss, and has no cure or treatment. It is spread through direct contact with the blood or secretions of an infected person, or objects that have been contaminated with infected secretions.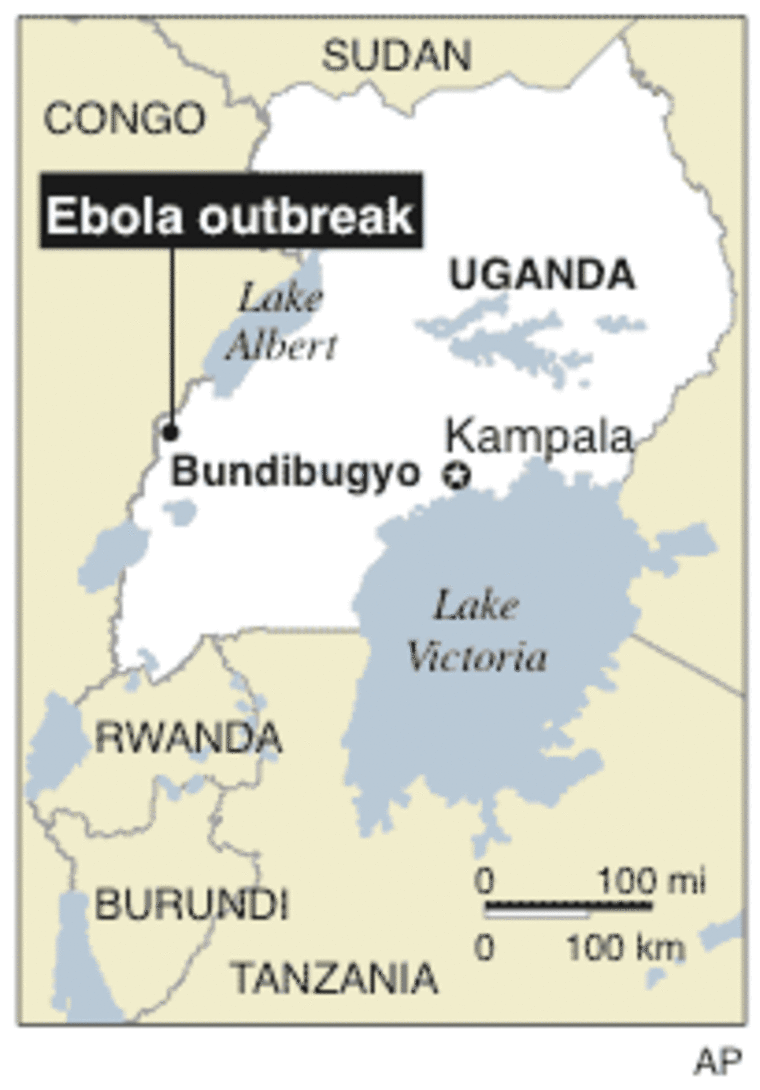 On Friday, the Ministry of Health said there are 101 suspected cases of Ebola in Bundibugyo district and 22 victims have died.
Doctors and nurses did not at first know what they were facing, so failed to protect themselves. Experts say the Ebola subtype that sparked the outbreak is new and the classic Ebola symptoms were not always present, slowing diagnosis. The outbreak began on Aug. 20, but the disease was not confirmed as Ebola until Nov. 29.
The four-month delay between the start of the outbreak and confirmation last week that it was Ebola has raised suspicions the government covered it up so as not to scare delegates — Britain's Queen Elizabeth and 53 heads of government — who met in Kampala two weeks ago for a Commonwealth summit.
The government denies it hid information. "Confirmation of this epidemic took a long time because we had to go to (the U.S. Centers for Disease Control and Prevention in) Atlanta," said Dr. Emmanuel Otaala, Minister of State for primary health care.
The last Ebola outbreak in Uganda was in 2000, when 425 people caught it and more than half died.
Since the confirmation, health workers have fled their jobs in Bundibugyo. Hospital officials have been urging staff to return, to little avail. Meanwhile, the 100-bed hospital is trying to discharge all non-emergency patients and is operating very limited services.
"Many of the staff are not coming in but there aren't many patients either," said Myhre, of Vienna, Va. "The hospital is pretty much empty except for the isolation ward where the Ebola patients are being treated."
The ward houses 24 patients — some of whom are on mattresses on the floor — and is separated from the rest of the hospital by an orange mesh fence. Ebola is not airborne so the fence is designed to stop people from wandering in accidentally.
Fear in nearby countries
The outbreak has caused health officials in neighboring countries to fear that the deadly virus might be spread. The independent Daily Monitor said Congo had sealed its border with the district. Congolese officials denied this.
"We have just informed people in the region they need to be vigilant," Congolese Health Ministry official Dr Benoit Kabela told Reuters by telephone from Kinshasa. Kabela said medical staff had been deployed and given protective gear.
Meanwhile, southwestern neighbor Rwanda said it had set up mobile clinics and isolation wards at border posts with Uganda.
"The Ministry of Health has deployed trained medical personnel at the borders," spokeswomen Ines Mpambara said.
Kenya is also screening Ugandans at its western border.
But two teams, including infection control doctors from the World Health Organization and the United States' Centers for Disease Control and Prevention, recently arrived in Uganda to help local officials contain the outbreak. In previous Ebola outbreaks, the virus has often spread in health care centers where doctors and nurses are not properly protected.
Everyday operations at Bundibugyo Hospital are difficult at the best of times. The area — remote even by Ugandan standards — has no electricity. The hospital owns a powerful generator but the cost of fuel prohibits its use for more than a few hours daily. Solar panels provide lighting, and the wards have concrete floors and paint peeling off the walls.
Doctors attending Ebola patients are now being paid a daily risk allowance of $23, while nurses and auxiliary staff are getting $17 and $12 respectively — up to twice what they normally receive.
"It is difficult to be with the patients sometimes, there is a lot of emotional pressure and a lot of hard work to be done," said David Kasumba, a nurse who has worked at the hospital for 12 years. "The patients are scared. We try to reassure them, but it doesn't always work. They have seen what it can do."