/ Source: Forbes Traveler.com
I was in the Mooserwirt in St. Anton, Austria, the high decibel cathedral of après ski, when an Arlberg ski instructor told me that I had earned black diamond status. Dancing on a table in his ski boots in a frenzy of après ski bacchanalia, his ninth or 10th Red Bull and Jagermeister in his hand, he was talking about my après ski endurance, not my ability on the slopes.
For many a skier, après ski is the most important part of the day. But where you après ski is critical. If you want to start an argument, ask a diehard skier about the best après ski bar in the world. The fact is that there are too many opinions and too many contenders. So I've narrowed it down to 10 outstanding spots.
What's the formula for a classic après ski bar? Proximity to the slopes, for starters. If it's actually on the slopes, like the Mooserwirt in St. Anton, so much the better. By 4 p.m. on any afternoon, there's usually a thousand pairs of skis stuck in the snow outside the Mooserwirt, a place notorious for its high octane combination of Fohrenburg beer, earsplitting rock 'n' roll and dancing on the tabletops in ski boots. This suits the hard-partying St. Anton, but frankly, every good après ski bar should reflect its location.
"In Europe, it tends to be a little more on the sophisticated side," says Chips Lindenmeyr, president of Lindenmeyr Travel, which specializes in high-end European ski vacations. "The Mooserwirt is an exception. I like Elsie's, which is such a neat little place. And where else can you get fresh oysters in the Alps?"
I've also found that same sense of elegance at Elsie's in Zermatt, a bar tucked into tiny, two-story wooden chalet. Step inside and all eyes assess you. It's a favorite of the resort's monied clientele, who look like extras from a 007 movie set. For some in the cravat-and-mink crowd, Elsie's spaghetti with caviar make a fine après ski snacks; other palates prefer the selection of French or Irish oysters. But Zermatt's fur coat set is best observed while sipping one of Elsie's comforting yet lethal Irish coffees.
And you can find that same Euro-cool in the Chesa Bar in the Chesa Grischuna in Klosters, Switzerland. You might not bend elbows with Charles, Wills and Harry here — yes, they do come here — but royal sightings are not impossible. The Britpack tends to dominate this cozy den beneath the hotel Chesa Grischuna that's close to the Gotschna slopes. Clink whisky sours and hope that the resident pianist will dance on the grand piano, as Gene Kelly did one night long ago.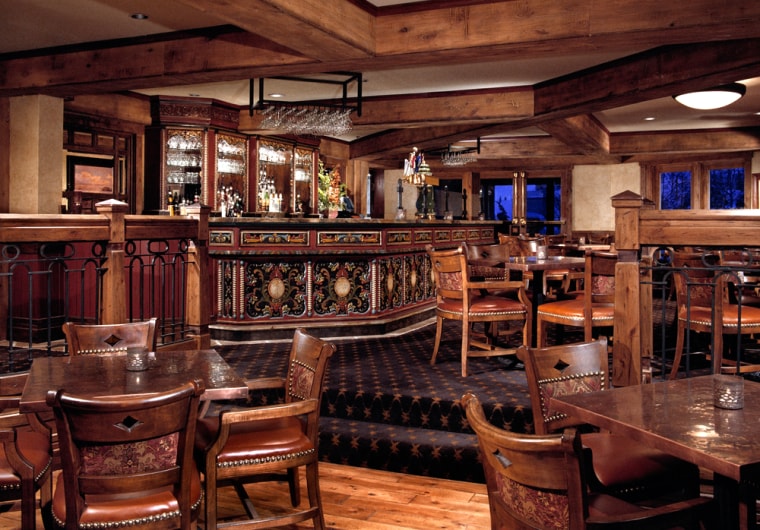 There's even a little elegance on this side of the pond, at Deer Valley, where the Troll Hatten Lounge at the Stein Eriksen Lodge fits the bill. Deer Valley is the Rockies' high thread count, Bogner-suited, Belgian chocolate ski resort, and the service is unbeatable at Stein Eriksen Lodge, located mid-mountain at Silver Lake Village. The property's namesake, the 80-something Norwegian Olympic medalist Stein Eriksen, is here almost every day, dressed in a Bogner suit that changes daily. (Spot him by his distinctive white mane.) Settle in before the fire in the Troll Hatten Lounge with a cognac and the Dale of Norway crowd for a discussion of moguls — or the bond market.
But most of the West is considerably wilder when it comes to après ski. Just look at a place like the Mangy Moose in Teton Village, Jackson Hole. A few pints of Moose Drool is reward enough for messing with the cliffs, chutes, gullies and couloirs of this testosterone-fueled mountain. You've earned a free drink here if you've actually managed to negotiate Corbet's Couloir, the most famous run on the hill, requiring a 10 to 20-foot drop-dead jump off a cornice just to enter.
Things are a tad more genteel at the New Sheridan Bar in Telluride, located in the Victorian-era New Sheridan Hotel. Unless local cowboy Roudy Roudebush rides his horse through the bar, which does happen. Belly up to the 19th century mahogany bar, or lie back on a red velvet couch and nurse a Fat Tire. Locals such as Tom Cruise, Shawn Colvin and General Norman Schwarzkopf are known to drop in. The crowd is liberally sprinkled with trustafarians and their kerchief-bedecked dogs.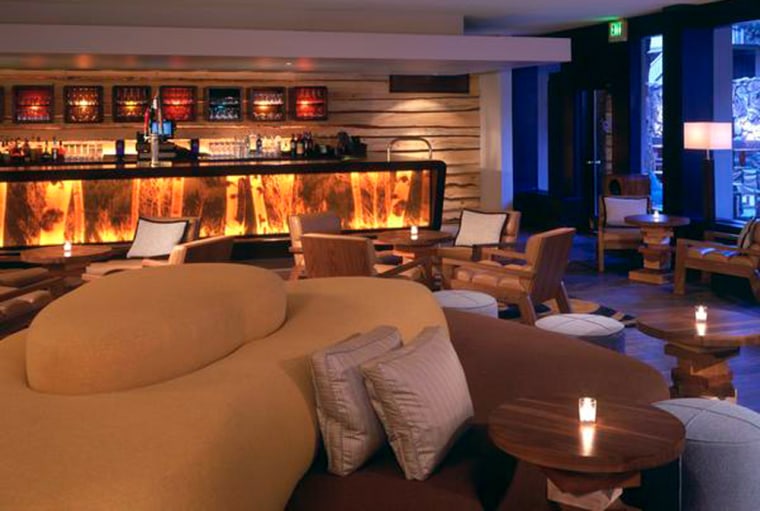 It's a different scene at the 39 Degrees Lounge in the Sky Hotel in Aspen. There are comfortable couches and a roaring fireplace in this rumpus room for Aspen's bad boys. It's a place where martinis fuel attitude at altitude, with an assortment of youth behaving badly, Prada-clad media moguls, snowboarders dolled up in their hoodies, and a bevy of people who could be mistaken for models.
At the Tap Room in Vail, it's sports-bar-meets-Bavaria, with 12 televisions for watching the games, six bucks for a big burger and plenty of cheap Coors for some post-boarding relaxation.
Nothing says "Whistler" quite like après ski at the Garibaldi Lift Co., which is invariably jammed with youthful skiers and riders. When the menu features a variation on fondue called "sex cheese," it's little surprise that young women wander around the room offering $20 neck massages. The restroom doors are marked with vintage photos of Maggie and Pierre Trudeau, a clear indicator that you're above the 49th parallel.
But the wildest ski bar in North America, the only real contender for the Mooserwirt's crown, is Le P'tit Caribou at Tremblant. Dancing on the bar is expected and the crowd is fueled by the ultra-hard-partying Quebecois populace. And the young women who frequent this boite seem to need no encouragement to go topless as they dance well past midnight. We can't tell you what happens après après skiing.