/ Source: The Associated Press
As police released surveillance images of a shaggy-haired, bespectacled Robert Hawkins taking aim at holiday shoppers, more details were revealed Friday about the teenager's suicide note, in which he wrote that he "just snapped."  
"I know everyone will remember me as some sort of monster, but please understand that I just don't want to be a burden on the ones that I care for my entire life," he wrote. "I just want to take a few pieces of (expletive) with me."
The 19-year-old gunman left the note at the suburban house where he lived Wednesday before going to Omaha's Westroads Mall with an AK-47 and opening fire on the midday holiday shopping crowd, fatally shooting eight people at the Von Maur store before turning the gun on himself.
Surveillance video and still images of the attack show Hawkins initially walking into the mall unarmed, wearing glasses, a black zippered sweat shirt over a black T-shirt with a white logo. He returned to the store six minutes later, according to timestamps on the footage.
Video of the department store's south entrance shows Hawkins entering the festooned store and immediately walking to the elevator to his right. His right hand was tight against his midsection to hide what police said was an AK-47 assault rifle.
Other footage released showed people fleeing the store, and the first police officer on the scene walking in with gun drawn.
Police did not release video of the shooting, but released a still image from the tape that showed Hawkins with his sleeves rolled up, aiming the AK-47 to fire in front of a store mannequin.
The photos appear to contradict earlier reports that the gunman had a military-style haircut and entered the mall wearing a camouflage vest. Also, the note made no mention of widely reported broadcast reports that he wrote he wanted to "go out in style."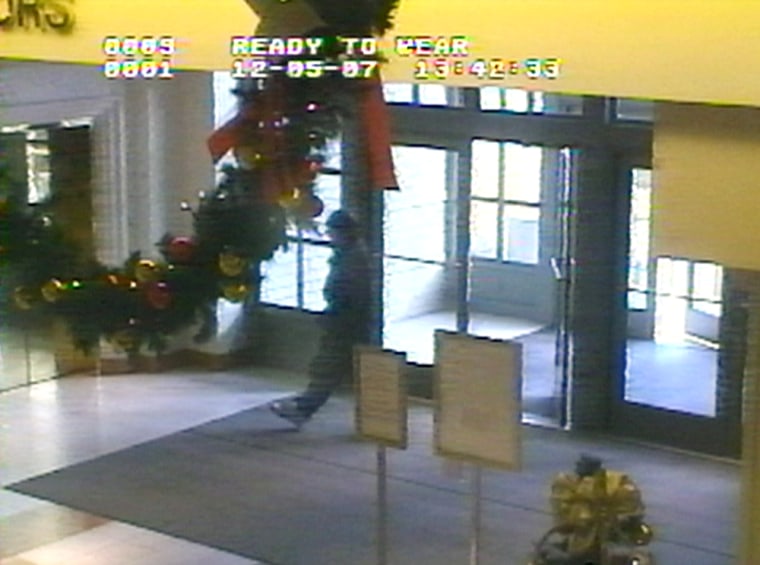 "I've just snapped. I can't take this meaningless existence anymore I've been a constant disappointment and that trend would have only continued," he wrote.
Hawkins added, "I love you mommy. I love you dad," and expressed love for several other people. He told them to remember the good times they had.
"Just think tho I'm gonna be (expletive) famous," he wrote.
Man says he warned police about teen
Also Friday, those who knew Hawkins most recently in suburban Bellevue said they tried to warn police about his behavior but got no response.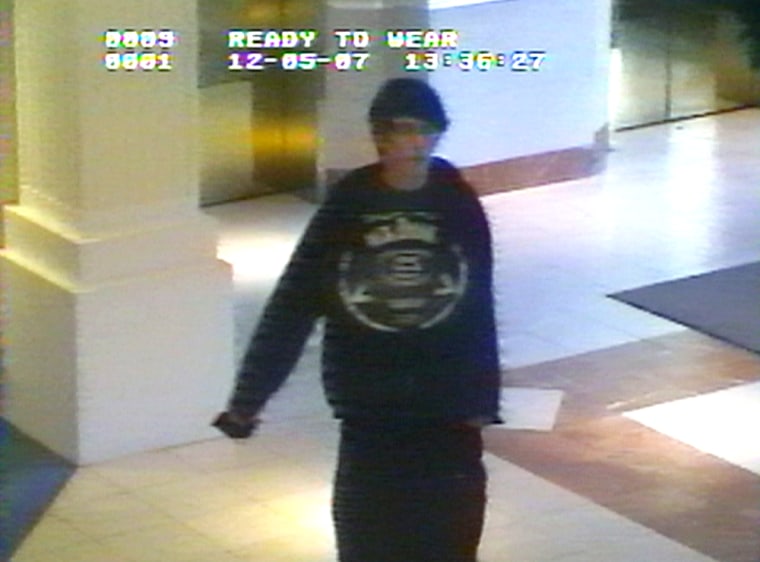 A man who lived nearby said he went to police a month ago to report his and other parents' concerns that Hawkins and his friends had easy access to guns and sold drugs.
Bellevue police said the house where Hawkins lived is in an unincorporated part of the city and not in their jurisdiction. Police Chief John Stacey would not talk about Kevin Harrington's complaint, but said normally officers pass complaints from that neighborhood onto the Sarpy County Sheriff.
Sheriff's officials said they never received the complaint.
Teen allegedly shot at car
Harrington, 45, said he told police in Bellevue about a month ago that one of Hawkins' friends offered to sell Valium to his 13-year-old son. Harrington said he also told police that Hawkins had previously shot at a car during a drug deal gone bad.
"We told them about the drugs, we told them about the guns, and nothing was done," Harrington said.
Harrington said his 16-year-old daughter used to hang out with the group of teens in the neighborhood at the home of Debora Maruca-Kovac, the 50-year-old woman Hawkins lived with.
Maruca-Kovac told the Omaha World-Herald that Hawkins showed her a rifle on Tuesday, but that she thought it was too old to work.
Harrington said he wished someone had listened to the warnings.
Hawkins' friends threatening those who speak out
He called police again Thursday after his daughter got a phone call from Hawkins' best friend, 17-year-old David Horvath.
After the shootings, Horvath left Shelby Harrington a voicemail message, threatening to "cap" her if she didn't stop saying bad things about Hawkins, Harrington said.
Shelby Harrington had posted a critical comment about Hawkins on an Internet site after some of Hawkins' friends defended him. Horvath was charged Friday in Sarpy County Court with intimidation by phone call.
And Thursday evening, while his daughter was filming an interview with TV's "Good Morning America," she got a threatening text message from another friend of Hawkins. A 16-year-old boy was cited for disturbing the peace in that incident, Bellevue police said.
Meanwhile, one of the first funerals for Hawkins' victims was announced. A vigil for Janet Jorgensen, a 14-year Von Maur employee, was scheduled for Sunday evening in Omaha, with a funeral Mass on Monday.
Jorgensen's family members gathered to pray for the victims and their families — including Hawkins' family.
"They're not vindictive people," family friend Paul Huntimer said Friday to a gathering of reporters at the Jorgensens' Omaha home. "It was important to Ron that prayers go out to the suspect's family."
The mall was scheduled to reopen on Saturday.