/ Source: Forbes Traveler.com
"A rose on your pillow… chocolates at turndown… rose petals sprinkled down the hallway … gifts arranged under the tree." These are but a few of the little gestures that Jo Jones, concierge at Deer Valley's high-end Residences at the Chateaux, plans for couples visiting the resort.
From private fireside fondues to midnight snow shoe adventures to couples' spa treatments, today's luxury ski destinations are turning up the heat on wintertime passion. Cupid has been sighted floating around European chalets, rustic Argentinean lodges and at least one Kiwi mountaintop—plus all the best American spots.
At fractional ownership properties such as Residences at the Chateaux, the staff keeps record of their guests' preferences, special needs and even their birthdays. They offer the "second home" experience plus all the concierge services of a luxury hotel. For guests on a romantic getaway, this could include a horse-drawn sleigh ride to the nearby Empire Lodge for a fireside meal … and then back home, where chilled champagne and a drawn bath await.
A combination of beauty, history and status, Aspen proves itself a top romantic getaway year after year. There, luxury rental specialists have a your-wish-is-my-command attitude.
"When you book a rental through most Aspen realtors, there's typically a service charge on top which covers full concierge services—any requests from catered candlelight dinners to hard-to-come-by event tickets. I've even worked with local boutiques to show their wares in guests' houses, so they don't have to visit the stores," says Kelli Gardner of Five Star Destinations.
Though Gardner says most people prefer to be in the six-by-six block radius that constitutes the "core" of Aspen (where the bulk of the season's social activities take place), she also has country properties that appeal to lovers in "getaway" mode.
"You get a view of majestic mountain peaks… there are open pastures for snowmobiling right out your back door … but it's easy to rent a driver, and you can still access the town of Aspen easily," she says.
For in-town romance, book a penthouse through Gardner and arrange for a private chef to cook up spreads accented by caviar and truffles from the Butcher's Block. The St. Regis and Little Nell penthouses are popular and some insiders opt for the Brand Building, but for a real splurge, a lavish 4-bedroom private rental property will cost you from upwards of $12,000 a night off-season.
The East Coast ski village of Stowe, Vt. is Aspen's foil in many ways: small-town and old-world, with all family owned and operated businesses.
"No Pizza Hut, no Gap, no chain hotels," locals proudly state. That means at any of the 50 restaurants, 60-odd hotels and B&Bs, the owners offer personalized service and their own informal version of concierge service. There are loads of romantic hideaways in Stowe, but at the Stone Hill Inn, proprietors Amy and Hap Jordan seem intent on perfecting the Cupid-friendly experience—especially as it applies to epicureans.
"My husband I are foodies and plan travel around food experiences," says Amy, who offers a "Fun for Foodies" package, fondue dinner tours and chocolatier classes. As for the other romantic extras, she lets guests provide the inspiration.
"I have hopeful grooms-to-be calling me up saying 'I want to propose, I'm nervous, what do I do?' so the proposal packages were a natural extension," she says. The Jordans consider all pre-planned packages to be just a "starting point," though they understand that everyone wants their special occasion to be unique.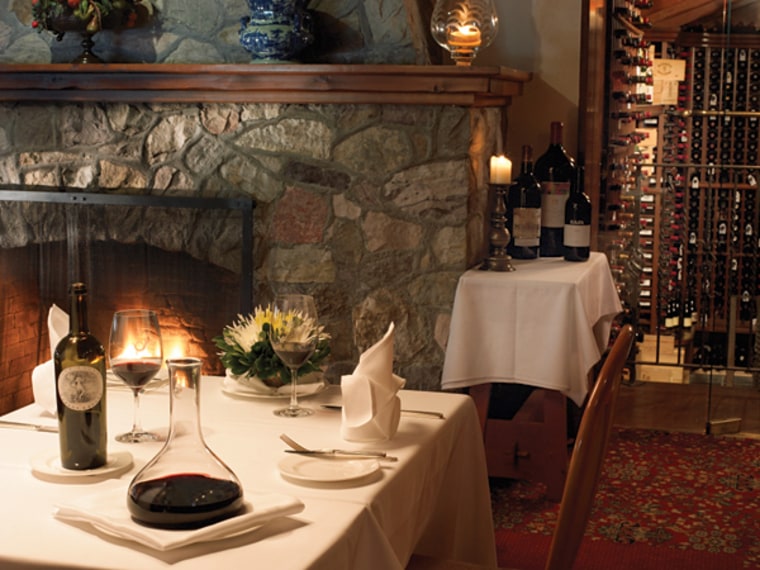 The legendary Canadian ski resorts of Banff/Lake Louise and Whistler offer every kind of accommodation from luxe five-star hotels to ski-in, ski-out chalets. But lately, boutique hotel properties have been stealing international attention away from the big names. In Lake Louise, a team of Swiss brothers runs the picturesque Post Hotel to old-world European standards, offering intimate accommodations, an Alpine spa and fine cuisine with a 35,000-bottle wine cellar. Nestled in Banff National Park, this property gets the insider vote for a romantic Rocky Mountain getaway.
In Whistler, the Sundial Boutique Hotel sets the standard for interior style on a super-luxe but intimate scale.
"Boutique hotels are typically authentic with the essence of the location/destination. When you close the curtains, you are going to know you are someplace special," explains Andrew Fine of Boutique Hotels & Resorts. In his opinion, the Sundial exemplifies this.
Sundial staff recommends suite #705 for the ultimate romantic splurge. With two fireplaces, a heated slate floor in the bathroom, a jacuzzi in the bedroom and another on the patio, it's designed to inspire guests to … er … make themselves comfortable. The concierge staff arranges special activities such as couples' spa treatments, moon-lit cross-country skiing around Lost Lake, or fondue dinners on the mountain.
Of course, when it comes to Alpine spas and mountaintop fondue, no one does it better than the Europeans. Lodgings run the gamut from stately to charming, modest to downright palatial. At Badrutt's Palace in St. Moritz, Switzerland, service is discreet, but everything else—the views, the décor, the crowd—is suitably over the top. Perched on Lake St. Moritz, this property offers everything from private dinners in its wine cellar to après-ski high tea to horse-drawn carriage rides through the nearby Fex Valley. Alpine view suites are worth the splurge.
Over in the French resort of Courchevel, the Hotel de Charme les Airelles recently wrapped up a $31 million renovation and is set to lure high-ticket travelers from every corner of the world. The property maintains a refined "chalet" feel, with après-ski cocktails in the fire-lit piano bar and cuisine by Pierre Gagnaire. The top-floor suite features frescos, indoor and outdoor jacuzzis and two balconies that afford south and western valley views. Though we recommend it as an ultimate couples' getaway, it is a definite splurge at $14,760 a night.
For an alternative to the Alps, venture over to the Baqueira-Beret resort area in the Spanish Pyrenees. La Pleta Hotel & Spa's spa/food/wine experience leaves you purring. Insiders suggest staying in the two-floor Presidential Suite (with infinity jacuzzi), booking the "Two Lovers Treatment" in the couples' treatment room, then retiring to the restaurant (or your suite) for dinner and heated spiced wine.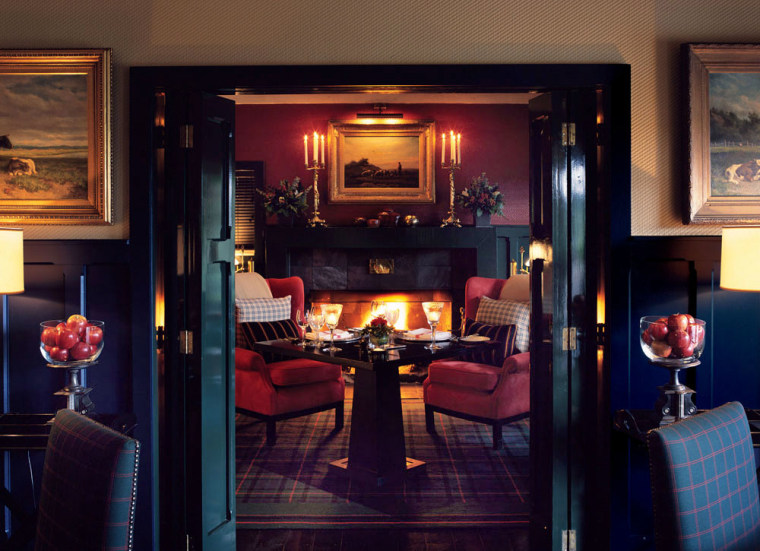 If Europe's ski resorts are stately and historic, South America's are rustic and a bit rough around the edges—but they make up for it with stunning natural scenery and vivacious local culture. And, because of the Southern Hemisphere location, their peak season is July and August. The Argentinean town of Bariloche is a sister city to Aspen—and with 100,000 residents, it dwarfs its Colorado sibling. What's more, it's located along Lake Nahuel Huapi, which "makes Tahoe look like a pond" according to Tom Nugent, mountain vacation specialist for Ski.com (formerly Aspen Ski Tours).
"For romantic luxury lodgings, the Pire-Hue is as good as it gets," he says. "It reminds me of a rustic hunting lodge, with comfortable common areas, soft leather furniture, a great little bar and ski-in, ski-out access. The main chair lift is on one side of the hotel exit, and the ski shop is on the other." For a truly memorable getaway, though, he recommends taking a two-day trip to Llao Llao, a famous hotel between two lakes in Nahuel Huapi National Park.
For off-season a deux adventures further afield, New Zealand offers experiences ranging from the iconic "grand lodge" getaway to the high-energy Queenstown urban retreat.
Caroline Davidson of the luxury group Select Hotels says, "Our properties appeal to a very eclectic group of high-end travelers. Just juxtapose two of our top properties, the classic Huka Lodge on the banks of the Wa River, with the Spire, a brand new Queenstown property offering avant-garde luxury in the heart of town."
Couples who want to run away to the rugged North Island stay at the Huka Lodge and spend the week heli-skiing or bathing in thermal springs. The Spire is for hipsters in search of South Island adrenaline action by day and sexy adventures by night—with Philippe Starck furnishings to provide the properly hip backdrop.
Though Australia has fewer ski areas, it is developing more properties on the snow. For now, the Hotel Pension Grimus is a top pick. It's ski-in, ski-out, on fabulous treed terrain, and has won a recent industry award for "best Australian alpine accommodation." Pension Grimus is famous for its traditional Christmas in July. Austrian-style hospitality, great food, schnapps tastings and impromptu entertainment by Australian celebs are part of the annual program. Whether you and yours are making history or celebrating it, these ski resorts fit the bill for true snow lovers.