/ Source: Forbes Traveler.com
No matter how glamorous and beautiful a ski resort, it doesn't matter if you're stuck in lift lines all day. Unearthing a mountain that's uncrowded isn't impossible — it just takes a little work.
The good news is, we've done the work for you. In many cases, these 10 mountains have as much, if not more, to offer than their better-known siblings. But reaching them requires effort and time, which puts them out of the reach of many skiers.
Take Grand Targhee, Wyo. This low-key ski resort on the western flanks of the Teton Mountain range lies due west of its more famous neighbor, Jackson Hole, which hugs the eastern side of these same mountains. Though popular with locals and day visitors from Jackson Hole, just 150,000 skiers each year sample the 500 inches of the planet's lightest powder snow. (Jackson Hole, on the other hand, welcomes close to 350,000 skiers each year. Vail — 1.5 million!) Targhee can't compete with Vail in terms of size, but there are 2,500 very respectable, very skiable acres and views that stretch more than 100 miles.
As with the best uncrowded ski resorts, getting to Targhee is a challenge. From Jackson Hole, it takes about 90 minutes to drive the 42 miles, across the Tetons by way of the sometimes treacherous Teton Pass. Ski Hill Road, the final part of the drive, is often banked with walls of snow eight or ten feet high. As if that's not enough, there are just 96 beds in the entire village and nightlife is virtually nonexistent.
"On big powder days, the snorkels come out," says Susie Barnett-Bushong, Targhee's marketing director, referring to the legendary dumps that can engulf this mountain. "Skiing here is about the euphoria of having elbow room, and Targhee has the feel of skiing in the '60s or '70s."
A similar remoteness helps preserve better-known resorts, such as Telluride. It's more than six hours on twisting roads from Denver, or a flight into Montrose and then a drive just to get here. The reward is arguably the prettiest ski town in the West, with a well-preserved main street filled with late-19th century Victorian architecture and a mountain that serves beginners and experts equally well.
Another case in point: Big Sky, Mo.
"The lack of crowds is perceptible on your first lift ride," says Dax Schieffer, a spokesperson for Big Sky. "Jump on a high-speed quad and there will typically be empty chairs ahead of and behind you. You can ski more in a morning here than you can ski all day at another resort where you have to wait in line for 20 minutes after every run."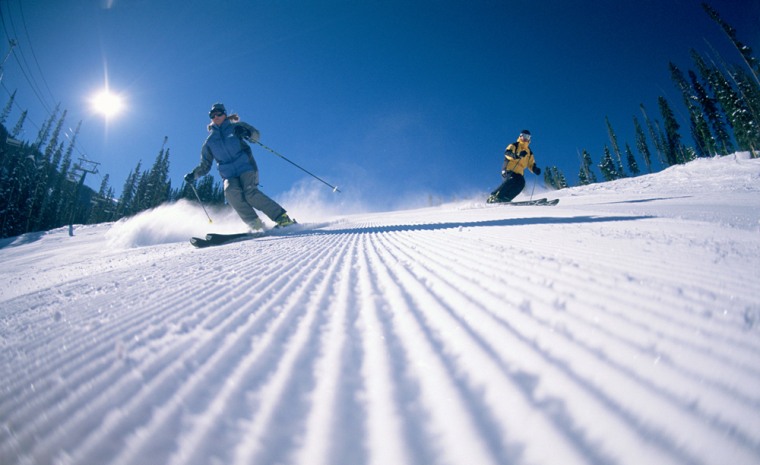 Typically, Big Sky sees no more than 2,000 skiers on any given day across its 3,800 acres. Factor in adjacent Moonlight Basin (combo tickets are available), and it's 5,300 total acres of terrain. That's 11 more modest acres than Vail's 5,289.
Remoteness also favors Taos, N.M., since simply getting there requires a flight to Albuquerque and then a three-hour drive north. Because New Mexico doesn't automatically connote skiing for most, Taos tends to be a lair for diehards and those in the know.
Then there are the truly "out there" mountains — places only a diehard few know about, like Fernie and Red Mountain. Both are tucked away in the fastness of the Canadian Rockies in British Columbia.
Somewhere in the middle is Whitefish, which recently changed its name from Big Mountain. Set in the northwestern corner of Montana, close to the Idaho panhandle and the Canadian border, Whitefish is nearer to the Pacific Northwest than to the mountains of Colorado and Utah. From the top, you can look south into a 60-square-mile valley to the frozen surface of Flathead Lake, the largest freshwater lake west of the Mississippi. Gaze north into Glacier National Park and you'll see the Canadian Rockies in the distance.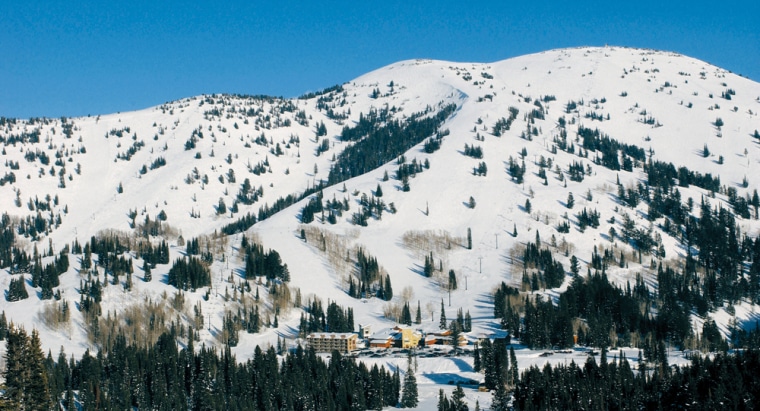 But it's not impossible to find uncrowded slopes closer to the big cities and popular destinations. That's certainly the case at Snowbasin, the best spot to go when the crowds at Park City or the Canyons are too much. This Utah mountain — owned by Earl Holding, who also owns Sun Valley — is big enough to have welcomed the men's downhill during the 2002 Olympics. But apart from a fancy day lodge, it's relatively barren; lodging is best found in sleepy Ogden, 20 miles away.
And don't forget Silverton, a Colorado resort for hardcore dudes that's south of Telluride. Silverton is strictly for the big dogs in peak condition. The base lies at 10,400 feet, a sole chairlift ascends to a 12,247-foot ridge line in the San Juan Mountains, and a further hike gets you to 13,300 feet. But altitude is the least of your concerns. The easiest runs at Silverton are pitched at 30 to 35 degrees, akin to double blacks at a typical ski resort. (The steepest pitch is more than 55 degrees.) Lift lines? No, you can thank the Bureau of Land Management for that. They've limited the number of skiers to just 80 a day this winter.
For those of use who aren't in peak condition, there's always Kirkwood, about four hours from San Francisco. Nearby resorts like Squaw and Heavenly draw the crowds, leaving Kirkwood — and its 2,300 acres covered by some of the nation's deepest snow — noticeably empty. The resort also boasts cross country skiing, snowshoeing, tubing, ice skating, and bars and restaurants all within steps of luxurious ski in/ski out condominiums in the Mountain Village.
Of course, you get bonus points for finding a relatively untrammeled mountain in the midst of a busy resort. Aspen Highlands is never crowded, though it's just a few miles from Aspen. The same goes for Solitude in Utah, just half an hour from Salt Lake City. But at the 10 mountains we've uncovered, you won't be standing in line for the lifts — or at the restaurants.