/ Source: Forbes Traveler.com
Waves of powder snow parting like feathers. Blue mountain sky beaming above.
To ski downhill through hip-deep fluff is to experience an archetypal form of being, an avocation so epic as to realign priorities, refocus expectations, betray axioms even. "Better than sex" doesn't come close.
Just ask Jamie Pierre, a pro skier who in 1992 was lured away from his home by a single snow storm in Utah. "It snowed 54 inches, white powder as light as air," he says of his first visit to Snowbird Ski Resort in the Wasatch Mountains above Salt Lake City. "These waves of billowy, airy powder were actually rolling over our shoulders as we skied."
Pierre, a native of Minnesota who fled West by way of Colorado, moved to Salt Lake City the next season. And he's never left. For powder snow, he picked a good place to settle. Bestsnow.net, a clearinghouse for worldwide ski-area snowfall data, ranks Snowbird as the No. 9 snowiest spot to ski on Earth. Alta Ski Area, a neighboring resort up-canyon from Snowbird, claims spot No. 3 on Bestsnow's list, accumulating an average of 523 inches of fluff that buries chalets and keeps the powder pilgrims smiling all season.
This story highlights the top 20 snowiest resorts on the planet, as tracked by Bestsnow, which pulls meteorological records from weather stations, data from avalanche-forecasting centers and monthly snowfall amounts from ski resorts. Bestsnow's numbers—which are used by publications like Skiing magazine and Powder magazine to rank resorts—differ from average snowfall numbers touted by some resorts. This is because, among other factors, Bestsnow looks at monthly averages spread over time periods of up to 40 years.
Our list includes big boys like Snowbird as well as little-known mountains like Whitewater Resort in British Colombia, which is smothered each season under an average of 397 inches of snow. Alyeska Resort near Anchorage, Alaska, made the list with its yearly 513-inch figure, as did Kirkwood Mountain Resort (473 inches) and Boreal (395 inches), both near Lake Tahoe in California.
Japan's Niseko resort area, which averages an astonishing 595 inches per season, is No. 2.
Surprisingly, no European resorts make Bestsnow's chart. According to Tony Crocker, the site's editor and founder, the Alps have a geographical disadvantage to the mountains of North America. "Snow does not fall in the same quantities in Europe, where the mountains are oriented more east-to-west," he says. "In North America, particularly with the Cascades, Wasatch, Tetons and the Sierra-Nevada Range, the mountains run north-south, creating giant buffers where clouds run into land and dump snow." In fact, other than Niseko in Japan, North American resorts claim every other position on the list.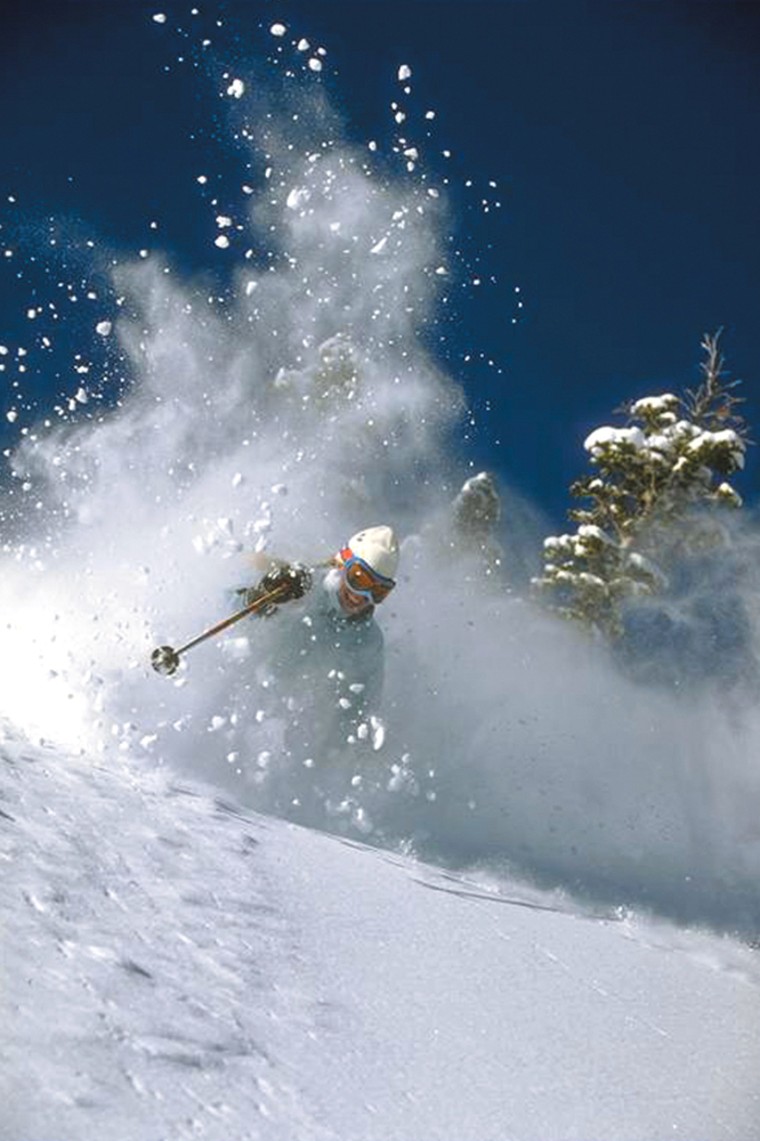 Each area listed here averages 360 inches of snow or more annually. Which means, essentially, that you can't go wrong. In addition, there are five major North American ski areas that just missed the top 20 mark, including Alpine Meadows, Calif. (368 inches); Steamboat Ski Resort, Colo. (367); Mammoth Mountain, Calif. (367); Jackson Hole Mountain Resort, Wyo. (366); and Mt. Bachelor Ski Resort, Ore., (364).
The deepest of all? That title goes to Mt. Baker Ski Area, a resort on the flanks of its namesake 10,778-foot stratovolcano in northern Washington State. Indeed, Baker once recorded a snow year so mythically deep that it's regularly cited as the most snow measured anywhere, ever, on the planet. Baker has always been known for its tremendous annual snowfall, but during the winter of 1998/99 the gloppy snow of the Pacific Northwest literally buried anything in local memory. What began with some wisps of white in late fall intensified to snowstorms and blizzards around Thanksgiving. As Mt. Baker Ski Area cranked on its lifts, there was already a deep base. Then it really started to dump, swollen clouds rolling in, flakes flying from a low sky relentlessly, sometimes for days on end.
Skiers and snowboarders struggled for momentum on Baker's flats, but then plunged in semi-controlled and sightless descents on Baker's steeps, giggling, turning, flying through fluff as blissful balls of exploding white. By season's end, Baker recorded 1,140 inches of snow—a near-apocalyptic 95 feet of the frozen white stuff. "It was a legendary year," says Crocker.
Read on to discover which resorts can rival Baker's propensity for wintertime precipitation. With some luck you'll hit a powder day, and ski or snowboard as a big ball of exploding white as part of your own legendary experience.