With the credit market still reeling from an ongoing housing recession, the Federal Reserve is widely expect to cut interest rates again when it meets on Tuesday. Despite strong economic growth in the third quarter, the economy is already showing signs that the housing bust is dragging overall growth lower.
With the economy slowing and inflation apparently still under control, most Fed watchers are looking for another quarter point cut in rates. The stock market has also interpreted recent public comments by Fed officials as a signal that a cut is likely.
Two weeks ago, both Fed Chairman Ben Bernanke and Vice Chairman Donald Kohn noted that conditions in the financial markets had deteriorated since improving in September and October. Bernanke said policy makers needed to be "exceptionally alert and flexible" while Kohn called for "flexible and pragmatic policymaking."
A quarter-point cut in short-term rates won't be enough to offset the ongoing housing bust, especially in hard-hit areas like California, Arizona, Nevada, Florida and parts of the industrial Midwest.  But cutting rates could help ease the impact on consumer spending, which accounts for roughly 70 percent of economic activity.
Job growth remains relatively strong — some 94,000 jobs were added in November, according to the Labor Department. But with some one in eight jobs dependent directly or indirectly on the housing industry, a prolonged slump could whittle away at future job gains.
Consumer spending may also take a hit from the falling value of the roughly $25 trillion worth in U.S. residential real estate, according to Sung Won Sohn, president of Hamni Bank.
"For every $100 decrease in the price of house, that effects consumption by about 3 to 5   percent," he said. "You can see the housing recession does affect consumer spending, but over time. So we really haven't seen the brunt of it yet."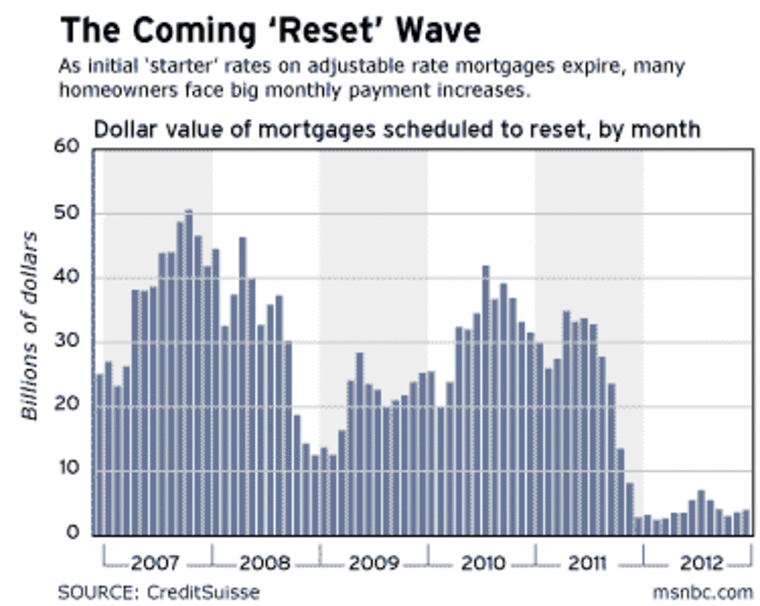 Though many economists believe the odds of a recession have increased, it's far from inevitable. A lot depends on how homeowners react to the wave of higher mortgage payments set to hit next year. Further rate cuts by the Fed could help blunt that impact, according to Greg McBride, an analyst with Bankrate.com
"The fact is the Fed easing will have a much more significant impact for more people that the much ballyhooed (White House) foreclosure relief plan," said Greg McBride.
While housing remains a major headwind, other forces have been offsetting that weakness. A cheaper dollar has helped boost exports, as American products look cheaper to foreign buyers.
And while housing has been mired in a slump, commercial construction has held up well. Business are building new plants, warehouses, hotels and office buildings. State and local governments are busy putting up schools, expanding airports, rebuilding roads and bridges.
"What's happening there is the mirror image of what's happening in housing," said Stuart Hoffman, chief economist at PNC. "There's a lot of strength there and it's been a partial offset of housing and the overall drag of housing on the economy."
Inflation worries
If oil prices return their march to $100 a barrel and beyond, the Fed may need to reconsider its current rate-cutting stance. Rising prices give the Fed less maneuvering room to cut rates, because the best known antidote to higher inflation is higher rates.
"Inflation is going to be a word on everyone lips in 2008," said McBride. "Another rate cut isn't exactly a boost for the dollar. And a declining dollar also feeds into those inflation concerns."
That's because a falling dollar doesn't go as far when consumers buy imported goods; that tends to raise the price of those goods in dollar terms.
The outlook for the dollar depends in part on how central banks around the world respond to signs of slowing economic growth. The Bank of England cut rates on Friday in response to forecasts of slowdown there. Growth in Europe is also expected to slow; if European banks begin cutting that could ease some of the pressure on the falling U.S. currency. (With rates currently lower in the U.S. than in Europe, the dollar is less attractive to foreign investors because they get a lower retunr on dollar-based investments. That reduces demand for the dollar and hurts its value relative to other currencies.)
"When we get the point where (the Europeans) are cutting rates and the Fed stops, some of that swoon in the dollar may come back a bit," said McBride.
Most Fed watchers believe the central bank still has a ways to go before it stops cutting the cost of money — possibly until short-term rates reach 3.5 percent. Some argue that the central bank has been moving too slowly — or that it has failed to give a clear message about its thinking to the financial markets about what comes next.
That may be, in part, the traditional reluctance of central bankers to show their hand, hoping to some extent that the element of surprise can add weight to its policy moves.
If may also reflect a change in the culture of the Fed under its new chairman Ben Bernanke, according to Mark Zandi, chief economist at Moody's.com.
"Chairman Bernanke is more collegial (than former Fed Chairman Alan Greenspan) and is a allowing for more voices, giving more weight and input to the Fed bank presidents and the rest of the board. And therefore it's more difficult to respond and send a strong message to the marketplace. It's always more diluted when you put together a statement where you have 10 people involved as opposed to one or two."