/ Source: The Associated Press
In the face of U.S. opposition, the U.N. chief said Wednesday guidelines on greenhouse gas emissions cuts favored by Europe and developing countries may be "too ambitious" to include in a final statement on climate change.
Drafts of a final statement at a U.N. global warming conference this week have included a call for industrialized countries to consider cutting emissions blamed for rising temperature by between 25 percent and 40 percent by 2020.
U.N. Secretary-General Ban Ki-moon, however, said such goals might have to wait for subsequent negotiations when asked about steadfast opposition by the United States, though at some point targets for emissions cuts would be necessary.
"Realistically, it may be too ambitious" to set guidelines now, Ban told reporters, while urging Washington to be flexible. Later he added: "Practically speaking, this will have to be negotiated down the road."
Talks pick up pace
The two-week conference, which wraps up Friday, brings together delegates from nearly 190 nations, charged with launching negotiations that will lead to an international accord to succeed the Kyoto Protocol in 2012.
Talks picked up pace Wednesday with the arrival of ministers and heads of state who urged the world in a series of speeches to quickly impose deep cuts in emissions to head off scientific predictions of rising seas, worsening droughts and famines, and melting ice sheets.
The European Union and developing nations strongly favor specific target ranges for emissions, which they say are needed to avoid temperatures rising above 2 degrees Celsius (3.6 degrees Fahrenheit) over preindustrial levels.
U.S. resistance
The United States, however, has argued strenuously at Bali that including such language in the final document would prejudice negotiations over the next two years.
"The reality in this business is that once numbers appear in the text, it prejudges the outcome and will tend to drive the negotiations in one direction," said Harlan Watson, a lead U.S. negotiator.
Many negotiators at Bali have said that a top priority was getting an agreement that the United States could work with, but German Environment Minister Sigmar Gabriel — whose government has pledged to cut emissions by 40 percent by 2020 — said the Bali conference would be meaningless without targets.
"I do not need a paper from Bali in which we only say, 'OK, we'll meet next year again,"' Gabriel said. "How we can find a roadmap without having a target, without having a goal?"
Speakers on Wednesday also laid out the basic parameters of an agreement: that rich nations, as the prime drivers of global warming, should make the first cuts in emissions and help poorer countries develop in a clean way with technology and assistance.
Speakers also called on quickly developing nations, such as China, to rein in high levels of pollution.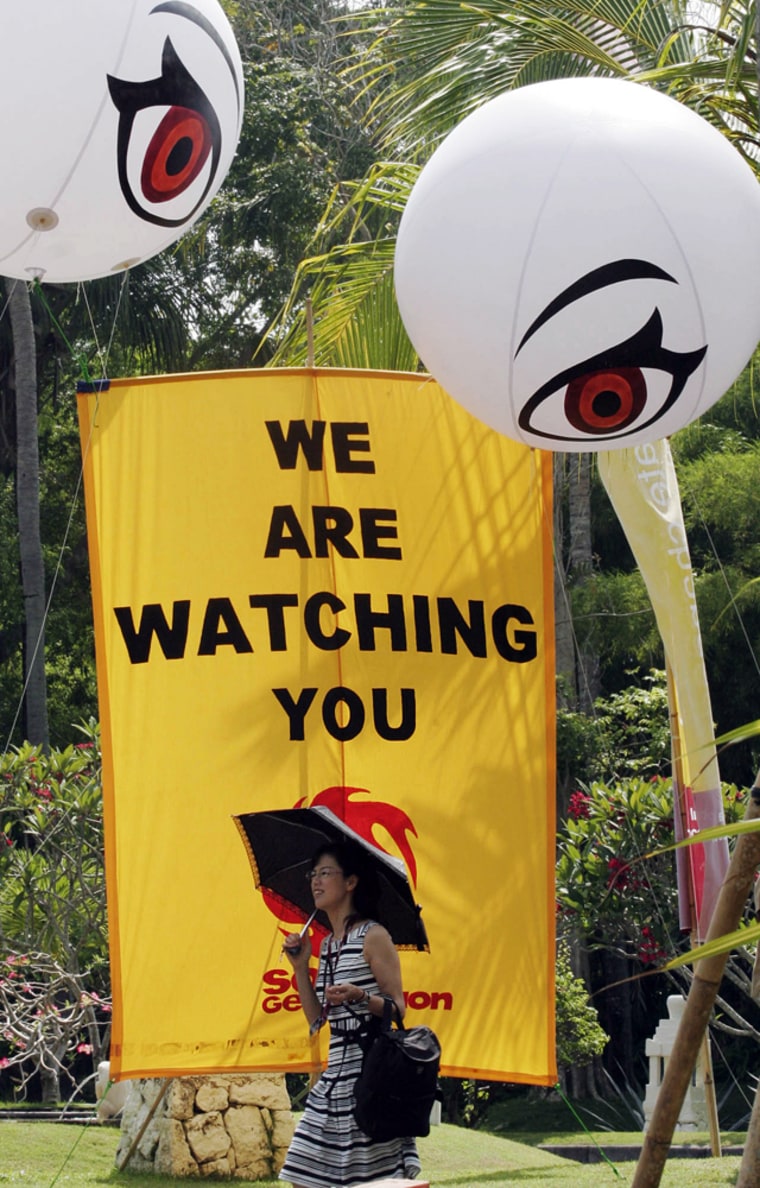 The most poignant call for action came from island nations, which face possible extinction by rising seas.
"Today, the catastrophe is looking large on the horizon," said Maumoon Abdul Gayoom, president of the Maldives. "Sea-level data over the past decade confirms our worst fears. Without immediate action, the long-term habitation of our tiny islands is in serious doubt."
The Kyoto Protocol commits 36 industrialized nations to reduce greenhouse emissions by an average of 5 percent between 2008 and 2012, but the pact has been severely weakened by Washington's refusal to join. The United States is the top emitter of such gases, though some say it has been overtaken by rapidly developing China.
Many in Bali also called for more robust participation by the United States, which became the only major industrialized nation to have rejected the Kyoto Protocol when Australia signed the pact last week after years of opposition.
Delegates applauded Australia several times Wednesday after Prime Minister Kevin Rudd handed over ratification papers for the protocol to Ban. Rudd made a clear reference to the United States when stressing the need for mandatory cuts.
"We expect all developed nations — those within the framework of the Kyoto Protocol, and those outside that framework — to embrace comparable efforts in order to bring about the global outcomes the world now expects of us," Rudd said.
The United States insisted it was eager to reach agreement.
"We hope to identify a way forward that will bridge our differences," U.S. Under Secretary of State Paula Dobriansky, the head of the American delegation, told reporters.
A version of a revised conference document also included the word "commitments" for the first time in addressing what rich nations should do to reduce greenhouse emissions.
The new document called for consideration of action by developing countries to control emissions. Such countries, led by high-polluter China, maintain that rich countries should take the first steps, while poorer nations put their emphasis on economic development.