/ Source: msnbc.com news services
Synchronized car bombs devastated a city market district in southern Iraq on Wednesday, killing 41 people and injuring 150 in a Shiite region that has largely escaped the country's sectarian bloodshed, authorities said.
The attack was one of the deadliest in Iraq in months and came as tensions are running high across oil-producing southern Iraq, where rival Shiite factions are struggling for influence as British forces across the region draw down.
The explosions in Amarah were about five minutes apart, beginning with a small blast at the entrance to the market, said Mohammed Saleh, a provincial council spokesman, elaborating on earlier accounts by police and an intelligence official.
Saleh said bystanders gathered to look at the aftermath of that blast, which wounded just a few people, when a second car bomb exploded. The third car blew up nearby as the crowd began to flee, he said.
Saleh, a provincial council spokesman, said 41 people were killed and 150 wounded in the triple explosions. He said local hospitals were overwhelmed with casualties and were turning away people whose injuries were not considered critical.
In Baghdad, the Interior Ministry spokesman Maj. Gen. Abdul-Karim Khalaf said the Amarah police chief was fired.
'It was really tremendous'
The explosions could be felt a half-mile away, said Salam Hussein Jabir, who runs a travel agency in the city. He said his office windows shook and two pictures fell off the walls, and he ran outside to see what had happened.
"It was really tremendous," said Hussein, a 44-year old father of three. "This is the first time we've gone through anything like this."
Hussein said people initially thought it was a mortar attack. Then the second car exploded.
"Police prevented us from getting near. I saw about 100 people on the ground and police, soldiers and civilians were evacuating them," he told The Associated Press in a telephone interview.
"The smell of gunpowder mixed with the smell of the charred flesh," he continued.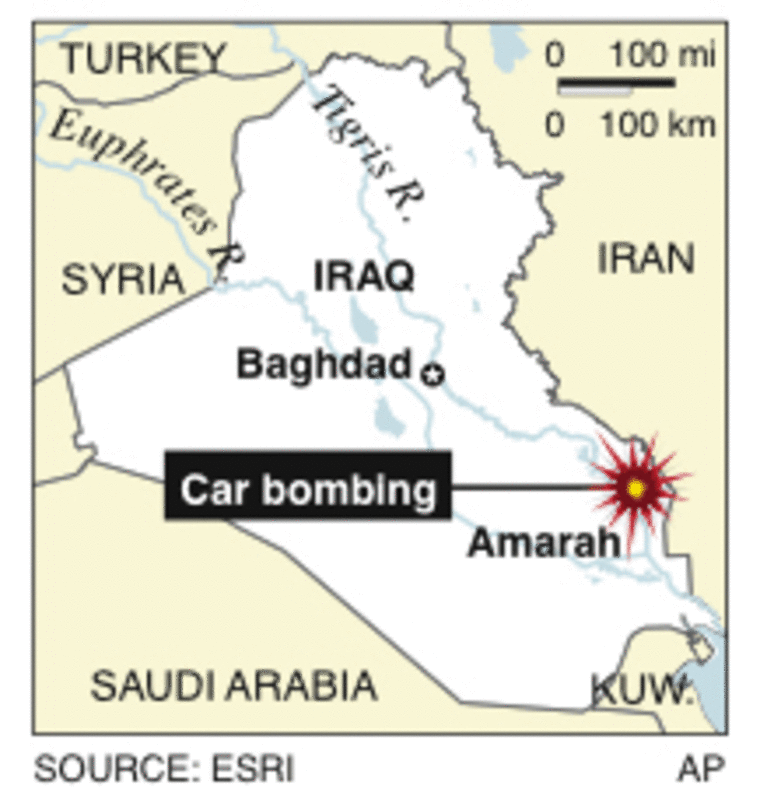 The police, intelligence and hospital officials all spoke to The Associated Press on condition of anonymity because they were not authorized to release details of the attack.
There were conflicting accounts of the number of bombings, with some officials saying two cars had exploded and others saying there were three bombs.
Saleh said police detained 25 suspects, including some who were using cell phones and cameras nearby, and were questioning witnesses. He said an indefinite driving ban was imposed, and Iraqi soldiers were deployed on the street.
"We are focusing on evacuating casualties to the hospital," Saleh said.
There was no immediate claim of responsibility for the attack.
Shiite militia stronghold
Amarah, a Shiite militia stronghold about 200 miles southeast of Baghdad, is the provincial capital of Maysan province, which borders Iran. Iraqi forces took over control of security from British troops there in April.
Largely Shiite southern Iraq, including Maysan, has escaped much of the sectarian violence that has plagued Baghdad and other parts of Iraq, and car bomb attacks are rare.
But southern Iraq is also witnessing a turf war between rival Shiite groups, including supporters of cleric Muqtada al-Sadr and his Mahdi Army militia, and its chief rival the powerful Supreme Islamic Iraqi Council.
The British military, which turned responsibility for security in Maysan over to Iraqi authorities in April, confirmed a bomb had exploded in the city but had no further details.
The attacks came three days after British Prime Minister Gordon Brown paid a brief visit to British forces in neighboring Basra province.
Britain is expected to hand control of security next week to Iraqi forces in Basra. That will end Britain's security responsibility of the four southern provinces it once controlled.
Maysan is home to the Marsh Arabs and has large oil fields.
A year ago, clashes broke out between militiamen and police in Amarah, prompting the dispatch of hundreds of Iraqi troops.
Adding to the tensions in southern Iraq in recent months has been the assassination of two provincial governors. Senior police officials have also been killed.
Analysts fear Shiite factions will intensify their battle for political supremacy as Britain further cuts troop levels.
However, there has not yet been an upsurge of intra-Shiite violence in Basra city, which is the most important hub in southern Iraq and where most of Iraq's oil exports pass through.