/ Source: The Associated Press
Wholesale prices shot up 3.2 percent in November, the biggest jump in 34 years, propelled by a record rise in gasoline prices.
The big inflation pickup in the Producer Price Index, which measures the costs of goods before they reach stores shelves, came after wholesale prices inched up by just 0.1 percent in October, the Labor Department reported Thursday.
When volatile energy and food prices are removed, all other prices rose by 0.4 percent in November, after being flat the month before. The last time this price barometer registered a bigger increase was one year ago. The pickup in "core" prices suggested inflation may be seeping into a wider range of goods.
The inflation figures were worse than economists were expecting. They were forecasting overall wholesale prices to go up by 1.5 percent, and core prices to increase 0.2 percent.
Soaring energy prices were mostly to blame.
They leaped by a record 14.1 percent in November.
Gasoline prices posted an all-time high increase of 34.8 percent last month. Diesel fuel prices jumped 35.8 percent and home heating oil soared 31.5 percent.
In another report, new applications filed last week for unemployment benefits dropped by 7,000 to 333,000, the lowest level since the middle of November. It was an encouraging sign that the employers aren't resorting to large-scale layoffs as they cope with an economy whose growth has been slowed by housing and credit troubles.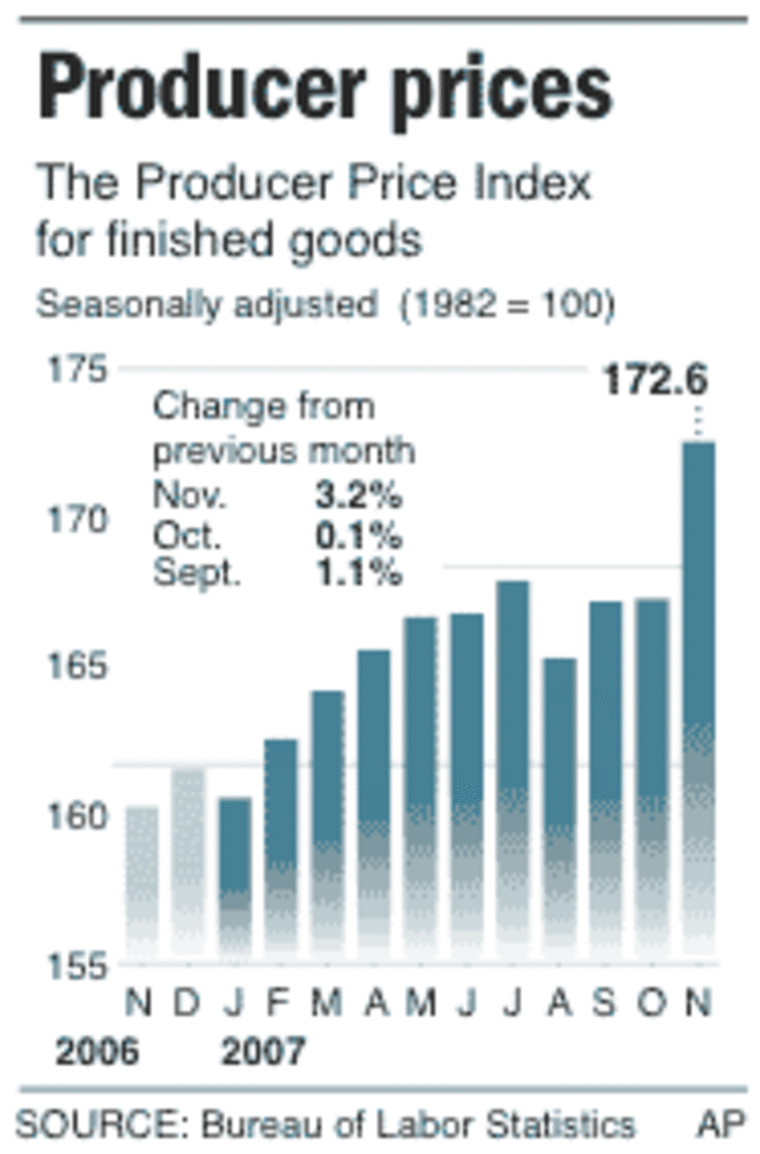 The figures were close to analysts' forecasts for claims to dip to 335,000.
Still, new-job creation has clearly lost speed this year as construction companies, factories, mortgage companies and others slash jobs because of the housing collapse and credit crunch.
Rising inflation could complicate the Federal Reserve's job of trying to keep the fragile economy expanding and inflation low.
The Fed on Tuesday sliced a key interest rate to 4.25 percent, the third reduction this year, in an effort to prevent the country from falling into a recession. Rate reductions are a bracing tonic for weak economic growth, while rate increases are used to combat inflation.
Oil prices, which had neared $100 a barrel, have moderated. But they are still high. High energy prices can slow economic activity and spread inflation if they cause the prices of lots of other goods and services to rise.
"Elevated energy and commodity prices, among other factors, may put upward pressure on inflation," the Fed warned on Tuesday. The Fed pledged to continue to "monitor inflation developments carefully."
Some bright spots in the inflation report: food costs were flat in November, after rising by a sharp 1 percent in October. And, costs for electronic computers dropped 2.4 percent.
But prices for many other goods moved higher. Light motor truck prices rose 2.3 percent, the most in one year. Passenger car prices went up 0.6 percent and platinum and gold jewelry rose 2 percent.