/ Source: The Associated Press
Consumers put aside worries about the weak economy in November to storm into the shopping malls, pushing up retail sales by the largest amount in six months.
The Commerce Department reported Thursday that retail sales surged by 1.2 percent last month, double the gain that economists had expected. That followed a much weaker 0.2 percent rise in retail sales in October.
Half of the November increase came from a big jump in gasoline pump prices and therefore was not seen as a sign of strength in consumer demand. But there were widespread gains across a number of other areas from department stores to appliance and furniture stores.
The big gain in retail sales was the largest increase since a 1.6 percent jump last May. Economists had expected a much weaker 0.6 percent rise, believing that a multitude of problems facing consumers, from a prolonged housing slump to rising troubles in obtaining credit, would dampen spending.
Many economists believe those problems will seriously depress growth over the next six months, raising the possibility of a full-blown recession, something the country has not had to endure since 2001.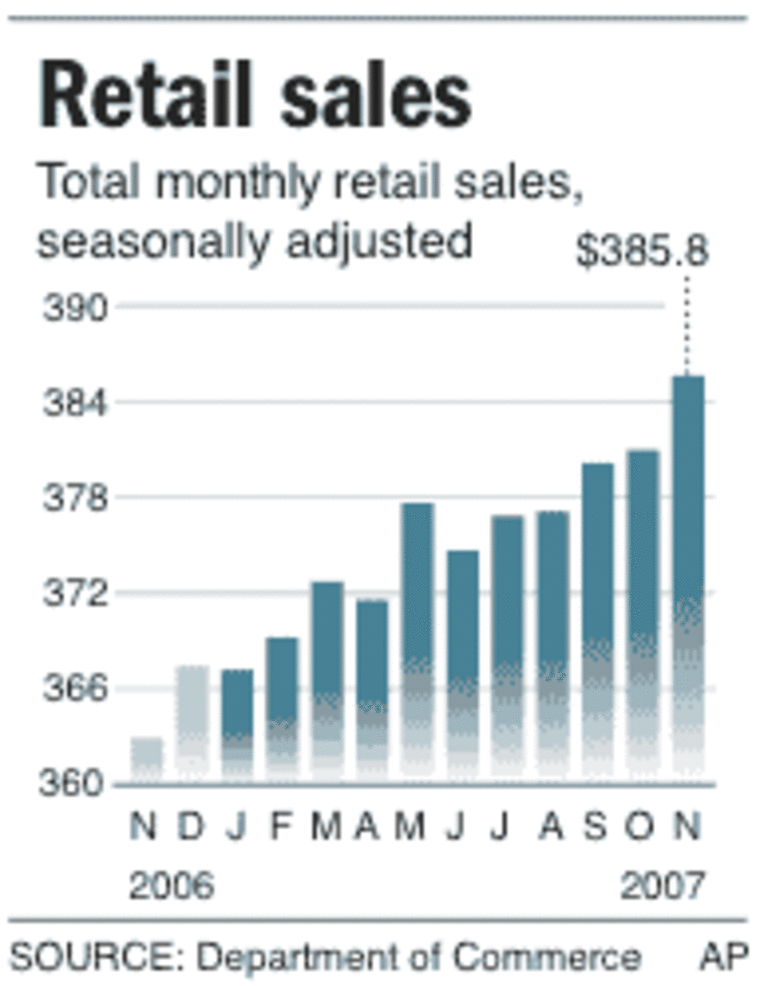 The Federal Reserve, struggling to get credit flowing again and ward off a downturn, cut a key interest rate for the third time this year and on Wednesday announced a global effort with other central banks to pump fresh cash into the banking system.
The report on retail sales showed that sales at gasoline stations jumped by 6.8 percent, the biggest increase since September 2005, another period when gasoline prices were surging.
Excluding gasoline, retail sales would have been up by a still solid 0.6 percent. This strength reflected a gain of 0.9 percent at department stores and general merchandise stores such as Wal-Mart and Target and a solid increase of 2.6 percent at specialty clothing stores. Analysts said colder weather in November and heavy promotional efforts in the period following Thanksgiving helped lift this total.
Retail sales also posted strong increases at appliance stores, furniture stores, sporting goods stores and grocery stores. Sales were down, however, for autos, falling by 1 percent after a 0.6 percent drop in October. Domestic automakers have been struggling with weak demand in the face of surging gas prices.