/ Source: The Associated Press
In the days when Bud was king, craft beer brewers saw themselves as artists, not executives.
Now, with growth of craft beers dwarfing that of the mega domestic beer brands, more craft brewers are developing annual plans, assessing markets and generally behaving more like the suits at megabrewers such as Anheuser-Busch Companies Inc. and Molson Coors Brewing Co.
"When this industry started, it was started by a bunch of engineers and home brewers," said Alan Newman, chief executive of Vermont-based Magic Hat Brewing Co. The brewers that have grown "are the ones that have either made the transition themselves to learn how to be more savvy business people or created a partnership with someone who does."
Smaller breweries — from the Colorado-based New Belgium Brewing Co. to Washington-based Pyramid Breweries Inc. — are all becoming more knowledgeable about the business of brewing, sparking even more growth in what's now the fastest growing beer category.
The biggest beneficiary of the emergence of the craft brewer as executive may wind up being the consumer as more companies use their new skills to secure distribution contracts that allow them to offer their brews to a wider audience.
The business know-how is also helping brewers negotiate supply contracts for ingredients — a necessity in a period of sharp price increases for commodities and packaging materials.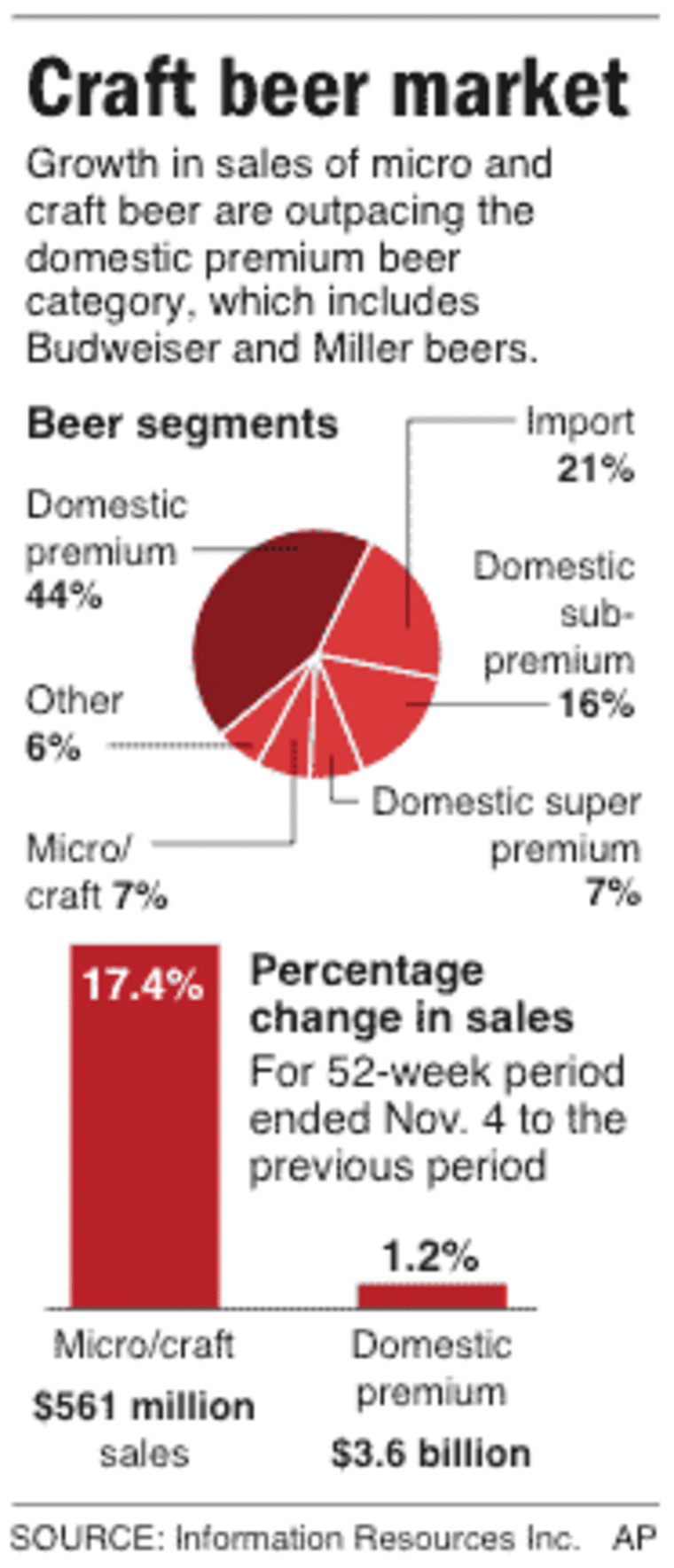 The change couldn't come soon enough for beer lovers, who are increasingly looking to the craft beer category instead of the domestic brews to quench their thirst.
"The beer category is having this huge surge of interest in full-flavored beers," said Julia Herz, spokesman for the Brewers Association, which represents craft brewers. "The American craft brewer is responsible for full-flavored beer."
According to data from market research company Information Resources Inc., craft beer volume — or the number of cases sold either directly or indirectly to consumers — has grown 13 percent in the 52 weeks ended Nov. 4. In terms of dollar sales, the craft beer segment has grown about 17 percent during the past year.
In comparison, volume of domestic premium brands, which include Budweiser and Coors Light, fell 0.4 percent in the past 52 weeks while dollar sales rose just 1.2 percent.
Magic Hat is one brewery that has grown with the craft beer category. The brewery makes its trademark #9 brew as well as a hefeweizen called Circus Boy and a number of seasonal beers. The company, which has been in business since 1994, sells its beer mainly on the East Coast and has recently expanded to a number of new southern and Midwest markets.
In the first half of 2007, volume rose 11 percent and sales jumped 33 percent from the same period in 2006. The brewery also reported strong growth in new markets, including Michigan, Ohio, Virginia and North Carolina.
That growth, Newman said, is at least partly due to a decision he made to bring on a partner who knew business far better than he did.
About three years ago, Newman hired Martin Kelly as a consultant to write a five-year plan for the company. Kelly had spent 12 years at Coca-Cola Co. and its bottler Coca-Cola Enterprises Inc. He had also served as a regional vice president for Miller Brewing Co.
After Kelly wrote the plan, Newman said he realized he didn't have the know-how to implement it well and asked Kelly to come on board at Magic Hat to run the business side of the company. Kelly is now its president.
Kelly's experience has created a far more business-oriented company, Newman said. While Newman runs mainly on intuition, Kelly depends more on data to help choose new markets and distributors. Armed with market research, the two can approach distributors with more informed predictions of demand, they said.
"We play the business in a way that the larger distributors need to have it played," Newman said.
The business focus also has helped the company sign cost-saving supply contracts for essentials like kegs.
"The bigger breweries tend to be more efficiently run and they do better planning," Newman said. "They can estimate their needs a lot better."
But, he said, "because our business is well-planned out with a very detailed annual plan, we can communicate our needs to our keg supplier well ahead of time."
Peter V.K. Reid, editor of the beer industry trade journal Modern Brewing Age, said Newman's idea to bring on a more experienced business partner is becoming more and more common.
Craft brewers, he said, have "attracted top-notch management people," Reid said. "The success of craft is attracting better people."
Hiring a partner with business expertise is one way brewers have become more business-savvy. Other brewers are learning the business themselves. For many, the shift has less to do with increasing distribution and more to do with survival.
The cost of barley, wheat and packaging materials has all gone up in the past year due to crop disease, drought and demand for alternative fuel ethanol which has enticed farmers to plant more acres of corn and less of everything else. In addition, hops is in short supply due to a drought.
The higher costs and the hops shortage have caused many craft brewers to scramble to put together long-term contracts from suppliers to make sure they can afford the ingredients and make their beer. But suppliers typically need annual projections for demand and production to make the deal.
Brock Wagner, founder and chief executive of Houston-based Saint Arnold Brewing Co., said the higher costs are teaching brewers quickly about the benefits of knowing the business side of their business.
"One of the best educational tools is a crisis," Wagner said.