/ Source: The Associated Press
The late afternoon sun gleams off the tin roofs of this small farming village, as neighbors Xavier Nemeye and Cecile Mukagasana watch their children play tag around the banana trees.
The two friends were born here and share much of Mayange's daily life. They talk every day, pray at the same church and send their children to the same school, the only one there is.
They are also both recovering from the genocide just 13 years ago — when he hacked to death six of her friends with a machete.
The journey of two enemies to peace reflects a major challenge facing much of sub-Saharan Africa today: how to recover from the wars that have torn apart all but one country, Botswana.
Over the past four decades, about 15 million Africans have died in war, only a little less than the population of Florida. An African peace agreement has as much chance of success as an American marriage: about 50/50.
Yet there is progress. African countries are experimenting with truth commissions of the kind South Africa made famous, war crime tribunals and amnesties. Despite brutal wars in Sudan and Congo, experts say Africa is more peaceful today than at any time in the past half-century.
Rwanda is now bringing together victims and killers in the genocide through community courts and villages like Mayange, once one of the worst killing fields in Africa. More than a decade after the slaughter of at least 500,000 people, there is a measure of peace — and hope.
"I can't imagine there will ever be another genocide," says Cecile, a 34-year-old mother of four whose poise reveals little of her past. "Because as people prosper and our lives continue to improve, it becomes easier for us as victims to forgive and forget what happened."
Putting the past in the past
Twenty-five miles south of Kigali, Mayange is a world away from the bustling capital. In this district of 10,000 people, the passage of time is marked by the planting and harvesting of maize. A dozen mud-brick shops are scattered around the main square, and shoeless children play on the red clay.
The modest village is at the forefront of Rwanda's plans to put the past in the past. Genocide victims and killers built it together with money from the government and donors, given on condition that they live in peace.
For centuries, families in Rwanda each had a hill of their own, lived off the land and saw their neighbors only once a week on market day. Rwandans have 34 words to describe hills, but almost no tradition of village life.
Some experts believe this isolation contributed to the genocide. So did poverty — both Xavier and Cecile used to live on less than a dollar a day in crowded mud huts thatched with palm fronds.
The conflict between their people dates back to colonialism, when the Belgians put Tutsis in power and Hutus to work in the fields. A Hutu regime took over at independence, and in 1994 its leaders incited Hutus to kill their Tutsi neighbors.
Xavier, a Hutu, stares at the floor as he remembers, and his small frame seems to shrink. It is hard to believe this man with the round, kind face and the thin mustache did what he did.
"We were told the Tutsis were evil and needed to be killed," he says, as the children play on the dirt floor and Cecile listens expressionless to a story she has heard before. "We really hunted for the Tutsis, searching out their hiding places and killing them wherever we found them."
The mob in Mayange killed hundreds. Cecile's Tutsi family fled to the parish church, but it was hit with tear gas and grenades. She and her mother escaped to a refugee camp in Burundi. She never saw her father, brothers or sisters again.
'Feeling nothing but anger and hatred'
The anger still flares in her brown eyes when she tells the story. Her voice remains barely audible, as is considered polite in Rwandan society.
After the war, the Tutsis threw Xavier and about 120,000 other killers into jails designed to hold 20,000. There were no toilets and no room to sleep. Guards used hoses to wash prisoners, who were packed like sardines in their own filth in huge open cells.
Xavier stood in prison for 18 hours a day and longed for revenge. Most African civil wars re-ignite within 10 years of a cease-fire.
When Cecile returned home from Burundi, her hatred too ran deep. Even today, she can instantly switch from cheerful matron to suspicious survivor.
"Whenever I saw a Hutu child around the age of 12, I wanted to get a club and bash their skulls in because my two brothers and my two sisters were dead," she says, with the calm matter-of-factness common among genocide survivors in Rwanda, where showing emotion is frowned upon. "I would lay awake at night feeling nothing but anger and hatred."
Hard to break violence cycle
This burning desire for revenge is one reason peace agreements fail.
The list of African countries that slide in and out of war is long: Liberia, Sierra Leone, Sudan, Congo, Burundi, Ethiopia, Eritrea, Uganda, just to name a few.
Somalia has spent the last 18 years at war, despite 14 peace agreements. In Sudan's Darfur region, neither the government nor the rebels have respected four cease-fires.
The devastation spills across borders. The Rwandan genocide led to a war in Congo that drew in nine African countries and killed more than 3.5 million people.
Many were simply caught in the middle — an African proverb says when elephants fight, it is the grass that suffers.
The countries that have broken the cycle of violence share at least three things, experts say: Good governance, a process for contrition and a path to wealth.
In Rwanda, the president is Tutsi, the prime minister is Hutu and Cabinet positions are split 50/50. President Paul Kagame's government is criticized for limiting civil rights, but many Rwandans say a strong hand is needed to hold back those who would stir up ethnic hatred.
Confession brings forgiveness
Rwanda relies on a traditional justice system known as gacaca, or court on the grass, to try the Xaviers of the genocide. Once a week, the entire village is required to attend and everyone is invited to give evidence. Then a panel of judges sentences people up to life in prison. Verdicts can be appealed.
The trials can last hours, even days. The judges remind defendants — some free on bail, some in their pink prison uniforms — that confession brings forgiveness.
Xavier didn't believe it. He was sure he would be killed.
When a pastor stopped by the jail, Xavier thought it was a trick. After all, he had killed the pastor's cousin.
But Pastor Etienne Gahigi kept coming. They started praying together. The government announced that anyone who confessed could go home.
It took four years, but Xavier says the truth bubbled up inside him. Standing before the pastor and a government official, he confessed.
"This is something I could not do without God's help," he says, with the earnestness of the evangelical Protestant he now is. "Before I revealed everything, I was like an animal. But after I told the whole truth, I felt relieved."
'Nightmares that the killing would begin again'
The killers who confessed did what small penance they could. They worked the fields for the widows, and built them new homes. But Xavier was still afraid to face the survivors in private.
"When you confess, you are asking that person for something," he says, looking to Cecile. "To forgive is to give something, and that is much more difficult."
It was close to impossible. When Cecile passed a Hutu in the village, she never made eye contact. She became angry when anyone spoke of reconciliation, including the pastor at church. She fantasized about revenge.
Then district leaders brought everyone together for a meeting.
"We sat on different sides of the room. I was nervous because I thought one of them would get a club and beat me, or throw stones at me," Cecile says, looking at Xavier as if remembering him as a different person. "The following nights I had nightmares that the killing would begin again."
Bridging the gap
It was Mayange that finally brought the two together.
Mayange became Rwanda's first Millennium Village last year, part of a program between the government and donors. The Rwandan government plans 29 more villages, one in every district.
The villages test the idea that $75 per poor person a year can lead to self-sufficiency in five years. They also show that peace and prosperity go together — the World Bank has long concluded that the best way to predict civil war is to look at a country's economy.
For Xavier and Cecile, Mayange is hope. As Cecile laid bricks for the new village alongside Xavier, she slowly learned to accept that he was only a pawn in the genocide. It helped that they went to the same church, the church where Cecile's family once hid.
She is still not quite sure how or when they became friends, as she sits in her four-room brick house with a tin roof that Xavier helped build.
"A sense of closeness would begin to form between us — we just found ourselves together," she says, smiling at how inadequate the explanation sounds. The strength of her will is clear — it is almost as if she is willing peace, and believes any less would be a betrayal of her faith and her village.
Food production in Mayange has now tripled, and malaria cases have dropped 75 percent. More children are in school, and women's groups get good money to weave baskets that end up in department stores across North America.
Jacqueline Nyiramayonde, a genocide survivor on the project's board, says villagers are too busy making money to think much about the past. She sits like a relaxed chief executive in the living room of the new house she built with profits from her farm.
"We have a lot of meetings for this project, and through these meetings ... we have actually come to see each other as brothers and sisters," she says. "This way of living has helped us get rid of our hatred and anger. I don't know how it happened, but one day I realized, these people are my friends."
Anger persists, but hope grows
Mayange and Rwanda still live in the dark shadow of the first genocide in modern African history. Across Rwanda, there are Hutu killers who remain bitter and Tutsi survivors who will not or cannot forgive. Just five kilometers from Mayange in Nyamata Mission Church, the bones from 10,000 genocide victims are carefully stacked as a memorial to what few here can forget.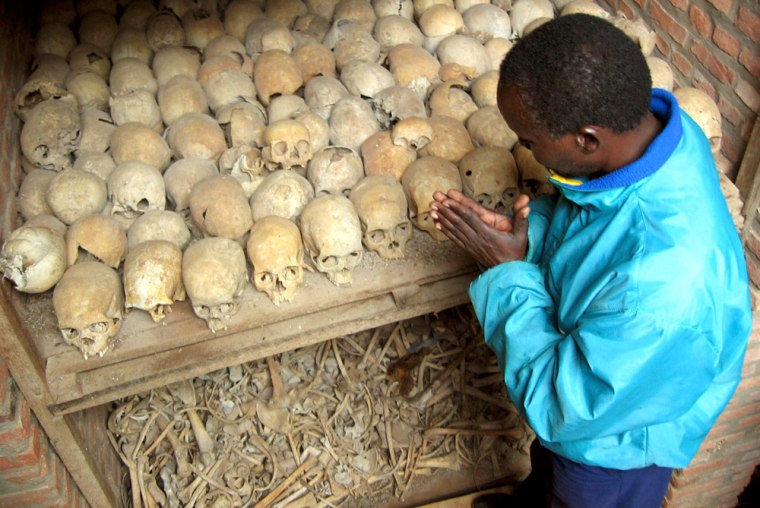 But hope lies in the economics. Rwanda's economy is growing by at least 6 percent a year, and Fatuma Ndangiza knows how much peace depends on a full stomach and a watertight roof.
"Sometimes you don't motivate people with words alone," says Ndangiza, who runs Rwanda's National Unity and Reconciliation Commission. "If someone is hungry, or they don't have shelter, or they don't have the basics, you cannot go far in changing their minds."
Hope also lies in the demographics. About 40 percent of Rwandans were born after the genocide, like the children of Xavier and Cecile. These children live in a Rwanda without ethnic identity cards, where it is no longer acceptable to identify yourself as Tutsi or Hutu.
Xavier is determined that his children will grow up in peace, and tries to pay for his past by helping Cecile and going to church. Both Xavier and Cecile agree that people can only move on from the past if they have a future, and that they need what he calls "security of the stomach."
"If your stomach is empty, you will have to think of ways to fill it," Xavier says with a sudden and unexpected seriousness. "And that will lead to disruption."