/ Source: The Associated Press
Travel in 2007 was marked by high gas prices, new passport rules, record lows for the dollar, and record-high air travel.
In 2008, experts say, Americans may take shorter trips or choose destinations closer to home where their dollar goes further.
But they will still travel. The Conference Board's most recent consumer survey found 45.8 percent of Americans intend to take a vacation within six months, down just a tad from 46.4 percent a year ago.
"When there's a slowdown in the economy, travel only slows slightly," said Douglas Shifflet of D.K. Shifflet & Associates, which tracks travel trends. "The amount of time people spend on vacations and in hotels is hit harder. They make tradeoffs; they stay closer to home or with friends and relatives."
"They'll look for other ways to save, like taking a day or two off of their trip," agreed Amy Ziff, Travelocity editor-at-large.
International hot spots for '08 include Beijing; Central America; Italy, Eastern Europe and Lisbon, Portugal. But domestic travel could benefit from the weak dollar and other trends. Visits to national parks were up 1.3 percent, January-September 2007, compared with the previous year, with Yosemite and Yellowstone adding more than a quarter-million visitors. Lonely Planet, the guidebook publisher, picked the U.S. as its No. 1 destination for 2008.
"The euro has made it expensive for U.S. travelers to take their European dream vacation, so they're looking at their own backyard paradise, with holidays that include national parks and Hawaii," said Lonely Planet spokeswoman Christina Tunnah.
"I think we'll see an increase in domestic travel and people looking for really good deals — for example, places where they can stay four nights and get a fifth night free," said Ziff.
Fiona Lake Waslander, director of Yahoo Travel, predicted more trips to "small, weekend-type destinations, with people staying closer to home and doing shorter getaways." Lancaster, Pa., in Amish country, had the biggest gains in page views on Yahoo Travel Guides among domestic destinations in 2007.
Here are more details on travel in 2008.
Air travel
The year 2007 is on track to be the busiest ever. Domestic airlines carried a record 582 million passengers January-September, 3.6 percent more than the same period in 2006. Twenty-four percent of flights arrived late January-October, the second-worst delays on record.
In 2008, if the system continues at capacity, "two-hour delays will become the new normal," said David Stempler, president of the Air Travelers Association.
Federal regulators have proposed reducing the number of flights at JFK as a first step in cutting delays. But that would decrease options for travel through JFK, and airfares could go up as a result.
There will be more option on flights to London, though, when the Open Skies Agreement takes effect March 28. It allows a half-dozen carriers to add direct flights to Heathrow from Atlanta, JFK, Houston, Newark, Philadelphia, Dallas and Los Angeles.
Passports
The State Department issued a record 18.4 million passports in fiscal year 2007, compared to 12.1 million in 2006. Thirty percent of Americans now hold passports, up from 27 percent.
The increase was spurred by new rules requiring passports for air travel to the U.S. from Mexico, the Caribbean and Canada. Last summer, the time it took to get a passport doubled to 12 weeks; countless vacations were ruined when travelers didn't get their passports in time. The debacle led the State Department to publicly apologize. Processing times are now back to normal (four to six weeks); details at http://www.travel.state.gov/passport.
The U.S. Department of Homeland Security is proposing that passports be required for land and sea travel from the Caribbean, Canada and Mexico as early as summer 2008, but the plan is controversial and could be changed. (Other acceptable documents would be the new passport card, due out in spring; enhanced driver's licenses being pursued by several states, and "Trusted Traveler cards" from U.S. Customs and Border Protection.)
Cruisers may get an important exemption: a proposal to allow U.S. citizens to sail to the Caribbean, Canada and Mexico without passports if they depart from and return to the same U.S. port.
Europe
Travel to Europe by Americans was up 2 percent in the first nine months of 2007 compared with the same period in 2006, according to the U.S. Department of Commerce.
But the weak dollar is having an impact. A U.S. Tour Operators Association survey found more than 50 percent of members reporting European bookings had dropped, some by as much as 20 percent.
"So many people have come back from Europe complaining about how weak their dollar is," said Pauline Frommer, the travel writer and editor. She said more travelers are seeking out alternative accommodations, like renting rooms and private homes: "It has to do with money, and it also has to do with the yearning to get out of the cookie-cutter vacation and see a more authentic side."
Still, Italy was named the No. 1 international destination by the U.S. Tour Operators Association for 2008, and Frommer says Italy is still the place travelers ask about most often on the call-in radio show she hosts with her father, Arthur Frommer.
Lisbon, Portugal, saw a 20 percent increase in American visitors in 2006, and had the biggest increase of any international destination in page views on Yahoo Travel Guides. "Lisbon is the last affordable European city and was our top mover in 2007," said Waslander.
Ziff said the share of Travelocity bookings to Western Europe over the Thanksgiving holiday were down 4.4 percent in 2007 compared to 2006. But bookings to Eastern Europe are up over 25 percent. "The Ukraine is up 11 percent, Lithuania, Latvia and Slovenia are getting an increase and starting to register on my radar," Ziff said. "They're the next hot places."
Latin America
Travel by U.S. residents in the first nine months of this year was up 8 percent to Central America and 7.6 percent to South America, according to the Commerce Department.
Why the surge? The dollar goes further in Latin America than in Europe, and "the old image of South American countries -dictatorships and machine guns — is gone," said Bob Whitley, president of the USTOA. "Instead, South America and Central America are the new hot destinations."
Travelocity bookings show "Guatemala is up considerably, Panama is a trendsetter destination and with Nicaragua, people are getting curious about what's there," Ziff said.
Yahoo Travel also reports El Salvador and Panama among its up-and-coming destinations for 2008.
Canada
Although Canada was the No. 2 destination for U.S. travel abroad in 2006, the number of Americans flying north continues to decrease, down 4 percent in 2006 and down 3.4 percent in the first nine months of 2007, according to Commerce Department statistics. The strong Canadian dollar and new rules requiring passports for air travel from Canada to the U.S., didn't help.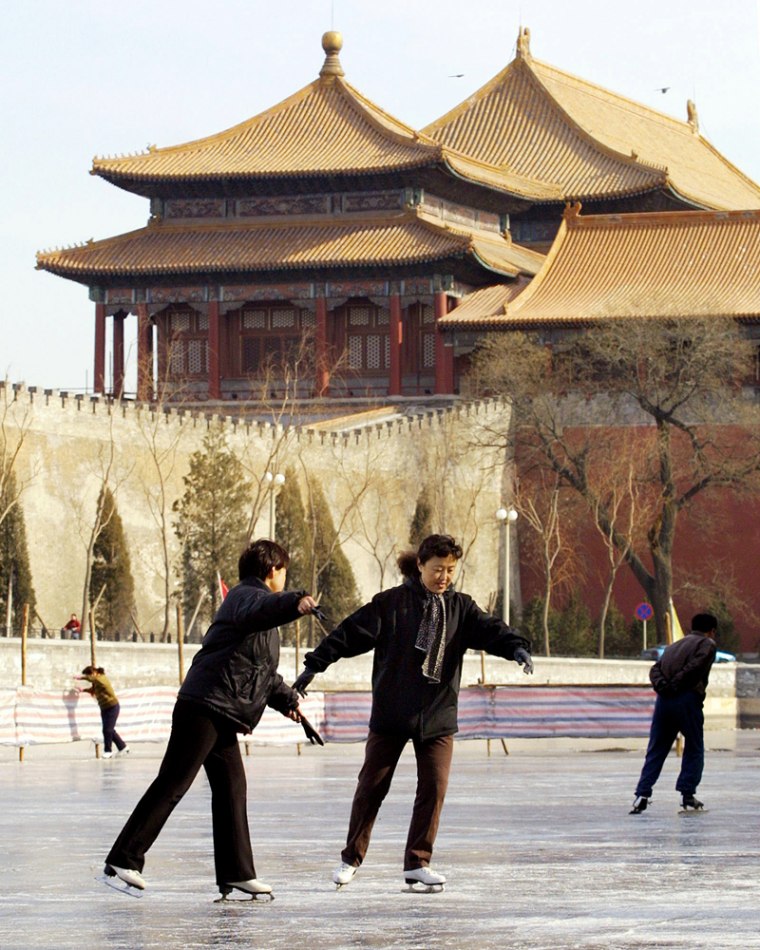 Still, with Vancouver hosting the 2010 Winter Olympics, Canada's Pacific Northwest is on the radar for many travelers — especially powder-hounds. Canada made it on to Lonely Planet's top 10 list, and a Conde Nast Traveler reader survey named Whistler No. 1 in the magazine's "Best Places to Ski & Stay in North America."

Asia
Travel to Asia by U.S. residents was up 8.6 percent the first nine months of 2007. China was the 10th most visited country in 2006 by Americans traveling abroad, according to the Commerce Department. And CoSport, the authorized ticket broker for Beijing's 2008 Olympics, reports "high demand and limited supply" on its Web site. As of mid-December, nothing but tickets for handball were available to Americans.
Caribbean
Air travel to the Caribbean by U.S. residents was down 3.1 percent in the first nine months of this year, according to the Commerce Department. The downturn coincided with new rules requiring passports for re-entry to the U.S. by air.
Vacation activities
"American consumers are sight-doing, not just sightseeing," said Whitley.
Frommer agreed: "Yes, you want to see the Louvre, but people are taking the time to take a cooking class or a wine-tasting. In Paris you can even take a Rollerblade tour. There's also a trend toward specialization on tours — women-only tours, religious tours, even knitting tours." (Details at http://www.pari-roller.com/ and http://www.stitchawaytours.com/.)
JWT, the largest ad agency in the U.S. (formerly J. Walter Thompson), lists "climate sightseeing" as a top travel trend for 2008, meaning trips to see phenomena threatened by climate change, like glaciers in Alaska or polar bears in Manitoba, Canada.
"More and more people want to relish these wonders while they still exist in their current form," said Ann Mack, director of trendspotting for JWT. "And there's a conversational currency that comes with that. You're a more intriguing person the more obscure places you've been to."
The number of visitors to Alaska has increased steadily in the past two decades, with 2 million visitors last summer, a 3 percent increase over the previous year.
And "Kilimanjaro has been a recent hot destination because of its melting glacier," said Lake Waslander of Yahoo.
While National Geographic Expeditions tours are up 35 percent in the last year, the number of travelers signing up for its Alaska trips increased by 63 percent; Antarctica, 68 percent, and Arctic Norway, a polar bear-watching trip, has doubled.