/ Source: The Associated Press
Capt. Scott Southworth knew he'd face violence, political strife and blistering heat when he was deployed to one of Baghdad's most dangerous areas. But he didn't expect Ala'a Eddeen.
Ala'a was 9 years old, strong of will but weak of body — he suffered from cerebral palsy and weighed just 55 pounds. He lived among about 20 kids with physical or mental disabilities at the Mother Teresa orphanage, under the care of nuns who preserved this small oasis in a dangerous place.
On Sept. 6, 2003, halfway through his 13-month deployment, Southworth and his military police unit paid a visit to the orphanage. They played and chatted with the children; Southworth was talking with one little girl when Ala'a dragged his body to the soldier's side.
Black haired and brown eyed, Ala'a spoke to the 31-year-old American in the limited English he had learned from the sisters. He recalled the bombs that struck government buildings across the Tigris River.
"Bomb-Bing! Bomb-Bing!" Ala'a said, raising and lowering his fist.
"I'm here now. You're fine," the captain said.
Over the next 10 months, the unit returned to the orphanage again and again. The soldiers would race kids in their wheelchairs, sit them in Humvees and help the sisters feed them.
To Southworth, Ala'a was like a little brother. But Ala'a — who had longed for a soldier to rescue him — secretly began referring to Southworth as "Baba," Arabic for "Daddy."
Then, around Christmas, a sister told Southworth that Ala'a was getting too big. He would have to move to a government-run facility within a year.
"Best case scenario was that he would stare at a blank wall for the rest of his life," Southworth said.
To this day, he recalls the moment when he resolved that that would not happen.
"I'll adopt him," he said.
So many reasons not to help
Before Southworth left for Iraq, he was chief of staff for a state representative. He was single, worked long days and squeezed in his service as a national guardsman — military service was a family tradition. His great-great-greatgrandfather served in the Civil War, his grandfather in World War II, his father in Vietnam.
The family had lived in the tiny central Wisconsin city of New Lisbon for 150 years. Scott was raised as an evangelical Christian; he attended law school with a goal of public service, running unsuccessfully for state Assembly at the age of 25.
There were so many reasons why he couldn't bring a handicapped Iraqi boy into his world.
He had no wife or home; he knew nothing of raising a disabled child; he had little money and planned to run for district attorney in his home county.
Just as important, Iraqi law prohibits foreigners from adopting Iraqi children.
Southworth prayed and talked with family and friends.
His mother, who had cared for many disabled children, explained the difficulty. She also told him to take one step at a time and let God work.
Southworth's decision was cemented in spring 2004, while he and his comrades watched Mel Gibson's film, "The Passion of the Christ." Jesus Christ's sacrifice moved him. He imagined meeting Christ and Ala'a in heaven, where Ala'a asked: "Baba, why didn't you ever come back to get me?"
"Everything that I came up with as a response I felt ashamed. I wouldn't want to stand in the presence of Jesus and Ala'a and say those things to him."
And so, in his last weeks in Iraq, Southworth got approval from Iraq's Minister of Labor to take Ala'a to the United States for medical care.
He was told it would be nearly impossible
His parents had filed signatures so he wouldn't miss the cutoff to run for district attorney. He knocked on doors, telling people he wanted to be tough on criminals who committed injustices against children.
He never mentioned his intention to adopt Ala'a.
He won office — securing a job and an income.
Everything seemed to be in place. But when Southworth contacted an immigration attorney, he was told it would be nearly impossible to bring Ala'a to the United States.
Ala'a prays to be taken to America
Undaunted, Southworth and the attorney started the paperwork to bring Ala'a over on humanitarian parole, used for urgent reasons or significant public benefit.
A local doctor, a cerebral palsy expert, a Minneapolis hospital, all said they would provide Ala'a free care. Other letters of support came from a minister, the school district, the lieutenant governor, a congressman, chaplain, a sister at the orphanage and an Iraqi doctor.
"We crossed political boundaries. We crossed religious boundaries. There was just a massive effort — all on behalf of this little boy who desperately needed people to actually take some action and not just feel sorry for him," Southworth said.
He mailed the packet on Dec. 16, 2004, to the Department of Homeland Security.
On New Year's Eve, his cell phone rang. It was Ala'a.
"What are you doing?" Scott asked him.
"I was praying,'" Ala'a responded.
"Well, what were you praying for?"
"I prayed that you would come to take me to America," Ala'a said.
Southworth almost dropped the phone. Ala'a knew nothing of his efforts, and he couldn't tell him yet for fear that the boy might inadvertently tell the wrong person, upending the delicate process.
'And forever started'
By mid-January, Homeland Security called Southworth's attorney to say it had approved humanitarian parole. Within three hours, Southworth had plane tickets.
He hardly slept as he worked the phones to make arrangements, calling the American embassy, hotels and the orphanage. His Iraqi translator agreed to risk his life to get Ala'a to the embassy to obtain documentation. Like a dream, all the pieces fell into place.
Southworth returned to Iraq for the first time since a deployment that left him emotionally, physically and spiritually exhausted.
His unit had trained Iraqi police from sunup to sundown; he saw the devastation wrought by two car bombings, and counted dead bodies. Mortar and rocket attacks were routine. Some 20 in his unit were wounded, and one died. He knew that nothing could be taken for granted in Baghdad.
So when he saw Ala'a in the airport for the first time since leaving Iraq, he was relieved.
"He was in my custody then. I could hug him. I could hold him. I could protect him.
"And forever started."
They made it to Wisconsin late Jan. 20, 2005. The next morning, Ala'a awoke to his first sight of snow.
He closed his eyes and grimaced.
"Baba! Baba! The water is getting all over me!"
"It's not water, it's snooooow," Southworth told him.
Thriving in America
Police found Ala'a abandoned on a Baghdad street at around 3 years old. No one knows where he came from.
In all his life in Iraq, Ala'a saw a doctor 10 times. He surpassed that in his first six months in the United States.
Ala'a's cerebral palsy causes low muscle tone, spastic muscles in the legs, arms and face. It hinders him when he tries to crawl, walk or grasping objects. He needs a wheelchair to get around, often rests his head on his shoulder and can't easily sit up.
Physical therapy has helped him control his head and other muscles. He can now maneuver his way out of his van seat and stabilize his legs on the ground.
"I'm not the same guy I used to be," he said.
He clearly has thrived. At 13, he's doubled his weight to 111 pounds.
Tears filled his eyes
Ala'a's condition doesn't affect his mind, although he's still childlike — he wants to be a Spiderman when he grows up.
Ala'a's English has improved and he loves music and school, math and reading especially. He gets mad when snow keeps him home, even though it's his second favorite thing, after his father.
At first, he didn't want to talk about Iraq; he would grow angry when someone tried to talk to him in Arabic. But in the fall of 2006, Scott showed Ala'a's classmates an Arabic version of "Sesame Street" and boasted how Ala'a knew two languages and could teach them.
Soon he was teaching his aide and his grandmother, LaVone.
LaVone is a fixture in Ala'a's life, supporting her son as he juggles his career and fatherhood. One day, she asked Ala'a if he missed his friends in Iraq.
Would he like to visit them?
Big tears filled his eyes.
"Well, honey, what's the matter?" asked LaVone.
"Oh, no, Grandma. No. Baba said that I can come to live with him forever," he pleaded.
"Oh, no, no," he grandmother said, crying as well. "We would never take you back and leave you there forever. We want you to be Baba's boy forever."
The hardest part is over
Southworth knew once he got Ala'a out of Iraq, the hardest part would be over. Iraq had bigger problems to deal with than the whereabouts of a single orphan.
On June 4, Ala'a officially became Southworth's son. Though he was born in the spring of 1994, they decided to celebrate his birthday as the day they met — Sept. 6.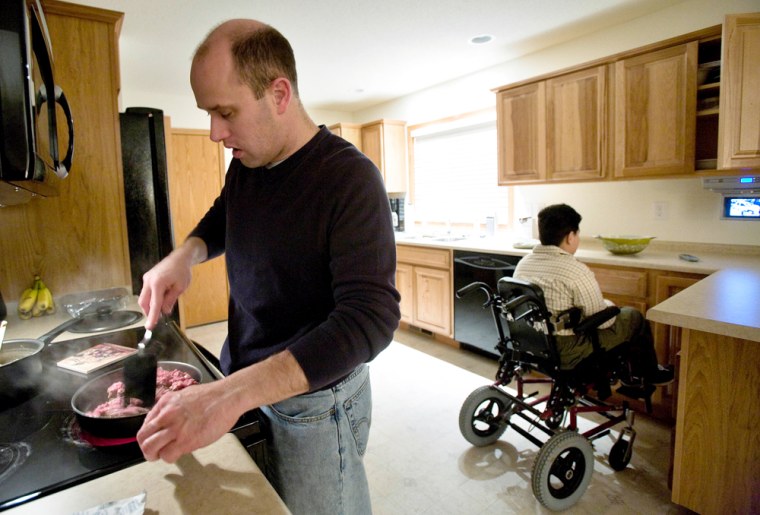 Life has settled into a routine. Father and son have moved into a new house with an intercom system, a chair lift to the basement and toilet handles.
Southworth showers him, brushes his teeth and washes his hands. He has traded in his Chrysler Concorde for a minivan — it was too hard to lift his son out of the car.
In October, the Wisconsin's deputy adjunct general gave Southworth, now a major, permission to change units because of Ala'a. His former unit was going to Guantanamo Bay for a one-year deployment, and he didn't want to leave his son behind, at least for now.
He hopes one day to marry to his longtime girlfriend and have more children. He may run for Congress or governor someday — he's already won re-election once, and plans to run again next fall.
'Life is a gift they say'
Not everything is perfect. Ala'a never encountered thunderstorms in Baghdad, and the flash-boom reminds him of bombs. He is starting to get over it, although he still weeps during violent storms.
But Ala'a — who picked out his own name, which means to be near God — knows he's where he belongs. Southworth always said Ala'a picked him, not the other way around. They were brought together, Southworth believes, by a "web of miracles."
Ala'a likes to sing Sarah McLachlan's song, "Ordinary Miracle," from "Charlotte's Web," one of his favorite movies. His head and body lean to one side as he sings off-key.
"It's just another ordinary miracle today. Life is like a gift they say. Wrapped up for you everyday."