/ Source: msnbc.com news services
Al-Qaida and Taliban were behind the assassination of former Prime Minister Benazir Bhutto, Pakistan's interior minister told The Associated Press.
"We have the evidence that al-Qaida and Taliban were behind the suicide attack on Benazir Bhutto," Interior Minister Hamid Nawaz said.
Interior Ministry spokesman Javed Iqbal Cheema said that on Friday the government recorded an "intelligence intercept" in which militant leader Baitullah Mehsud "congratulated his people for carrying out this cowardly act."
Cheema described Mehsud as an "al-Qaida leader" and said he was also behind the Oct. 18 bombing against Bhutto's homecoming parade through Karachi that killed more than 140 people.
Mehsud is regarded as the commander of pro-Taliban forces in the lawless Pakistani tribal region South Waziristan, where al-Qaida fighters are also active. This fall, he was quoted in a Pakistani newspaper as saying that he would welcome Bhutto's return from exile with suicide bombers. Mehsud later denied that in statements to local television and newspaper reporters.
Last respects
Earlier Friday, hundreds of thousands of mourners paid last respects to Benazir Bhutto as the opposition leader was buried beside her father at the mausoleum of Pakistan's most famous political dynasty.
Some wept, others chanted "Benazir is alive," as the plain wood coffin went into the ground inside the cavernous hall of the vast, white marble structure.
Thursday's killing of President Pervez Musharraf's most powerful political opponent plunged Pakistan into turmoil less than two weeks before a crucial election and badly damaged plans to restore democracy in this nuclear-armed U.S. ally.
Angry Bhutto supporters ran amok through the streets after her assassination, lighting cars and stores on fire in violence that killed at least 23 people. The attack on Bhutto also killed 20 others.
Procession begins
Bhutto's funeral procession began Friday afternoon at her ancestral residence in the southern town of Naudero. Her plain wood coffin — draped in the red, green and black flag of her Pakistan People's Party — was carried in a white ambulance toward her family's massive white mausoleum in Garhi Khuda Baksh, several miles away.
Bhutto's husband, Asif Ali Zardari, and her three children arrived from Dubai to attend the funeral, sobbing with grief during a telephone interview
"She was not just the leader of the PPP, she was a leader of the whole country. I don't know what will happen to the country now," said Nazakat Soomro, 32.
Prime Minister Mohammedmian Soomro said Friday the government had no immediate plan to postpone Jan. 8 parliamentary elections, despite the growing chaos and a top opposition leader's decision to boycott the poll.
"Right now the elections stand where they were," he told a news conference. "We will consult all the political parties to take any decision about it."
Police open fire on protesters
Violence intensified in some cities Friday. A mob in Karachi looted three banks and set them on fire, police said.
About 7,000 people in the central city of Multan ransacked seven banks and a gas station and threw stones at police, who responded with tear gas. In the capital, Islamabad, about 100 protesters burned tires in a commercial quarter of the city.
Police opened fire on protesters in the southern city of Hyderabad wounding five, police said.
"We opened fire when protesters got more violent and we failed to disperse them. Five of them have received bullet wounds," said police officer Abdul Qadir Summo.
Paramilitary rangers were given the authority to use live fire to stop rioters from damaging property in southern Pakistan, Maj. Asad Ali, the rangers' spokesman, said earlier on Friday.
"We have orders to shoot at sight," he said.
Violent mobs burned 10 railway stations and several trains across Bhutto's Sindh province, forcing the suspension of all train service between the city of Karachi and the eastern Punjab province, said Mir Mohammed Khaskheli, a senior railroad official. The rioters uprooted one section of the track leading to the Indian border, he said.
About 4,000 Bhutto party supporters rallied in the northwestern city of Peshawar on Friday and several hundred of them ransacked the office of the main pro-Musharraf party, burning furniture and stationery. The office was empty and no one was hurt.
Protesters, carrying the green, red and black flags of Bhutto's Pakistan People's Party shouted "Musharraf dog" and "Bhutto was alive yesterday, Bhutto is alive today."   In Peshawar, protesters also burned the office of a small party allied with Musharraf.
Other areas were nearly deserted Friday morning as businesses closed and public transportation came to a halt at the start of three days of national mourning for the opposition leader.
"The repercussions of her murder will continue to unfold for months, even years," read a mournful editorial in the Dawn newspaper. "What is clear is that Pakistan's political landscape will never be the same, having lost one of its finest daughters."
Who killed her?
As many Pakistanis mourned, others demanded answers as to who killed her.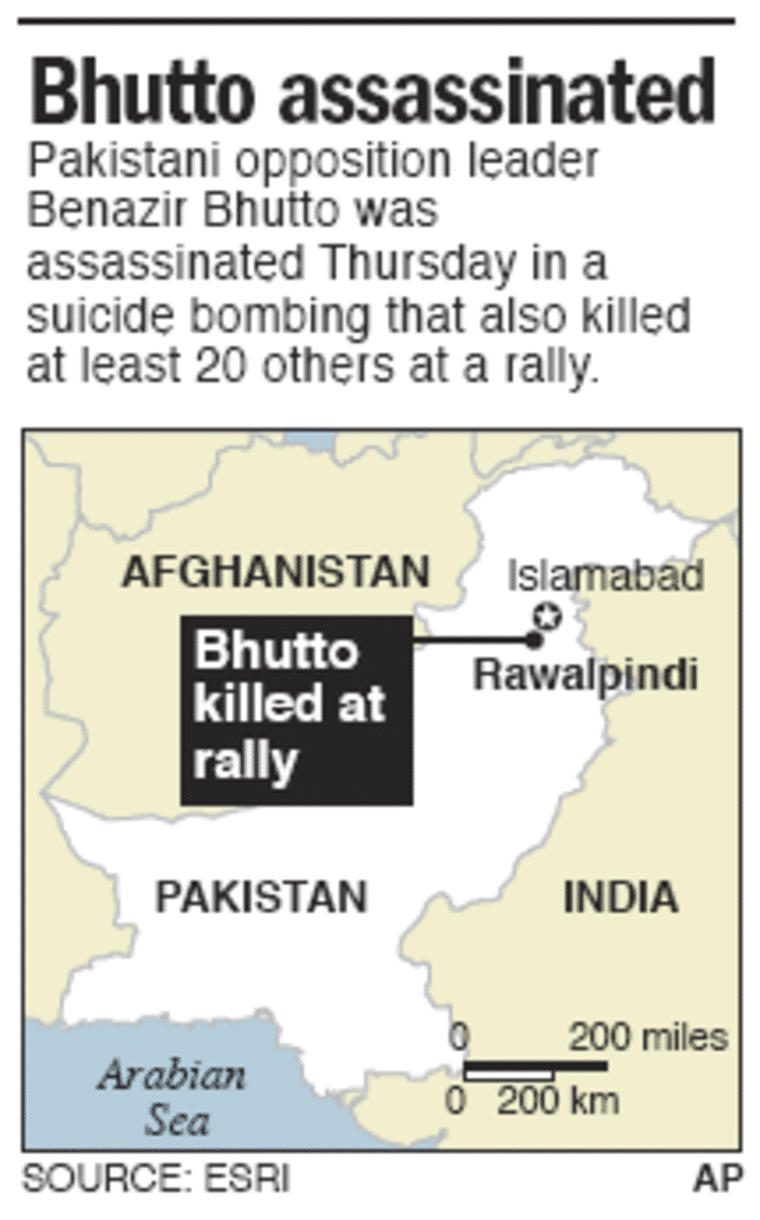 Musharraf blamed the attack on the resurgent Islamic militants Pakistan is fighting along the border region with Afghanistan, pledging in a nationally televised speech that "we will not rest until we eliminate these terrorists and root them out."
FBI spokesman Richard Kolko in Washington said the agency was trying to determine the validity of a purported claim of responsibility for the attack by al-Qaida.
President Bush, who spoke briefly by phone with Musharraf, looked tense as he spoke to reporters, denouncing the "murderous extremists who are trying to undermine Pakistan's democracy."
Elections imperiled
In the wake of the killing, Nawaz Sharif, another former premier and leader of a rival opposition party, announced his party would boycott the elections.
The election was seen as a pivotal step toward restoring democracy here, eight years after Musharraf seized power in a coup. It also was intended to restore credibility to the government after Musharraf used a six-week state of emergency to arrest thousands of political opponents and crack down on the independent judiciary.
However, with Sharif's party on the sidelines and Bhutto's party leaderless and in disarray, the election will have little, if any, credibility.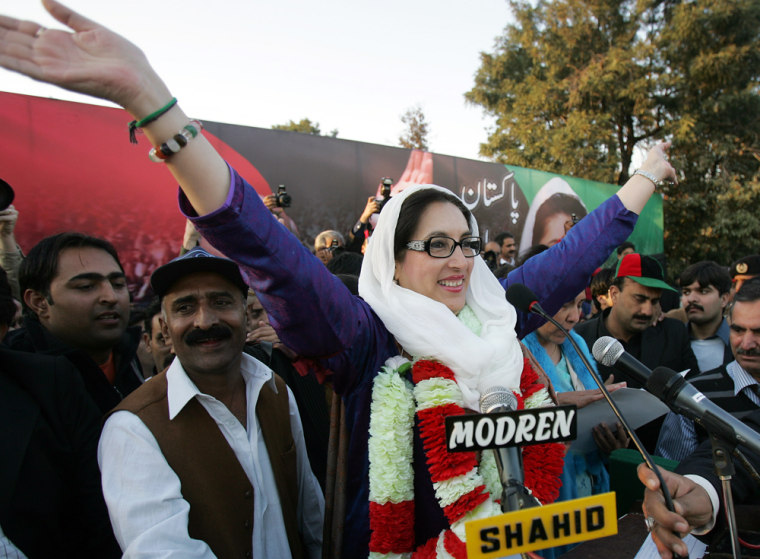 "This assassination is the most serious setback for democracy in Pakistan," said Rasul Baksh Rais, a political scientist at Lahore's University of Management Sciences. "It shows extremists are powerful enough to disrupt the democratic process."
Sharif demanded Musharraf's resignation. "Musharraf is the cause of all the problems," Sharif said.
Bhutto's death closed another grim chapter in Pakistan's bloodstained history, 28 years after her father, Zulfiqar Ali Bhutto, another ex-prime minister, was hanged by a military dictatorship just a few miles from where she was killed.
'Killer, Killer, Musharraf'
As the news of her killing spread, supporters gathered at the hospital where Bhutto had been taken, smashed glass doors, stoned cars and chanted, "Killer, Killer, Musharraf."
The U.N. Security Council vigorously denounced the killing and urged "all Pakistanis to exercise restraint and maintain stability in the country."
The United States, meanwhile, struggled to reformulate its plan to stabilize the country based on a rapprochement between Bhutto and Musharraf.
Next to Musharraf, Bhutto, 54, was the country's best known political figure, serving two terms as prime minister between 1988 and 1996. She was respected in the West for her liberal outlook and determination to combat Islamic extremism.
Bhutto had just addressed more than 5,000 supporters in Rawalpindi on Thursday when the attacker struck as she was leaving the rally in a white sports utility vehicle.
A smiling Bhutto had stuck her head out of the sunroof to respond to youths chanting her name, said Sardar Qamar Hayyat, an official from Bhutto's party.
"Then I saw a thin, young man jumping toward her vehicle from the back and opening fire. Moments later, I saw her speeding vehicle going away. That was the time when I heard a blast and fell down," Hayyat said.
Bhutto was rushed into emergency surgery, but died from her gunshot wounds. Another 20 people were killed in the bombing, according to police and witnesses.
Hours after Bhutto's death, supporters carried her body out of the hospital in a wooden coffin.