By Richard Greenberg, Adam Ciralsky, Stone Phillips
At the Santo Domingo airport in the Dominican Republic, a foreign visitor makes his way through the Immigration line. An agent swipes his passport through the computer.  Everything checks out. The official stamps the passport.  Another tourist has entered the country.   In this case, though, the traveler is not who he appears to be.  He is an undercover investigator.  His passport is real, but it has been issued under a false identity.  He has just demonstrated how easy it is to obtain and use fraudulent travel documents. 
Six years after 9/11, an NBC News undercover investigation has found that the black market in fraudulent passports is thriving.  On the streets of South America, NBC documented the sale of stolen and doctored passports, and travel papers prized by terrorists: genuine passports issued under false names.  For a few thousand dollars, an undercover investigator was able to purchase several entirely new identities from organized criminal networks with access to corrupt government employees.  The investigator obtained passports from Spain, Peru, and Venezuela and used the Peruvian and Venezuelan passports to travel widely in the Western Hemisphere, with practically no scrutiny.
Ronald K. Noble, Secretary General of the international police agency, Interpol, considers access to fraudulent passports "the Number One" global security problem with regard to terrorism.  "In every major terrorist attack that's occurred recently," Noble said, "you can find fraudulent travel documents tied or linked in some way."
Ramzi Yousef, the ringleader of the first World Trade Center bombing in 1993, entered the United States on a stolen Iraqi passport.  Some of the al-Qaida terrorists behind the 1998 U.S. embassy bombings in East Africa relied on false papers, according to federal agents who worked on the case.  The same for the bombers in Madrid in March 2003 and London in July 2005, said Noble.
The 9/11 Commission reported that U.S. authorities recovered passports belonging to four of the 19 hijackers.  All of the recovered passports had "suspicious indicators" they had been fraudulently manipulated; two, the Commission concluded, were "clearly doctored." 
No one can say for sure how many people enter the United States every year with fraudulent papers.  But, according to the Department of Homeland Security, the number of such documents intercepted is on the rise, from 23,677 in fiscal year 2005 to 30,799 in fiscal year 2007.
Different methods
Fraudulent passports vary widely, from complete forgeries to authentic documents with false information on them.  Michael Everitt, who runs the forensic document lab for U.S. Immigration and Customs Enforcement, said one of the most common techniques involves stolen passports used by people who look like the original passport holder.  "We call them imposters." If the photo on the passport looks enough like the imposter carrying it, then Everitt said, it's "pretty tough to tell."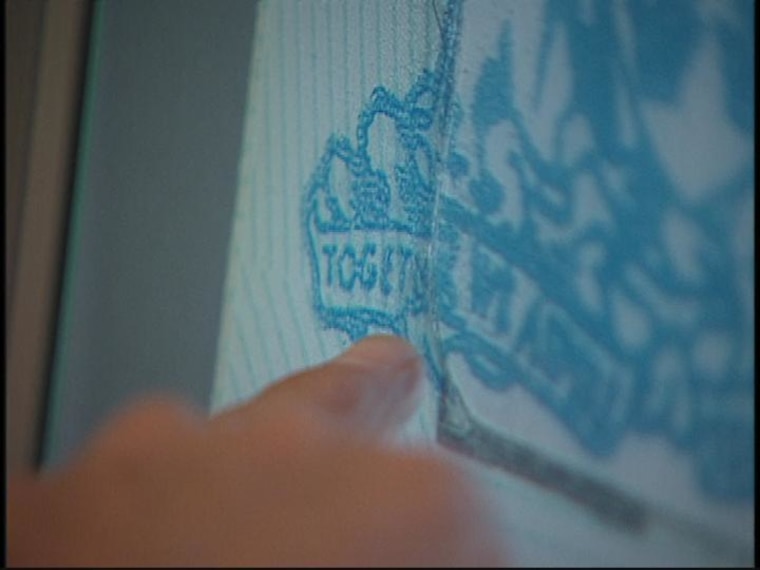 A more sophisticated method involves doctoring a stolen passport, inserting a new photo and replicating special security features.   But if the work is not meticulous, then inspectors are more likely to catch the forgery.  A forensic examiner at the ICE lab showed NBC News a passport from Trinidad that had a counterfeit security seal. A banner along the bottom of the photo was off-kilter and a slightly different size, and at least one of the words it contained was blurred.
Border inspectors have a much harder time detecting passports known as stolen blanks, according to Everitt, real documents taken from official stock before they have been filled out.  Illicit brokers buy them from corrupt officials or steal them, then customize them.  
Milorad Ulemek, who assassinated Serbian Prime Minister Zoran Djindjic in March 2003, used a stolen blank passport to create an alias, and then crossed borders 26 times with the document before the assassination, according to Interpol chief Noble.
Of all the types of fraudulent passports, what concerns authorities the most is a genuine passport issued by a government agency under a false identity.  The British government unwittingly issued two passports to al-Qaida operative Dhiren Barot under two different false names.  Barot recently was sentenced to life in prison for plotting attacks in the U.K. and the U.S.
Passports like those obtained by Barot are virtually undetectable, according to Henry Crumpton, a CIA veteran who retired earlier this year from the top counterterrorism post at the U.S. State Department.  Al-Qaida is "fairly sophisticated" at producing its own forgeries and "getting better," Crumpton said.  But terrorists are also turning to organized crime groups for help, added Crumpton, now a fellow at the East-West Institute, an international think tank.  "This is one of the worries and trends that we've seen for several years: the growing collusion between terrorist groups and criminal networks."
Partnership between terrorists and criminals
The potential for that kind of collusion is clear in a federal case in Miami involving a smuggling ring based in Colombia.  Ten people — eight Colombians, a Venezuelan, and a Palestinian — recently pleaded guilty: seven to conspiracy to provide material support for terrorism, three to alien smuggling.  The ring supplied fraudulent Colombian and Spanish passports to a man they believed was a member of FARC, the Colombian terrorist group.  In reality, he was an undercover operative for U.S. Immigration and Customs Enforcement. 
The group was a "one-stop shop" with ties to narcotics traffickers and terrorist organizations, including Hamas, said a source close to the investigation who spoke on condition of anonymity.  U.S. authorities believe that the ring furnished Colombian passports to Palestinians to facilitate travel into Israel and around the Middle East, the source said, and helped smuggle people to the U.S. via Canada. 
Many of the Colombian passports they supplied were genuine, issued under the names of dead people; the Spanish passports tended to involve substituted photographs, according to the source.  The ICE informant used the fraudulent Colombian passport to fly to Panama, where he was given a Spanish document that was "good enough to get him on board" an airplane bound for Miami, said the source.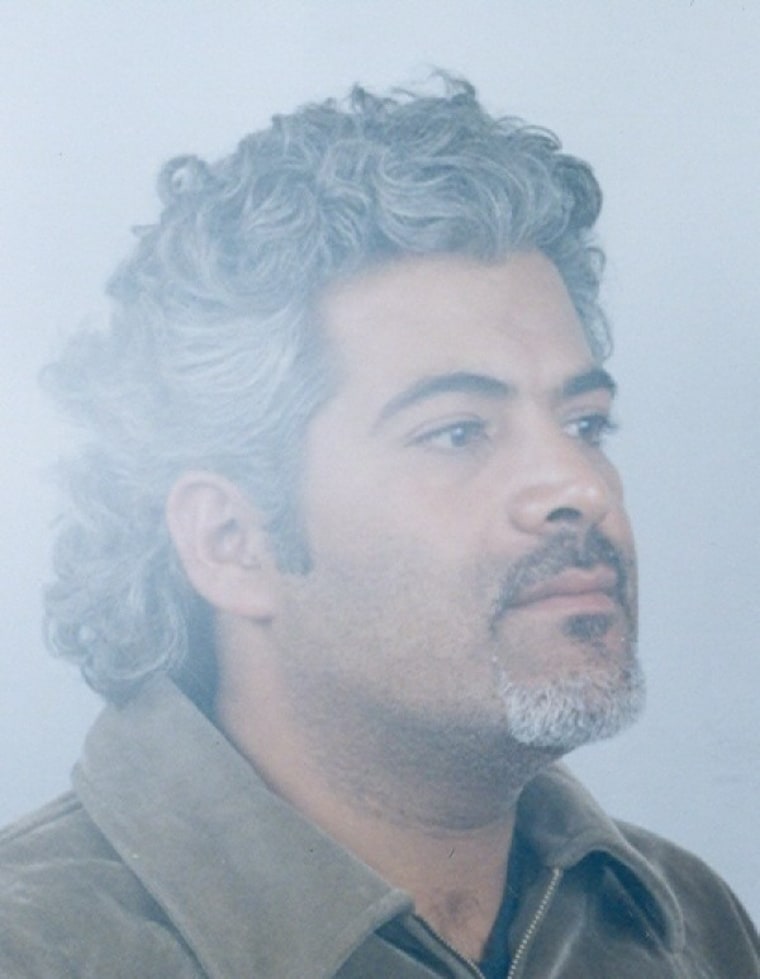 Increasingly, South America is serving as a staging area for immigrant smuggling to the United States, according to law enforcement and intelligence experts.  A recent case in U.S. District Court in Washington, DC, detailed the inner workings of a network run by Neeran Zaia, an Iraqi-born woman from the Detroit area, and her Jordanian husband, Thaer Asaifi.  In guilty pleas, the couple admitted helping dozens of Iraqis and Jordanians travel to the United States on illicit European passports obtained in Lima, Peru.
A thriving market
Following up on cases like that, NBC News traveled to Lima and found a flourishing black market.  Around the corner from Peru's Justice Ministry, brokers openly hawked all sorts of fraudulent papers, including birth certificates, drivers' licenses, and passports.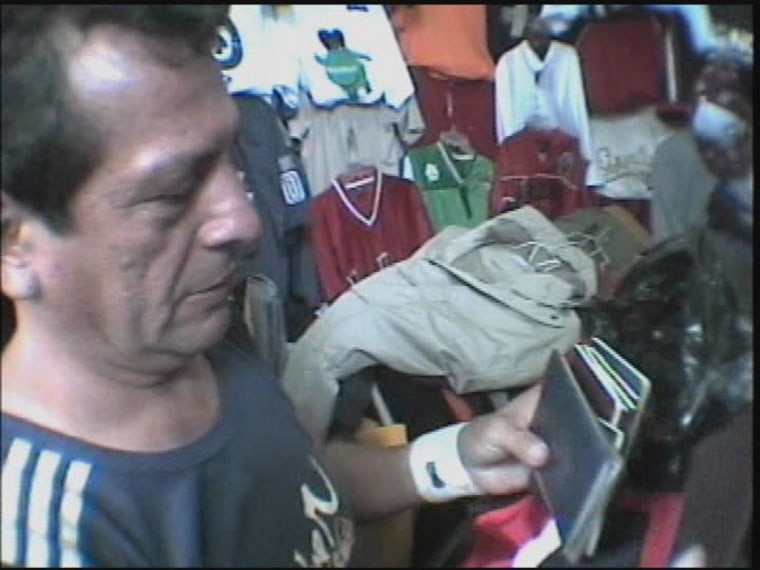 At a marketplace a few miles away, a t-shirt vendor pulled out a plastic bag filled with stolen passports from a wide array of nations, among them: Argentina, Chile, Peru, Colombia, Canada, Italy, Spain, Sweden, and Switzerland.  Nearby, another merchant offered a stolen British passport for $100.   
It was the passport of Alison Shelley, a young doctor in Birmingham, England.  Shelley told NBC News her bag had been stolen at an outdoor café in Lima.   "I went to pay and the bag was just gone," Shelley said. "I just felt really lost and just scared really."  The British consulate quickly issued her papers to travel home.
On a park bench in a scenic square in Lima, a woman named Stefanie offered to forge a stolen passport to a customer's specifications.  The price: $500 — $100 up front, $400 on delivery — for a European document "of the highest quality."  A few weeks later, she delivered a passport from Sweden that incorporated a substitute photograph of her new client.  The work was not necessarily the "highest quality."  It did not take much effort to peel back the page that forgers had glued over the original, which showed a young boy apparently born in Chile.
Mario's journey
Beyond stolen and forged passports, NBC News found complete identities for sale in Lima.  An expert on organized crime and terrorism, who asked to be identified only by the name Mario, said he knew of brokers with access to corrupt government officials and was prepared to work undercover to expose them.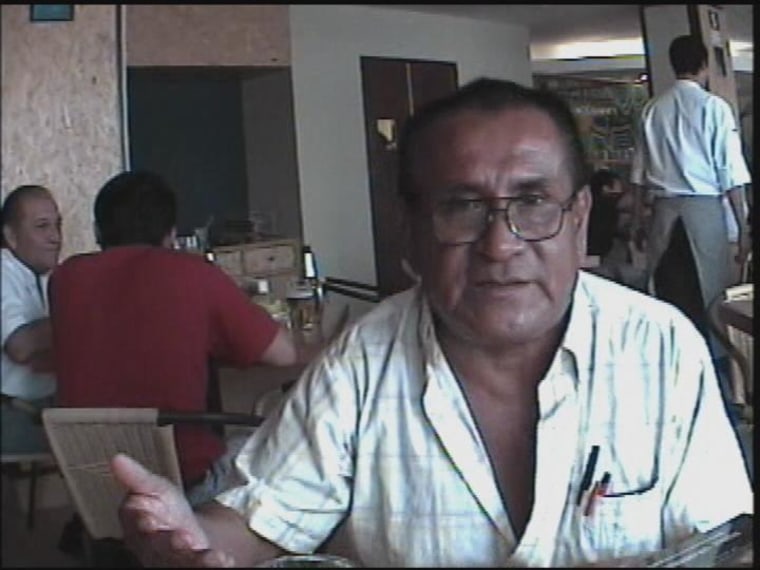 Mario, as a consultant for NBC, met with a man named Jorge at a restaurant in one of Lima's main shopping districts.  In a conversation recorded by NBC's hidden cameras, Jorge boasted that he had lots of happy customers: "Look I've been at this for 25 years." He said he had started his career inside the Peruvian immigration service and had worked his way up.  "I come from the basement."
When Mario tried to tell Jorge why he wanted false papers, Jorge cut him off and said he was not interested.  According to Mario, Jorge would do business with anyone: a criminal, a drug trafficker, an arms dealer and even a terrorist.  "As long as someone's paying," Mario said, "it doesn't matter who it is, or what they do. It is all about the money."
Jorge promised Mario that, for the right price, he could deliver everything Mario would need to make it to the United States.  He claimed that he could obtain genuine passports through his criminal contacts within government agencies.  He gave Mario two options: a Peruvian passport or one from Spain.  
Passports from Spain and most other European countries are prized on the black market because they do not require a visa to enter the United States.
As Jorge explained, "It's better to go in with the Spanish one, because you go right in the front door. You go in the front door."
Jorge said the passport would come from inside the Spanish consulate in Lima: "They sell them, from the inside.  I have people who get them from there."

Over the course of several meetings, Jorge brought Mario paperwork to sign, took him to get passport photos, and gave him a fraudulent birth certificate, along with a cover story for his new identity.  Ostensibly, he was born in Peru to a family originally from a small town in Spain and was thus entitled to a Spanish passport.
Jorge also laid out a circuitous itinerary that had Mario crossing with the Spanish passport from Peru into neighboring Bolivia and on to Argentina.  From South America, the plan called for him to buy a ticket to Cuba via Mexico, but Jorge advised him that he would not connect to Havana.  Instead, he would board a flight from Mexico City to New Jersey. 
Within a week, Jorge asked Mario to meet him at a bustling restaurant in a tony section of Lima.  In the waiting area, while waiters wandered by with trays of food, they made an exchange: the final cash payment for the passport.
According to Mario, authorities in Lima confirmed that it was "a real, original, and new document."  Subsequently, however, Mario said he discovered that the passport was missing a necessary stamp from Peruvian authorities. Jorge's contacts apparently forgot to get it.  Without that stamp, Mario said, he could not travel on the Spanish passport.
Spanish authorities, speaking on condition of anonymity, later told NBC News that while the passport itself apparently was real, the information itself was never entered into official computer systems.  As a result, they said, Mario most likely would never have been able to use it to enter Spain, but he might have been able to use it to travel in South America and even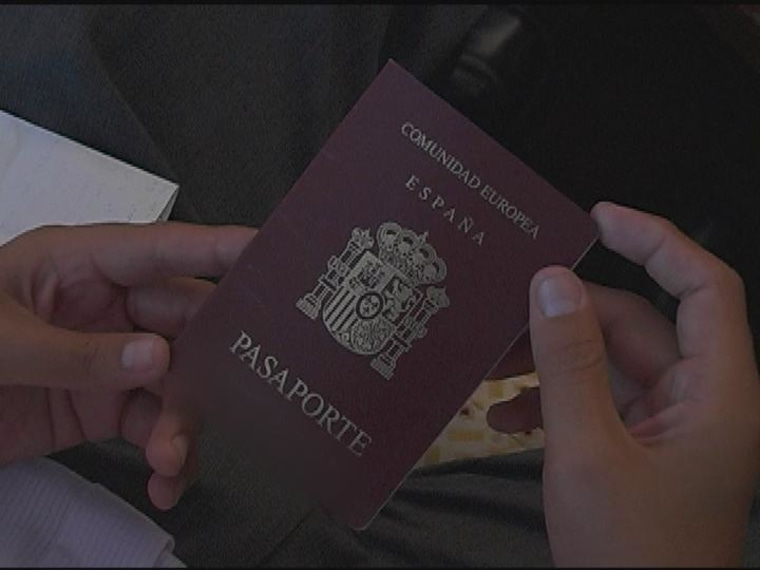 possibly make it to the United States.
Mario waits
When Mario complained to Jorge, the broker told him not to worry.  He could still get him a genuine Peruvian passport that would be entered into official computer systems.  To make sure of that, Jorge said, he was going to take Mario to see a corrupt bureaucrat inside RENIEC, the Peruvian agency that issues national identity cards. 
Jorge said it would take "two weeks, more or less," to have his alias entered into the government's computer system, at which point the ID card would be issued.  After that, Jorge insisted, getting the passport would be simple and straightforward, because authorities at the passport office would find the new identity listed in the official database. 
In case there were any hitches, Jorge told Mario, he had an insider on the take at the passport office, too.  "You'll be taken care of," Jorge said.   "I'll have to talk to my friend. I'll give him some cash and tell him to take good care of you." 
A few weeks later, over lunch at a seafood restaurant, Jorge asked Mario for a down payment for the Peruvian documents and said that it would be only a matter of days.  But weeks went by with no word from Jorge. Mario speculated that Jorge might have run into legal trouble, or skipped town.  One rumor placed Jorge in Venezuela.
A couple of months later, when Mario had all but given up, Jorge suddenly reappeared.   Oddly enough, Jorge acted as though nothing significant had changed and told Mario, "Everything is on track."
In fact, Jorge now claimed that he had better contacts than ever.  He told Mario that he had a new insider at the government agency, RENIEC, who would take care of this "special" job to obtain the national ID card.  The corrupt official, Jorge said, had already done "a job like this" for him once before, "and it all went well."  Now, Jorge insisted, Mario would not even have to set foot in the government office at all.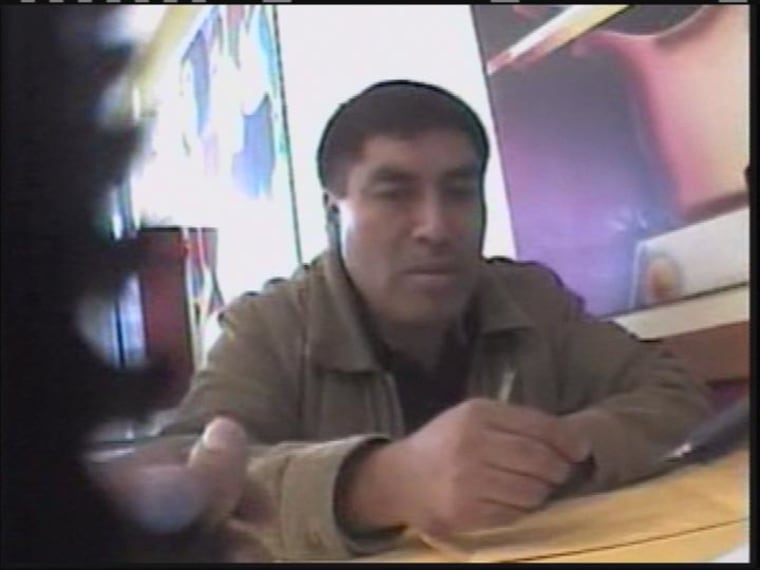 Instead, Jorge said, the contact would bring all the paperwork to them.  When Mario showed up at a yet another Lima café, Jorge was already there with the man he said was a RENIEC official.  The man never gave his name, just shook hands, and then had Mario sign some forms.
Four days later, Mario said, Jorge delivered the national ID.
As for the Peruvian passport, Jorge still contended it was only a matter of money.
He told Mario to bring the balance due to one of the main plazas in Lima.  On the street, in plain sight, Mario handed Jorge the cash.  Jorge carried the money to a man waiting for him across the street, then returned moments later with the passport.  "I take care of my people, don't I?" Jorge said proudly.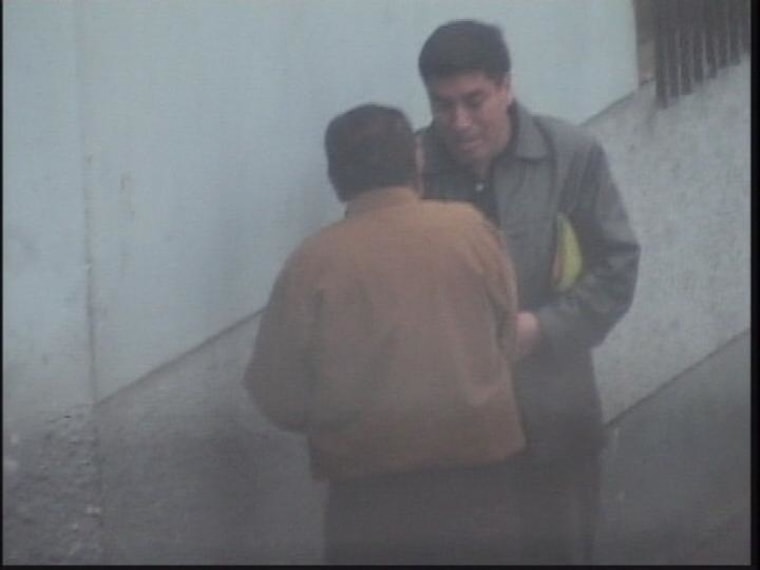 Mario checked the document carefully and concluded that it was genuine. 
To put it to the test, he made his way to Tacna, a town on Peru's border with Chile.
As he approached the border in a car, Mario was well aware of the stakes. He knew that he would have to pass several checkpoints and risked arrest if the papers proved to be fakes.
The first stop was the Peruvian police station.  An official took Mario's ID card and passport and ran a computer search.  Apparently, Mario's new identity popped right up.  He was directed to the next window, where an immigration officer put an exit stamp in Mario's passport. 
With his newly legitimized passport, Mario climbed back into the car and rode the few hundred yards to the Chilean border station.  Mingling with merchants crossing to Chile for the day and a musician with his guitar, Mario presented his documents.  As the Chilean officer thumbed through the passport, he did a double take, but if he was suspicious, he said nothing about it.  He asked a few routine questions about the purpose of Mario's visit, and then placed a Chilean entry stamp in the passport.
Next, Mario bought a plane ticket to Santo Domingo. On the ground in the Dominican Republic, he said he sailed right through security, immigration and customs.  "They just asked, 'Why you are coming to the country?' "
Mario also had no problem traveling to Venezuela, where he said he also found evidence of corruption in the passport system, much as it exists in Peru.  In Caracas, he said he met contacts who, like Jorge in Lima, told him they could deliver a genuine Venezuelan passport under yet another false identity.
Counterterrorism experts have particular concerns about Venezuela, because President Hugo Chavez is antagonistic towards the United States and maintains close relationships with Cuba and Iran.  Chavez's government also has been accused of lax controls over its passport system.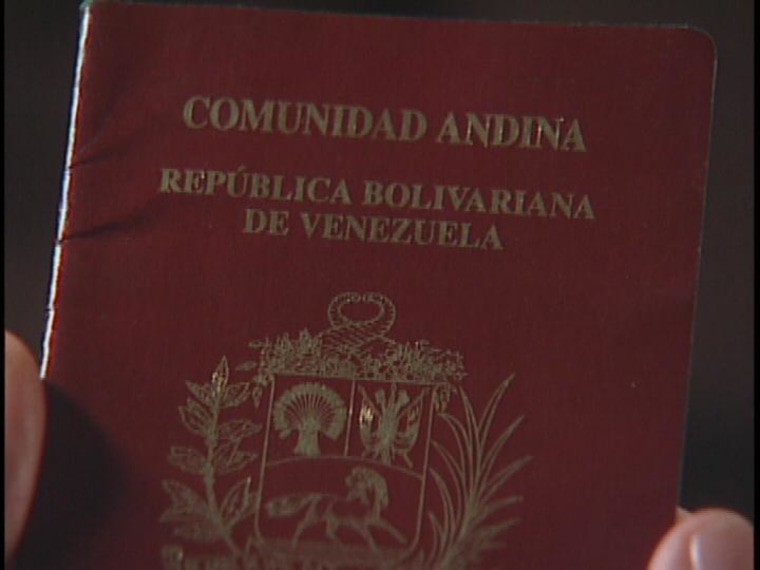 Five years ago, NBC News reported on a group of weapons dealers with alleged ties to al-Qaida who obtained a Venezuelan passport under the name Robert Blake for a man who was really an undercover informant in a federal sting operation.
Former U.S. intelligence official Henry Crumpton said that U.S. authorities are aware of more recent cases in which terrorists have used fraudulent Venezuelan passports, although he declined to provide specifics.
With a Venezuelan passport, Crumpton said, a terrorist could readily travel to far more countries than with a Peruvian passport.  Venezuelans can travel widely without visas to countries including Mexico and many U.S. allies, like Spain, Germany, and England. 
In Caracas, Mario said, his contacts sold him new identity papers and a valid Venezuelan passport for a few thousand dollars.  As in Peru, Mario said, it appeared to be an inside job involving corruption.  "It all points to the fact that they work with people in the government because the passport is authentic. It comes from within."
Mario used his Venezuelan papers to enter Mexico and travel to Tijuana, where he peered through a border fence at U.S. patrols driving by.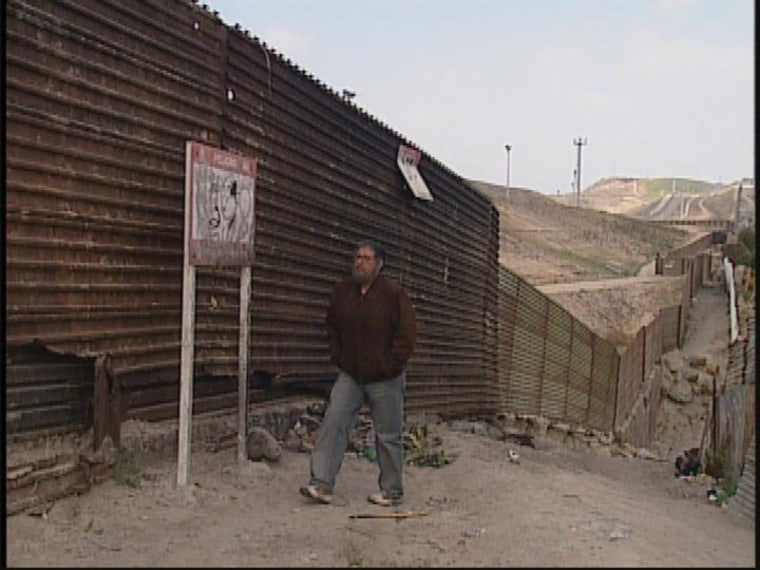 As far as Mario's Venezuelan and Peruvian passports took him, they could not get him into the United States without a visa. 
Back in Lima, Jorge repeatedly insisted that he could secure a U.S. visa for Mario under his Peruvian alias.  He claimed to have done so for other clients.  "For all my people," Jorge told Mario, "I prepare the visa in two weeks."  He said that he could provide legitimate-looking paperwork indicating Mario's alter ego had a real job, a regular paycheck, and a bank account.  Those documents would have to be submitted to the U.S. embassy, where Mario would also be subject to an interview.
Given Jorge's track record, Mario believed it would work.
Because the situation raised concerns about a potential threat to U.S. national security, NBC News approached U.S. government officials in several agencies. Officials said that if Mario were to file the visa application under a false identity, even for a news story intended to expose weaknesses in the system, it would violate U.S. law.
In the process, U.S. authorities examined the Peruvian passport that Jorge sold to Mario and concluded that it is authentic.  With that document, they said, the U.S. might well have issued Mario a visa, as long as the pay stubs and bank account statements provided by Jorge appeared legitimate.
System isn't perfect
The U.S. visa system is secure, but not foolproof, according to Henry Crumpton.  "If you have a U.S. consular officer that is going through a number of applications and someone comes to him and they have got a document that is genuine, based on his false identity, and he has all the other requirements, airline tickets, bank accounts, he appears to be a legitimate traveler," Crumpton said, "then why would the consular officer not issue the visa?"
That possibility, added Crumpton, complicates what is already a complex problem.  "I don't think that we can really expect to solve this problem completely. But, you can certainly diminish terrorist mobility."
Increasingly, governments are looking to biometrics, technology to electronically embed features such as iris scans and fingerprints, to make passports and identity documents more secure
To crack down on misuse of lost and stolen travel documents, Interpol chief Noble has created a massive database with more than 14 million entries, including approximately eight million passports reported lost or stolen by more than one hundred participating countries. 
Eighteen countries check the database routinely.  The Swiss detected more than 100 documents a month reported stolen or lost, Noble said in testimony before the U.S. Senate earlier this year, and Paris' Charles de Gaulle Airport averaged about 18 hits a month. 
The U.S. Department of Homeland Security recently began to use the system at John F. Kennedy Airport and intends to expand its use to other airports soon. 
According to DHS spokesman Russ Knocke, the Interpol system has helped detect fraud, "but most importantly" it has "worked well as an additional tool" for Customs and Border Protection officers.  During a 30-day test, U.S. authorities screened 750,000 travelers against the database, Knocke said, and had 129 potential hits.  Officials from CBP, coordinating with the Department of Justice, Interpol and the countries that issued the documents reported lost or stolen, were able to determine that almost all those cases did not involve fraud. 
Once criminals and terrorists know that Interpol's database is being searched, said Noble, "the threat is going to be reduced."
Noble conducted an unprecedented test of the system with the nine stolen passports NBC News recovered from the black market in Peru.  NBC formally handed over the documents to Interpol headquarters, where a forensic examiner ran the passport numbers through the database.  Three of the nine were listed as stolen; six were not.  One of those that did show up was the passport stolen from British doctor Alison Shelley while at a café in Lima.
Noble acknowledged that the database is incomplete and that it is not being used everywhere.  But its potential is evident, he said, in the case of the man who assassinated Serbia's prime minister.  The stolen passport that he used to travel around Europe before the murder was on the Interpol list. If immigration officers had run a check, Noble said, "we could have disrupted that assassination attempt."
The Interpol system, however, does not detect the type of passport sold by Jorge, the document broker in Peru: a genuine passport issued under a false identity. 
Mario, the undercover investigator who was able to travel on the fraudulent passports, said that the underlying problem is corruption. He said that he set out to expose Jorge and his collaborators to bring public attention to the issue.  He would be willing to testify against Jorge, he added, but he is concerned about his safety, "because Jorge's organization would find me."
NBC News requested official responses from the governments of Peru, Spain, and Venezuela, but none provided comment.
Curbing the illicit passport trade is critical to combating terrorism, according to Noble.  The world's top cop, so to speak, believes that people should be "very troubled" that a "gaping hole" in international security that existed before 9/11 "is still gaping" more than six years later.  "It might be smaller in this country or that country," Noble said, "but, globally speaking, it's still a gaping hole."
This report is based on a Dateline that originally aired Dec. 28, 2007.