"I thought I was funny!" said an incredulous Sen. Hillary Clinton.
"You know, you guys keep telling me, 'Lighten up, be funny.' Now I get a little funny and I'm being psychoanalyzed."
Long before sidestepping questions about driver's licenses for illegal immigrants and attacking her opponent's past drug use and kindergarten presidential dreams, the Democratic presidential candidate made her first campaign waves with a joke.
During one of Clinton's first appearances in Iowa last January, a potential voter asked the former first lady what, in her experience, would aid her in dealing with terrorism and the "evil men" who perpetrate such crimes. 
Clinton repeated the question for her audience:  "We face a lot of dangers in the world — and in the gentleman's words, we face a lot of evil men.  You know, people like Osama bin Laden come to mind."
The first viable female presidential candidate in history, who had spent nearly her entire political career surrounded by men, paused briefly, smiled slyly and continued.  "And what in my background equips me to deal with evil and bad men?"
The crowd of about 500 erupted in laughter.  The senator, flanked by a posse of mostly-female supporters, lowered her microphone and joined the chuckling.
Had the candidate found her new laugh line already, just weeks after announcing her bid?
Hardly.
Maybe it was one of those "you-had-to-be-there" moments, because the national press corps began to wonder what, exactly, was so funny.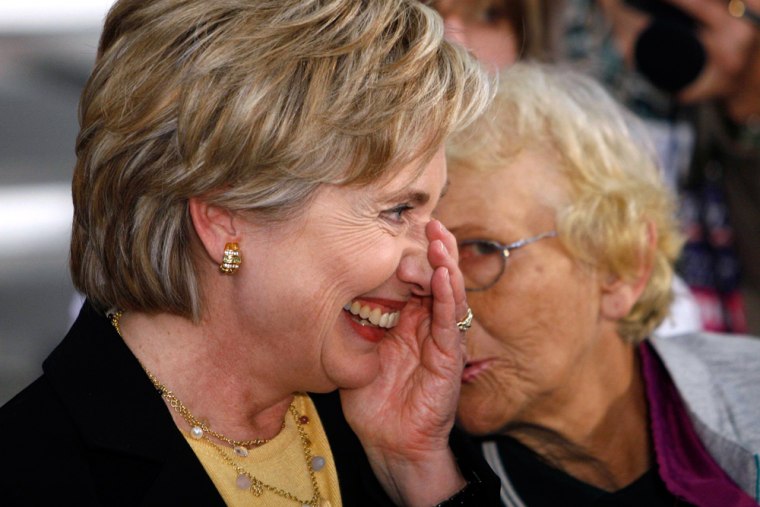 Who, exactly, was Clinton referencing? President Bush?  Her Republican foes in the Congress?  Or was it something less innocent?  Was she actually calling her husband, the last sitting Democratic president, "evil"?
"I don't think anyone in there really thought that," she said at a Davenport press conference the next day.
But the rumblings were out there, fueling days of less-than-positive cable news speculation that Clinton was addressing her husband's White House infidelities.
The senator's laugh-line-turned-gaffe-line highlights a modern-day election challenge that presidential candidates have been forced to deal with: how to use humor to connect with but not offend their audiences.
Challenges in an electronic world
The value placed on presidential humor coincides with the increasing television coverage of elections, according to NBC News presidential historian Michael Beschloss. 
"We want to feel comfortable with these people, and if this is a candidate who lacks a sense of humor, tells you something about him or her, and it also suggests this may not be someone you want in your living room for the next eight years."
Campaign humor is like a Roman candle.  Sometimes, it can produce magnificent results, but it can also backfire or even fail to ignite. 
And in 2007, almost every flicker was caught on camera. This season's stump stand-up runs the gamut: from the good, to the bad and, of course, the ugly.
Hitting the trail this spring, former Massachusetts Gov. Mitt Romney would often introduce his wife, Ann, with a story of her run-in with a hotel maintenance worker, who accidentally spied her in a towel after a post-shower intrusion. The story, which was void of any real punch line, often left Ann Romney blushing and laughing awkwardly. It didn't exactly synch with Romney's squeaky-clean image and was eventually dropped from his repertoire.
Illinois Sen. Barack Obama has also joked about his marriage, but with slightly more success.  He often references a day he spent aiding a registered nurse in California, adding that if it weren't for the camera crew shadowing him, his wife would still doubt his ability to do laundry.
Debates can also be testing grounds for potential laugh lines.
"Debates, and television in general, have pushed candidates to try to be funnier, more approachable and more human," noted Beschloss.
"The result is that candidates who may not be natural comedians are prompted by speech writers and joke writers to deliver lines that they hope the voters will take as evidence of their appealing personalities.… The one thing that no candidate can afford in these times is to seem to have no sense of humor."
Creating debate 'moments'
And in a campaign season that has featured no fewer than 20 major televised debates, candidates have been forced to cut through the coverage saturation and create those sought-after moments.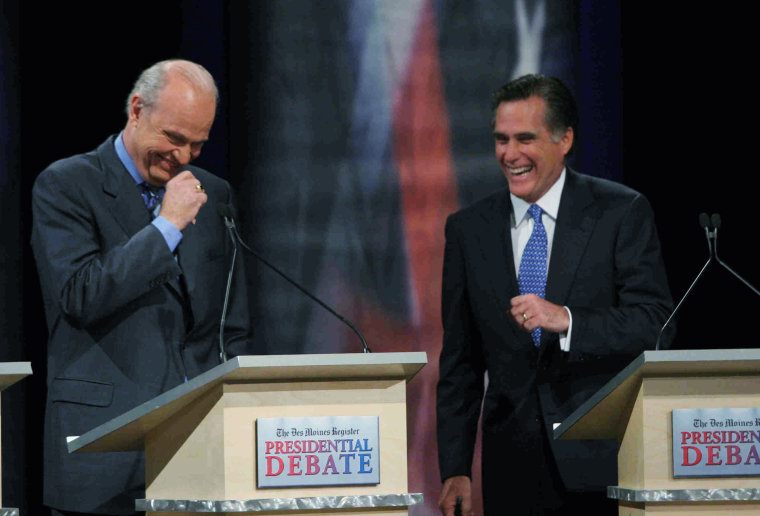 During October's MSNBC Republican debate in Michigan, Romney fought with the moderator's timing constrictions to make fun of former Sen. Fred Thompson.
It had been more than five months since the first GOP forum, and the actor was making his debate debut.
Romney compared the presidential season to the show "Law & Order, saying, "It has a huge cast, the series seems to go on forever, and Fred Thompson shows up at the end."
Short on time, Romney's delivery appeared forced, leaving Thompson room for a snappy comeback: "And to think I thought I was going to be the best actor on this stage."
Compared to Romney's premeditated joke, it was a punch line that seemed to garner more audience amusement and some positive pundit reviews.
And then there was the MSNBC Democratic debate in Philadelphia, where Sen. Joe Biden touted his own foreign policy credentials while offering a humorous criticism of fellow candidate and former New York Mayor Rudy Giuliani, saying, "There's only three things he mentions in a sentence:  a noun, a verb and 9/11."
Sen. John McCain was also able to create a debate moment during a Fox News forum in October. The Arizona Republican chided Sen. Clinton for approving the use of federal funds for the building of a museum dedicated to the Woodstock music festival.
"Now, I did not attend Woodstock … I'm sure it was a cultural and pharmaceutical event," said McCain. "I was tied up at the time," referencing his 5 1/2 years as a prisoner of war in Vietnam. 
Not only did the audience erupt in laughter, but they also rose to their feet to honor the war veteran, easily creating the headline moment of the Orlando debate.
Playing on the reaction to the joke, the McCain campaign later released television ads in New Hampshire, titled "Tied Up" and "Woodstock," which highlighted the televised moment.
McCain has also been known to poke fun at the very audiences he hopes to win over.  Asked by a high school student about his age, and the possibility of him dying in the Oval Office, McCain quickly ran through his clean bill of health and good genes (his mother is 95 years old and still a regular on the campaign trail) before concluding, "Thanks for the question, you little jerk."  And campaigning in New Hampshire in December, he poked fun at a possible supporter's "dorky" Santa Claus hat.

But even McCain has made some comedic missteps. Questioned in the spring about what was the perceived as a looming threat of a nuclear Iran, the senator thought he'd have a little fun with a serious topic.  Invoking the Beach Boys song Barbara Ann, he sang to the melody, "Bomb, bomb, bomb, bomb, bomb Iran."  Some members of the audience appeared to eat it up, but others weren't chuckling.
The amateur, cell phone-quality video evolved into an overnight YouTube sensation, became a cable news taking point, and even prompted an anti-McCain MoveOn.org ad, which compared his foreign policy agenda to that of the Bush Administration.
The presidential hopeful was later asked to clarify, and after explaining that he was simply joking about bombing Tehran, he called his questioner a "jerk."
'Chuck and Huck'
And it would seem that no current candidate has used humor as notably as former Arkansas Gov. Mike Huckabee.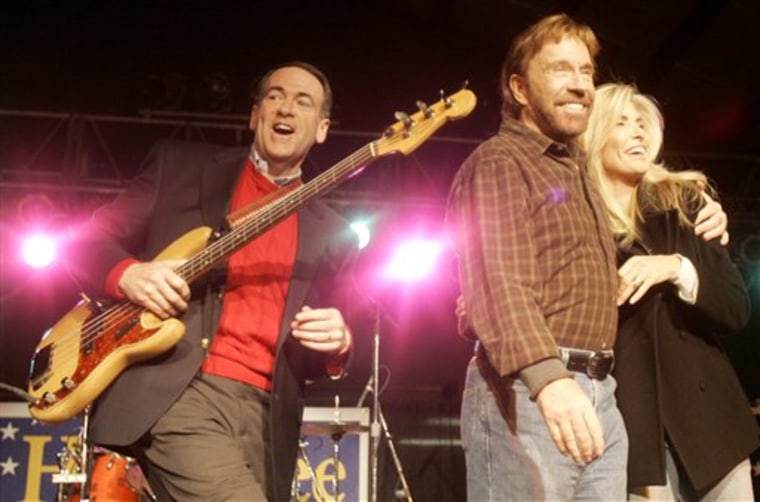 Huckabee made hay with his endorsement from action star Chuck Norris, playing on the star's cult-like status in his first paid television ad.  The media deemed it too silly for Huckabee, who was just beginning to gain traction, to be taken seriously.  But judging by his surge in the Hawkeye State last month, that lightheartedness may not have necessarily hurt his campaign chances.
Huckabee is the rare candidate who mastered the art of both canned and impromptu jokes.  Like John F. Kennedy and Ronald Reagan, who dismissed concerns about their candidacies with humor, Huckabee uses jokes on the stump to calm concerns that some voters may have about a Southern Baptist minister in the West Wing.
Pressed at a CNN debate shortly after Thanksgiving about whether or not Jesus would agree with capital punishment, Huckabee sidestepped the question humorously:  "Jesus was too smart to ever run for public office," he said.  "That's what Jesus would do."
Still, Huckabee did little to quell concerns about his qualifications last month.  Answering a question from radio host Don Imus about his lack of foreign policy experience, he conceded that he may not have as much knowledge of world affairs as his peers, adding, "But I did stay in a Holiday Inn Express last night." 
The YouTube factor
Indeed, the use of comedy while running for president of the United States is a double-edged sword.  But in the age of Internet video and cell phone cameras, most candidates are becoming increasingly self-aware and take steps to avoid making misguided jokes.
"Every comment that a candidate makes nowadays is going to be deconstructed over and over again; it's going to be on YouTube forever," said Beschloss, adding that, "as a result, this process is getting more and more boring because these candidates are not going to go out and say very much that's spontaneous, because if they do, it can get them into very big trouble, and they know it." 
Even the junior senator from New York has found her funny side.  Although, it is often in the form of scripted, high-end production Internet videos, including a spoof on the now-infamous "Sopranos" series finale. But she hasn't completely sworn-off impromptu humor.
Recently questioned about Congress' failure to pass any meaningful measure to reduce the troop numbers in Iraq, Clinton provided a snippet of irreverent humor. 
"Vice President Cheney came up to see the Republicans yesterday," she said of the White House's continued pressure on Congress to not interfere with the war. 
But then she sidetracked:  "You can always tell when the Republicans are restless, because the vice president's motorcade pulls into the Capitol, and Darth Vader emerges."
The crowd howled with laughter and cheers, and Clinton gave herself a congratulatory laugh.  Making fun of a highly unpopular vice president earned her some comedic credibility and failed to stir controversy.
When all is said and done, Nov. 4, 2008, likely won't be reduced to a stand-up comedy duel.  But in the meantime, the ability to successfully connect with constituents through laughter won't hurt.