/ Source: The Associated Press
So long, ethanol. Hello, taxes.
More than geography changes when the 2008 presidential campaign leaves the land of flat — aka Iowa — for New Hampshire, the Granite State.
The electorate is different, and the blend of issues.
Which may be why former Arkansas Gov. Mike Huckabee's made-for-Iowa television ad tagline, "Christian leader," has yet to make the trip east across the Mississippi River. In New England, he's a conservative leader.
And why Ron Paul, as close to a libertarian as there is in the Republican race, may yet prove a spoiler in a state whose motto is "Live Free or Die."
Or why Sen. Barack Obama, the Illinois Democrat, could yet have cause to wonder why he told Iowans that they could decide who wins the party's nomination and the White House in 2008.
"The people of New Hampshire pay attention to Iowa, but it's not the determining factor," Republican Sen. John McCain of Arizona observed recently.
That's a diplomatic way of saying New Hampshire primary voters see little merit in rubber-stamping decisions made in Iowa.
Truth be told, they specialize in humbling the mighty.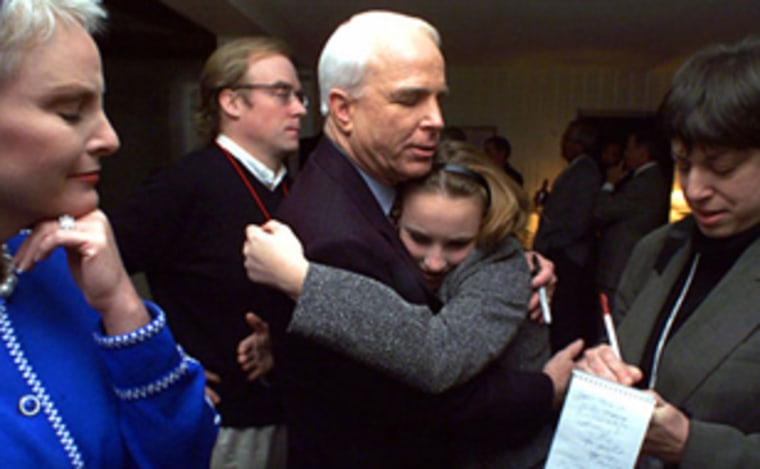 Think 2000, when George W. Bush roared out of Iowa, only to lose New Hampshire by a whopping 19 percentage points to McCain.
Only twice since 1976 has the same Democrat won both Iowa and New Hampshire in a contested nominating campaign. And for all the boasting that Granite-Staters do about picking presidents, both Al Gore and John Kerry went on to lose the general election.
This year will test whether Massachusetts Republicans fare as well as Massachusetts Democrats in the primary in the state next door. If so, Mitt Romney will be very pleased, as were Kerry (2004), Paul Tsongas (1992) and Michael Dukakis (1988) before him.
As a group, voters in Iowa and New Hampshire are overwhelmingly white and better educated than the national average.
Still, the differences between them are significant enough to dictate adjustments by the campaigns, even if this year's compressed timetable provides only a five-day interval for changes.
In a recent poll by The Associated Press and the Pew Research Center for the People and the Press, Democrats in both states picked the Iraq war as the top issue in the race.
But in New Hampshire, they care somewhat less about health care as an issue than Iowans, and more about the economy. Not surprisingly, they were also less apt to say that jobs are plentiful locally.
New Hampshire Democrats are more likely to be in union households and far less likely to attend church regularly than their brethren half a continent away.
"Iowa Democrats are more liberal," says Stephanie Cutter, who worked for Kerry in both states in 2004. "In New Hampshire, they're not more moderate, they're more libertarian, it seems."
Overall, New Hampshire is more independent-heavy than Iowa. At about 40 percent of the electorate or so, they outnumber registered Republicans and Democrats. They are free to vote in either party's race, a fact that complicates any pre-primary predictions.
New Hampshire Republicans are more moderate politically than those in Iowa, likelier to support gay marriage, abortion rights and stricter environmental laws.
Among Iowa Republicans, white evangelical Protestants account for an estimated 38 percent of the population of caucus-goers. In New Hampshire, it drops to about 18 percent, according to the Pew survey. In theory, that will make it more difficult for Huckabee to match the strong showing that pre-caucus polls suggest he will have in Iowa.
Then, too, expect less praise for President Bush from Republicans vying to succeed him. Thirty-five percent of New Hampshire GOP voters disapprove of the job he is doing, nearly double the dissatisfaction rate among Iowa Republicans.
For all of New Hampshire's charms, a corn crop is not one of them. In fact, 84 percent of the state is forested, while 88 percent of Iowa is farmland.
That makes federal support for ethanol a nonentity as a political issue in New Hampshire. It's unlikely anyone is happier about that than McCain, who opposes federal subsidies.
Instead, if there is a single issue that has traditionally dominated the state's politics, it is taxes. New Hampshire is one of only two states (Alaska is the other) with neither an income nor a sales tax, and even Democrats running for statewide office suggest one at their peril.
"There's certainly a different focus, more so on fiscal issues, and a libertarian streak in New Hampshire. But I don't see a huge difference between New Hampshire and Iowa voters," Huckabee said recently.
Even the method for sorting out the candidates is different.
New Hampshire has a straight-forward, daylong secret ballot election on Jan. 8 in which voters go to the polls at a time of their choosing.
Iowa's caucuses on Jan. 3 are essentially neighborhood political meetings, all starting at 8 p.m. EST and each requiring voters to publicly declare their presidential preference.
Which New Hampshire is free to ignore.