/ Source: The Associated Press
Detroit's automakers went out with a whimper in 2007, as a lackluster December failed to pull the industry out of the lowest U.S. auto sales slump in nearly a decade.
Ford Motor Co. was knocked from its perch as the No. 2 U.S. auto seller, a position it held since 1931, while General Motors appeared likely to lose its title of the largest automaker in the world. Both were dethroned by the juggernaut that is Toyota.
Toyota Motor Corp. sold 2.62 million cars and trucks in the U.S. in 2007, which amounted to 48,226 more than Ford, according to sales figures released Thursday. Toyota's sales were up 3 percent for the year, buoyed by new products such as the Toyota Tundra pickup, which saw sales jump 57 percent. Ford's sales fell 12 percent to 2.57 million vehicles.
General Motors Corp. remained the U.S. sales leader, selling 3.82 million vehicles in 2007. But that was down 6 percent from the previous year as customers turned away from some large sedans and sport utility vehicles and GM cut low-profit sales to employees and rental car companies.
Even worse, GM could fall behind Toyota in the race to be the world's biggest automaker. GM said Thursday it made 9.28 million vehicles worldwide last year, roughly 230,000 fewer than Toyota's 2007 production estimate of 9.51 million. Toyota expects to have final numbers later in January but issued the 2007 estimate on Dec. 25 with just six days left in the year.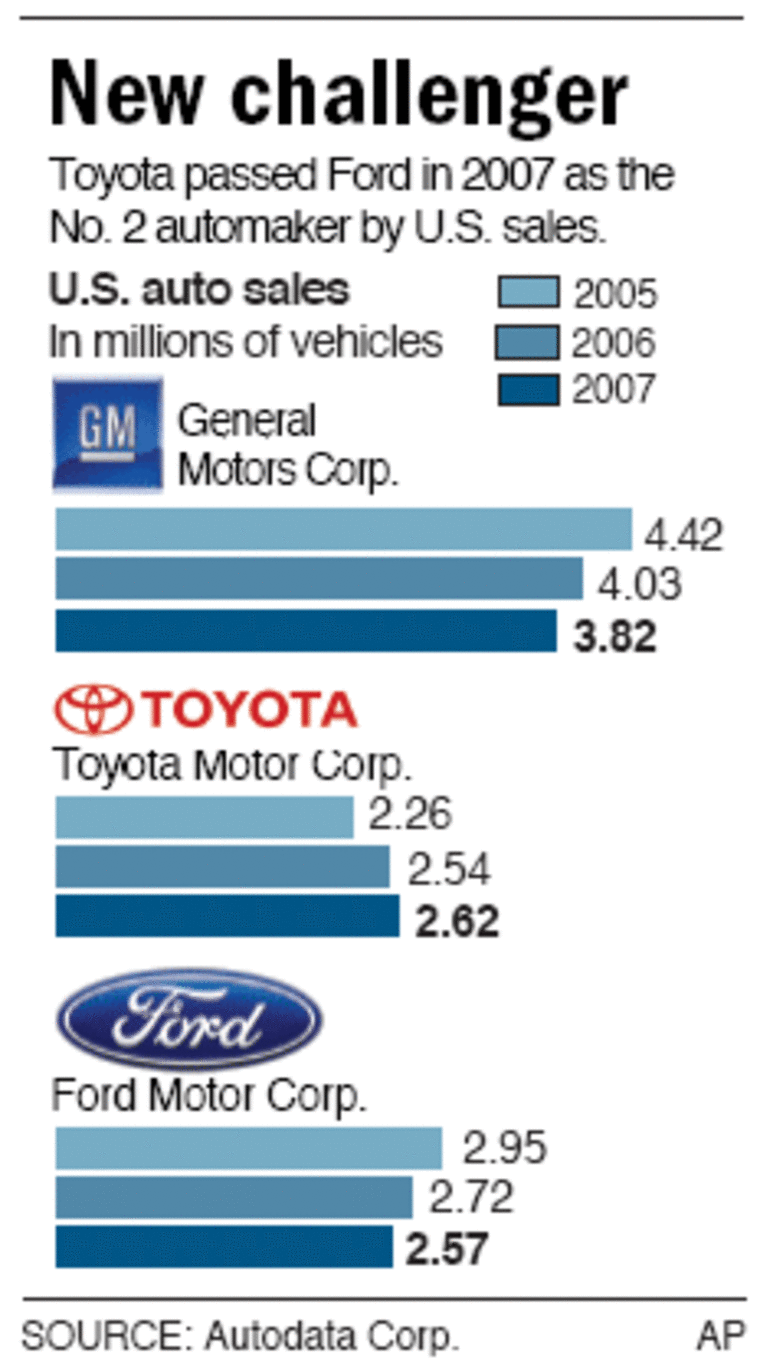 The real prize, the worldwide auto sales lead, must still be determined, with both companies to release 2007 global sales figures later this month. GM has been the world's largest automaker by sales for 76 years.
Officials at GM, Ford and Toyota downplayed the news Thursday.
"We don't pay a lot of attention to rankings such as that," Toyota spokesman Irv Miller said. "It's always nice to see the product is recognized and accepted by the consumer. The consumer's going to be the ultimate determining factor in who the winner is."
In an Internet chat with journalists, GM Chairman and Chief Executive Rick Wagoner said GM leads in 13 of the 15 largest markets, but Toyota has a huge lead in Japan.
"We're staying focused on our plan," he said. "Great cars, smart marketing, growth in the emerging markets. And hopefully that will keep us on top. If not, we'll come back to work the next day and work even harder."
Standard and Poor's credit analyst Gregg Lemos-Stein added that Toyota overtook Ford and GM years ago in the most important measures: Profitability and cash flow. Toyota's profit for the July-September quarter rose to 450.9 billion yen ($4 billion), up 11 percent from the same period the previous year. By contrast, GM posted a record $39 billion loss in the same quarter, mostly due to unused tax credits, while Ford posted a loss of $380 million.
Lemos-Stein said 2007 started off weak and automakers got no boost in the usually busy summer months. There was a rebound in August and September due to increased incentive spending, he said, but the year still ended with the lowest sales since 1998 as consumers fretted about high gas prices, falling home values and the economy. U.S. sales totaled 16.1 million vehicles, down from 16.6 million in 2006, according to Autodata Corp.
December didn't improve things despite a slew of holiday discounts. Toyota's sales slipped 2 percent for the month, while GM's sales were down 4 percent and Ford's fell 9 percent.
Nissan Motor Co.'s December sales were down 2.4 percent, while Honda Motor Co.'s December sales were flat, with a 10 percent increase in car sales canceled out by a 10 percent decline in truck sales.
Chrysler LLC had a solid December, with sales up 1 percent thanks to brisk sales of the new Dodge Caravan minivan, which saw a 51 percent jump. But Chrysler sales were down 3 percent for the year as falling truck and SUV sales erased gains on the car side.
Dick Colliver, executive vice president of American Honda, said automakers with more fuel-efficient offerings fared better this year as gas prices took their toll. Honda's full-year sales were up 2.5 percent, thanks in part to booming sales of the Fit subcompact, while Nissan's shot up 5 percent thanks in part to the Versa subcompact.
Ford's car sales plummeted 24 percent for all of 2007 as some models such as the Mustang aged and a new Taurus sedan was unable to match the volumes of the older version. Ford also cut rental-car sales by 32 percent over the year in an effort to boost resale values and brand image. Truck sales were down 5 percent.
Toyota got a boost partly from heavier than usual incentive spending as its Tundra joined the fiercely competitive full-size truck segment.
Auto research site Edmunds.com estimated Toyota's incentives jumped from $822 to $1,063 per vehicle between November and December. But Toyota's general manager for U.S. sales, Bob Carter, downplayed that, saying Toyota's incentives remain some of the lowest in the industry.
Jim Farley, who recently became Ford's global marketing chief after a career at Toyota, said the new numbers won't change Ford's recovery plan, which includes carefully targeted use of incentives and more fuel-efficient offerings.
"In fact, it actually accelerates the way we're running the business," Farley told The Associated Press in an interview Thursday morning. "It accentuates the difference between how we're running the business and how our competitors are running the business. It requires us to stick to the plan, no doubt, but it also requires us to really accelerate the development of new products."
Ford shares fell 15 cents, or 2.3 percent, to close at $6.45 after sinking to a new 52-week low of $6.41 earlier Thursday. GM shares lost 49 cents, or 2 percent, to close at $23.92 after dropping to a 52-week low of $23.34 earlier in the day. Toyota's U.S. shares rose 44 cents to close at $106.90, Honda's gained 2 cents to $33.10, and Nissan's rose 18 cents to $21.71.