/ Source: msnbc.com news services
Record turnout clogged Iowa's 1,800 precinct caucuses Thursday night.
"I know we are seeing incredible participation right now," said Carrie Giddins, spokeswoman for the Iowa Democratic Party.
A wide-open race in both parties sparked a turnout far exceeding previous contests.
Projections showed a turnout of 220,588 for Democrats, compared to 124,000 who participated in 2004. Most projections had estimated turnout would be about 150,000.
Turnout was also up on the Republican side, where projections showed about 114,000 people taking part. The last contested Republican caucuses in 2000 drew 87,666 in caucuses won by then-Gov. George W. Bush.
Giddins said participants in line by 7 p.m. would be allowed to caucus, but many will have to fill out voter registration forms. "The lines may be long and it may delay starting the process," she said.
'Great slate of candidates'
At Valley High School in West Des Moines, where caucuses were being held in eight rooms, hundreds of people were in line as 7 p.m. approached.
Greg Nichols, Democratic chairman of one precinct, said he had run out of his 250 registration forms. For Dave Erickson, the Democratic chairman for another precinct, the challenge was finding enough space for so many participants.
"I don't know what we're going to do. It's going to be a challenge," Erickson said. "It's a great slate of candidates. There's great interest in all of them."
Amid the blur of activity, Michelle Obama made a surprise appearance in the high school's  cafeteria. The wife of Democratic presidential candidate Barack Obama was mobbed by supporters and onlookers, but the school was so packed that even she melted into the crowd.
A serious tone, atmosphere
"It looks like there are a lot of people out," she said. "I've never been to a caucus before. I think people say that this looks like a good turnout."
Linda Lohse-Lange, of West Des Moines, has been going to caucuses since 1976. She has been a state delegate for both parties, but she showed up Thursday night in a bright red hat adorned with buttons for Obama.
"I think it's very serious, more serious than in the past," Lohse-Lange said. "I was surprised the parking lot was so full. I had a hard time finding a place to park."
Many of the people who jammed the high school were thought to be undecided, and Connie Schmett, a Clive precinct captain for Republican Mitt Romney, was hoping to sway voters.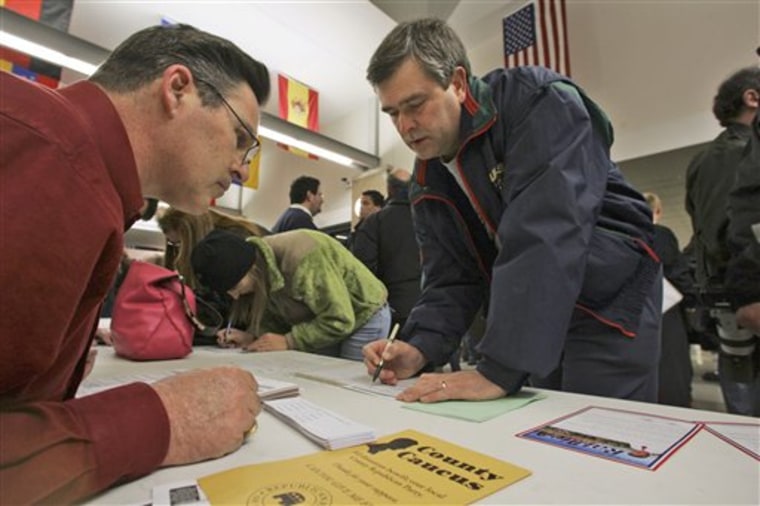 "There seems to be extremely high turnout, more so than the last one," Schmett said. "I think we're going to have a lot of people who were undecided make decisions tonight."
Michael Duncan, a precinct captain for John Edwards, was certain that undecided voters would determine the winners. That's why he stood at the lobby entrance hoping to lure people toward Edwards.
"I think it could really come down to one person," Duncan said.