/ Source: Condé Nast Traveler
As the cruise ship leaves Cairns, in northeastern Australia, and heads out over the Coral Sea bound for adventure in New Guinea and the Solomon Islands, the captain's voice booms through the overhead speakers: A tropical cyclone is moving west-southwest from the Solomons, and we might feel some unusually large swells. "It will be interesting," he muses, "to see what happens."
That night, we fall asleep to the sound of the waves surging against the hull and retreating back to the deep. Then, after a day spent at sea (and after the cyclone has torn up the coast we've left behind), the new dawn finds us slipping silently through a mirrored bay amid the green mountain fastnesses of Papua New Guinea.
Smoke from campfires hangs low over the jungle. Shacks on stilts appear at water's edge, children waving our way. A mahogany-chested fisherman glides past in a dugout canoe. From Deck 5 I try out my pidgin, asking his name: "Wanem nem bilong yu?" Then we see the grass-skirted dancers waiting in the shade.
Is it possible to access real adventure from a cruise ship? That is the plan. Can a passenger have genuine cross-cultural encounters during his limited time ashore? That's the challenge, and I'm sleepless with anticipation. The vessel for these schemes is a small luxury-expedition ship: the MV Orion, the length of a football field, with only forty-six guests for this maiden itinerary. She has a shallow draft (twelve and a half feet) for getting where most cruise ships can't, plus ten motorized rafts to beach us through the surf like the Marines at Guadalcanal.
Papua New Guinea and the Solomons look to be ideal candidates for small-ship exploration: They have two of the world's most intriguingly primitive societies, unfortunately with tourism infrastructures to match. If you fly in, you have to lay over in a capital known for street crime (Port Moresby) or the afterglow of ethnic cleansing (Honiara) — then pray that your internal flights aren't canceled. If you drive, the few bad roads don't go far, and if you're involved in an accident, you're advised to keep driving to escape potential roadside justice.
We cruisers instead merely trip down the gangway, our tummies full from breakfast, and we're in the port town of Alotau, at the eastern tip of New Guinea's mainland. We have seven and a half hours to nose around, by guided tour or on our own. Locals wearing secondhand Western clothes pad along the shoulders of the one paved road, barefoot or in flip-flops, their mouths stained safety-vest orange from chewing betel nuts, and I fall in with them, exchanging good mornings. One man presumes, "You come from big ship?" A billboard warns: "Lukautim Yu Yet Long AIDS" ("Beware of AIDS"). A young guy gives me a low five. I ask another man, "What is there to see here?" and he intones, "The slow development of the town." He thinks. "Maybe you could invest." I parry, "That would help you." He smiles. "And help you too."
As a white American traveler, I have always reveled in rubbing shoulders (it's the Detroit in me) with ordinary people at the ends of the earth who have had scarce contact with my own kind. I like the freshness, the nakedness, the sheer unlikelihood of these engagements. I hunger to see that flash of recognition in their eyes.
Most of Alotau's business takes place outside. In a shaded marketplace, sellers hunker behind meager piles of homegrown betel nuts, peanuts, bananas, waving towels against the flies. Children stare at the alien in their midst. I greet a man squatting with his family, "How you doing?" He answers politely, "We just sitting around." It's hard to know where to begin.
The Orion's self-styled anthropologist, Justin Friend, says there's a word in the local pidgin tongue for people like us. A white person is a dim-dim. Dim-dims are revered in New Guinea for their wonderful possessions but snickered at because, for example, they blow their noses into rags that they put back in their pockets, or they work so hard in order to have things which don't make them happy.
Dim-dims cast long shadows. The war we once fought on the shores of New Guinea and the Solomons, the one we call World War II, left lots of wrecked weaponry lying around. Near Alotau, a dozen of us inspect a rusted-out landing craft at the spot where the Japanese stormed ashore in August 1942 on their triumphant sweep through the western Pacific after bombing Pearl Harbor. Here at the Battle of Milne Bay, a larger Australian force dealt Japan its first land defeat of the war — just the tonic the Allies needed.
At the edge of a dark forest, we marvel at the sight of nine U.S. Marine landing barges being devoured by the many-stilted roots of the banyan trees. I'm sitting on a log with a guide named Trouble, and he's talking cannibalism — how it was practiced around here until the war. It was ritual: "To get rid of all your frustration with your enemy, you cook him up and eat him. But quite a number of missionaries also were killed and eaten," he assures me. Back in town, colorful workboats ferry people and cargo to and from outlying islands. Alotau's main export, I'm told, is betel nuts. This addictive stimulant is the runaway pastime and, it appears, the linchpin of the economy. Billboards remind: "Do Not Discharge Spittle or Scum in Public Places or in the Rubbish Bin." But the whole town is polka-dotted with orange betel juice. Vendors of the green palm fruits, all charging the same price, line the waterfront.
I approach one woman to ask, "Would it make me sick?" and a crowd begins to form. With my teeth, I crack open the husk to get to the grape-sized fruit. "Don't swallow the juice," she advises, and kids giggle. I start chewing as instructed, adding a bite of pepper root (for flavor) dipped in crushed lime (for potency).
Suddenly I gag — every drop of moisture sucked from my mortal being. This inspires the first of several choruses of good-humored laughter. At last I spit the thing out, to one more peal of hometown satisfaction.
I wave good-bye and walk away. A hundred paces later, I have to uncap my precious bottle of purified water to rinse out the taste, and I hear them laugh again, still watching the dim-dim return to his ship.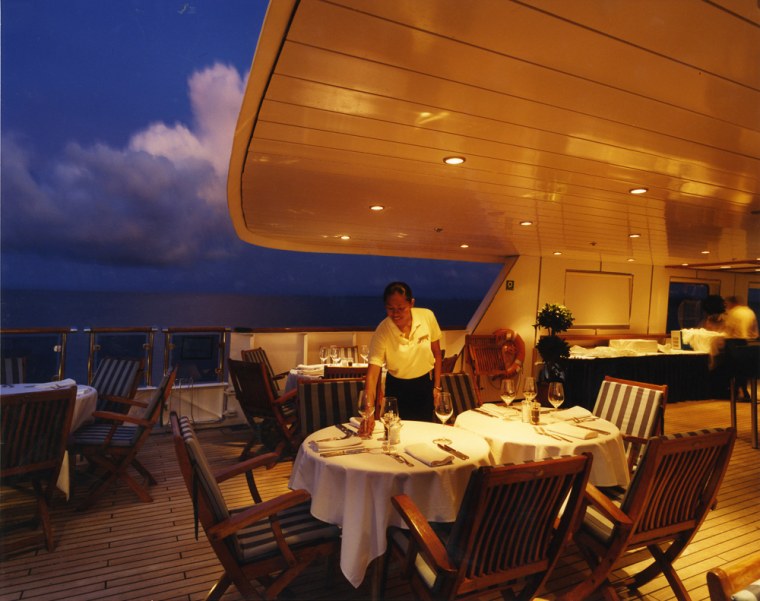 Yet when the Orion pulls away at five that evening, there is no doubt where this explorer stands on the pivotal question: Would you rather be chewing on an authentic hunk of taro root tonight and sleeping on a straw mat under a mosquito net in the name of realism, or would you like to eat your Tasmanian oysters and kingfish with parsnip root and your loin of lamb with eggplant polenta, not in the Constellation Restaurant where you dined last night but on the upper deck under the stars at the Delphinius Café with those new Aussie friends you're running with — the drinkers and dancers, the smokers and jokers?
The ship's passengers are mainly over-fifty Aussie couples — chipper, can-do, inquisitive, droll. We attend PowerPoint lectures by war historians, ornithologists, and botanists. The dress is casual, the chatter breezy to balmy. The tropic nights are atmospheric enough without a casino or a climbing wall or a midnight buffet.
The Orion is an attempt to marry the go-anywhere ethic of a Lindblad cruise with some of the luxury of a Seabourn. It's two years old, with mythology-themed artwork on its richly wood-grained walls, and mirrored ceilings that reflect the ocean's surface racing past. The cabins have marble baths and flat-screen TVs, but for these ten days all I watch is the channel that maps where the Orion is in nautical space as our digital latitude ticks down toward the equator.
Next stop is the Louisiade Archipelago — ten volcanic islands and coral reefs that see zero mass tourism. By eight in the morning we drop anchor off uninhabited Nivani Island, a mound of jungle rising like bread from the sea, with cowlicks of coconut palms shooting up and a white beach peeking out from the far side. We are spirited over in Zodiac rubber duckies, the water so clear that we seem to levitate above the ocean floor. Even ninety-four-year-old Phyllis comes ashore and sits propped against an almond tree. Most of us go snorkeling off the beach, and our prize is a Japanese fighter plane — one of the legendary Zeroes that controlled the Pacific skies early in the war — nestled among the coral in twelve feet of water. We float above it as in a dream: the propeller bent, the cockpit empty, the control stick fuzzed over with algae, the fish ghosting in and out of the fuselage. Back on the beach, we have visitors. Some men and boys have canoed over from the next island. The elderly one is their bigman, or chief, and he tells me that Nivani was left to him by an Australian man who ran a coconut plantation here until twenty years ago. "When Dusty Miller leave, he leave everything — store and houses. It was very good!" the bigman recalls. "Then cyclone knock down all the buildings." He laughs heartily. "The worstest one!"
His name is Milia Losane, and his nose is so upturned that his nostrils vent horizontally. He holds a pointed walking stick that he's hoping to sell. "We used it to spear the people," he says, laughing incongruously again. Two grandsons cling to his legs. He explains: "They want to see dim-dim. Because dim-dim give them lollies and water. They never see a big boat. When they see you, they say, 'Oh, Grand, good people are coming!' "
"You're very hospitable," I vouch, ambassadorially.
"Thank you for coming," he replies. "We can see the boat, and lots of dim-dim."
After the visitors return to their own island, Paul from South Dakota discovers that his pack has been rifled, his camera jimmied open, his six-thousand-dollar hearing aids taken.
That evening at sunset, as the Orion carries us away from the Louisiades, I linger at the portside rail, watching flying fish zipper the fabric of the sea while the sky resolves into brushstrokes of butterscotch and clouds of battleship gray begin marshaling over the horizon.
Good people coming, indeed.
Here come the dim-dims!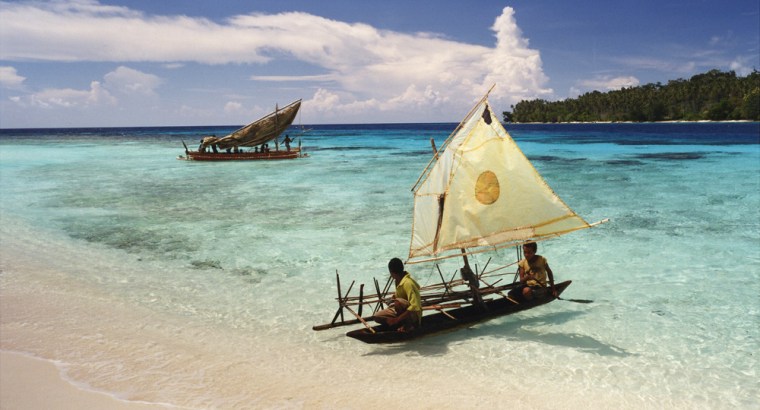 In anthropological circles, residents of the Trobriand Islands are famous for groundbreaking studies of their reverence for yams and their uninhibited sexual mores (especially during the yam festival). The Islands of Love, they've been called, and when we anchor off Kitava, an out island of this out-island chain, we are welcomed exuberantly by fishermen in dugouts encircling our bow, grinning orangely. Now a grander canoe decorated with carvings and shells appears, propelled by nine bareback oarsmen. This is one of the ceremonial kula canoes which still, to this day, are used to carry out ancient exchanges of shell jewelry with distant islands — necklaces moving clockwise and armbands counterclockwise in a two-hundred-mile-wide circle: a kula ring of trust and social status that Westerners have a hard time understanding.
On Kitava's beach, still wearing our dorky life vests, we are greeted by bare-breasted teenage girls who drape flower necklaces over our sun-hatted heads. Then we are treated to round after round of enthusiastic dancing by skimpily costumed children in all stages of development (except that nobody on the island looks fat). Kitava's entire population must be here, the adults laughing as six-year-old boys pump their pelvises erotically, then fall down exhausted. (I notice, too: The men don't go bald.)
An islander named Abraham Cameron leads us on a walk up a rutted path toward their village. We take a detour to see the grave of his grandfather — an Australian colonial administrator who jumped ship in 1911, started a coconut plantation, and renamed himself King Cameron. The grave is atop a cliff, alone, with a knockout view of the beach and its mint-green waters and our faithful ship tethered to the sea. The tombstone honors Cyril Barneveldt Cameron, born in Tasmania in 1887, died on Kitava in 1966. Abraham says his grandfather — alone among Kitavan men — had three wives. That's why some islanders, like him, are lighter-skinned. Since the king died forty years ago, no other dim-dims have shown up to claim the position.
The village consists of family compounds built along a footpath running through an emerald clearing. The houses have walls of woven coconut fronds and roofs of pandanus fronds. It's a quiet village: no electricity. Water is carried in pails from a spring.
Paul, the man from South Dakota, sighs: "I could live like this." Can he be thinking three wives?
Children follow us, hoping we'll be so generous as to give them our shiny plastic water bottles when they're empty. We pass their school and peek into a classroom. Signs lecture: DON'T LOSE HOPE, and YOU DO NOT BE AFRAID. But school is out because the dim-dims are here.
For lunch, the ship's staff set out a barbecue fit for a king on a pristine beach. The island boys take naturally to our volleyball and inflatable kayaks. Afterward, I walk back up to the village by myself, trying it barefoot. John, a young Kitavan, joins me, and we compare notes. He says that only six or seven people in the village — the teachers and nurses — work for money, the equivalent of eight dollars a day. "The rest are gardening. We work hard in the garden."
"So you eat whatever you grow."
"Or we sell it," he says.
"But who is there to buy it?"
"The teachers and medicals."
Such a small web they weave.
I wonder, "What can you spend the money on?"
"Rice," he says. "Clothes. Spoons. Forks."
Then he looks at me. "How much you pay on the ship?"
"Oh!" I laugh, embarrassed. How much would $5,100 be in his money? Finally I admit, "Twelve thousand kina."
He does a sucking thing with his teeth. Yet what can that number mean to a guy who doesn't know how old he is?
In a pathetic attempt to distance myself from the disparity, I tell him, "My company's paying, not me."
Later, we part at the beach with a handshake, and the day's last tender takes me on that magic carpet ride back to the Orion. That evening, there's a new excitement in the air, as if the trip has just begun. Plainly, Kitava has seduced us. Only the paired ornithologists, Cliff and Dawn, are disappointed. "A bad day watching birds," he laments over sundowners. "The people were too friendly."
Every morning, aerobic walkers circle the top deck and watch the South Pacific dawn coming up in time-lapse images — a frame every sixty-two seconds — while the humped silhouettes of our next treasured islands slide into view. Now we're in the Solomons, running through still waters toward Gizo, allegedly the nation's second-largest city but just a picturesque huddle of one-story wooden buildings looking across the harbor toward a blown volcano. (This was before the earthquake and tsunami of April 2007, which further diminished the skyline and left thirty-three people dead but hasn't disrupted tourism.)
We go ashore, and the Melanesians look darker than those in New Guinea. The harborside market is boisterous, with low-stakes games of chance. Gizo has a faint tropo-panache — the hip-hop beat pulsing from taxis, the PT-109 Bar & Restaurant, the Chinese general stores faced off across the dusty main street. A few dim-dims even seem to be living here: on Solomon time, as they say.
The waterfront road leads out of town past the police station, where Australian officers help keep the peace under Operation Helpem Fren; past uniformed boys walking to school; past the hospital, so poor that the beds have no sheets; past the prison, where a murderer talks through the fence ("At least I admit it"); to road's end, where a boy in a Linkin Park T-shirt sits on the seawall with nothing to do.
In the streets of Gizo, we can buy finer wood carvings than we saw in New Guinea. But I'm happy with the deal I strike at the dock, swapping a guy the T-shirt off my back (it says MOONDOGGIE'S, PISMO BEACH) for the one off his back, which proclaims, more mysteriously, HELPEM FREN.
During lunch the Orion repositions us four miles away, off an island that looks undistinguished: tiny and unevenly forested, with the white beach we've come to expect but no beckoning coco palms. This is Kennedy Island, to which the young JFK first swam with his men in August 1943 after their patrol boat, PT-109, was sunk by a Japanese destroyer. From the Orion's top decks we can see how the drama played out, the survivors swimming through shark-laden waters to this island, then the next one, then the next, in search of food and water. Through the clouds the sun casts a spotlight on Kennedy Island, and I'm touched anew by those old what-ifs.
After we go ashore to snorkel, I walk around Kennedy Island (it takes only a few minutes) with Orion botanist Tony Roberts and ask him if the future U.S. bigman was correct in concluding that there was nothing to eat here. Tony surveys the foliage. "There's beach lettuce." With relish now he looks up: "You can make fishhooks from the branches of these casuarina trees." He looks down: "The islanders make string from the fiber on those washed-up coconut husks, and you could use those hermit crabs for bait." He moves on to consider rain-catchment systems, having heard enough of great Americans.
Another day in the Solomons we play in and around the expanses of double-reefed Marovo Lagoon, and I try two optional tours. The first, a visit to a remote village, feels too staged—too worldly, in fact. The afternoon tour is more relaxed: going fishing with an islander.
I had pictured a dugout rather than a fiberglass skiff with a forty-horse motor. I tell my man Robert that I want to fish like the locals fish, so instead of a rod and reel he shows me three outfits — a wooden stick with the fish line and hook wrapped around it, a stub of PVC pipe with a similar drop line, and (my ultimate choice) an empty can of cockroach insecticide, rigged and ready for big game.
We angle out through the open sea for twenty minutes. Then he shouts, "There are tuna!" and points to a swarm in the water like pelting rain. "Prepare your line, Tom!"
A young guy, he likes to call out my name. "Pull it, Tom!" "Good, Tom!" "Pull it in, Tom!" We troll for an hour or so, talking about our dreams and bad habits.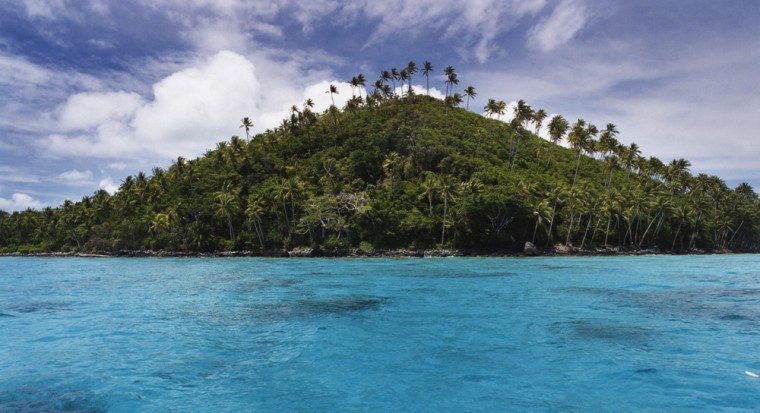 Last stop for adventure? Let's climb an active volcano.
We're back in Papua New Guinea, at the out-island port of Rabaul, which is encircled by six volcanic cones. In its colonial heyday, Rabaul was a gem of the South Pacific. Then in 1994, two of the cones blew at once and buried the city under several feet of ash. One volcano, Tuvurvur, is still steaming. That's the one we'll try to climb.
Twelve of us set out in a van through a wasteland of grayish-black ash grown over with sugarcane. At a village overrun with naked children, we crawl into outriggered dugouts and paddle (without our life vests, for once) across a wide inlet toward Tuvurvur, which looks more forbidding the closer we get. Wisps of steam vent from the crater and, eerily, leak out the sides. The dark slopes are streaked white and yellow with sulfur deposits. We land on a rocky shore and start trudging.
It's tough going, scrambling over loose boulders — especially in a pair of open-toed sandals. Half of the party drops out right away. We try to avoid stepping where steam is hissing out, white-hot, between the rocks. The drill is: If you smell rubber burning, move your foot fast.
I catch up with the guide: Bruce Alexander, an Aussie who moved here in 1992, owns the Hamamas Hotel, and has gotten into politics. He says Tuvurvur stopped spewing ash and rocks four months ago but could start again at any time. We struggle down a rocky ravine and steeply up the other side. Bruce points to a crest a hundred feet above: "What we do is head straight up there, which is probably the hardest part, and then we get on a ridge and we get this nice wind." Once on the ridge, however, we see that it's merely the prelude to a vastly longer ridgeline which knifes up agonizingly, at a forty-five-degree angle, to the sky.
Eventually, only two of us are left climbing, and it's a recreational hell. The rocks are of lightweight pumice and give way underfoot, so half of each step is lost to the backslide. At midday under an equatorial sun, the rocks are too toasty for steadying myself with my hands. I manage twenty steps and then have to stop, heaving for breath, my eyes burning, the air stinking of sulfur.
My new Aussie friend Terry summits first, to find a brown-skinned teenager already there, one of Bruce's workers. Then I make it, and we lie down to peer over the lip into the crater. It's a dizzying view into a rounded cauldron marbled with gassy yellows and slime greens.
I hear the teenager, Blue, reminding his boss about the time they rolled a tire down Tuvurvur into the sea.
I'm baffled: "Who'd want to drag a tire way up here?"
"See," Bruce tries to explain, nodding toward Blue, "these fellas, they're called mungies. M-u-n-g-i-e-s. And they're all my mungies. So I bloody just tell 'em!"
We perch on Tuvurvur's rim, gazing dumbly down upon the sea and the buried city. The vista is timeless and so, it seems, is the dialogue. That spirit of King Cameron, of the taim bilong masta, lives on. Still, all I can think of right now is how lucky we are — we paying customers, we dim-dims — to be sitting here on top of a volcano in a land that the world has left behind. How lucky all of us are: to have cruised so far from the planet we call home.
I hotfoot it safely down the volcano, return to the ship for one last lunch, and burn my fingers on a hot dog.