Is it the coffee? Or too many outlets? Or are cash-strapped latte drinkers simply having second thoughts about shelling out $4 for a caffeine fix that they can get from a fast-food chain for a lot less?
Those are some of the questions facing Starbucks Chairman Howard Schultz as he returns to his old job as CEO to try to revive a company whose phenomenal growth and customer focus once made it the darling of investors, business school professors and consumers looking for a little bit of luxury from their daily coffee routine.
Buffeted by higher costs, rapid store expansion, improved offerings at fast food competitors like McDonald's, and pressure on consumers' wallets from higher energy prices and the slump in housing, the Seattle-based company that refined coffee drinkers' morning ritual has seen traffic to its stores slip — as its stock price has been cut nearly in half over the past year.
From its earliest days as a local coffee bar to its current status as a global purveyor of gourmet coffee, Schultz has been the "visionary behind the customer experience that is at the heart of this remarkable company's success," as the company's board put it in announcing his return.
Started in 1971 as a single Starbucks Coffee, Tea, and Spice store in Seattle's Pike Place Market, the company has become a global brand that has grown to more than 15,000 stores.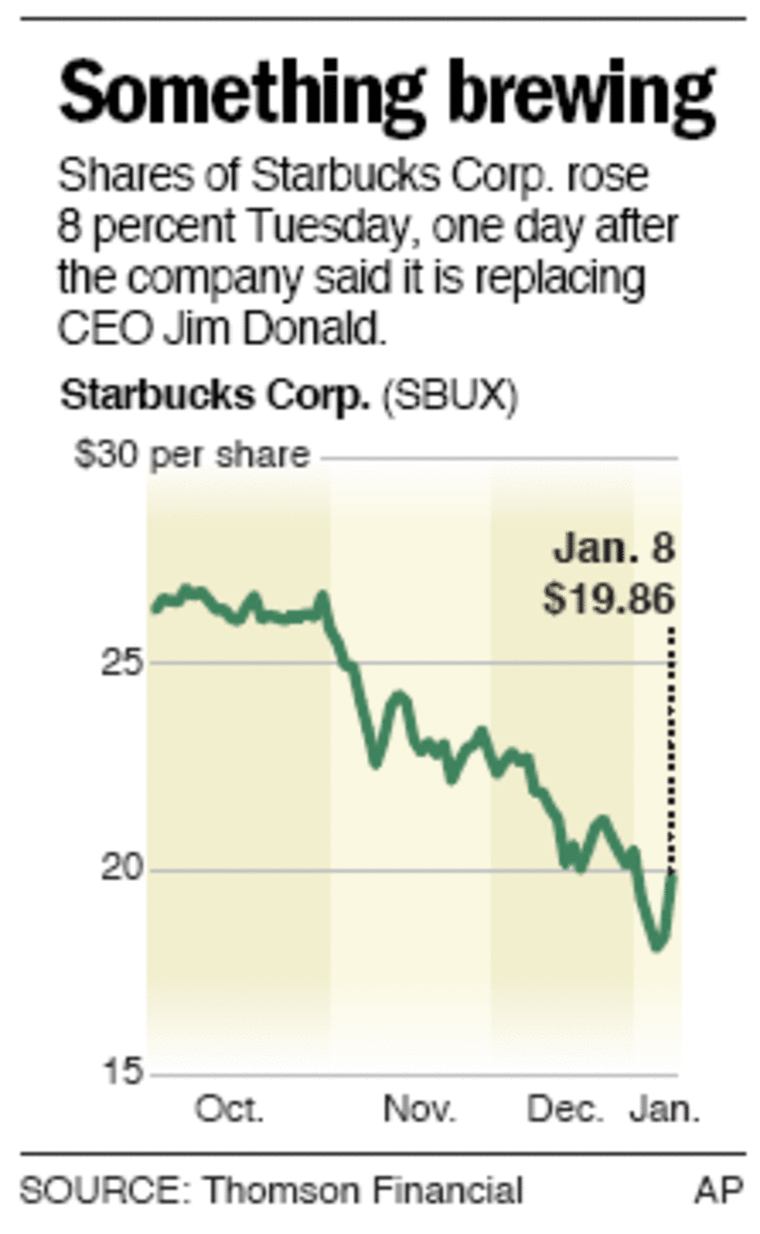 Although Schultz sometimes if viewed as a founder, he actually joined as head of marketing in 1982 and ultimately took over the company from its original owners. His first tour as CEO began in 1987, during which he took the company public in 1992 in one of that year's most successful IPOs. By 2000, when Schultz stepped down as CEO but retained the title of chairman, the company had opened some 3,500 stores — from New Zealand to Dubai.
Analysts say the company's rapid expansion — which included outlets in Barnes and Nobles bookstores, product distribution in supermarkets and its own record label — has watered down growth in overall traffic. Now, with gasoline prices rising, house prices falling, and the economy slowing down rapidly, some believe that consumers may think twice before shelling out $4.15 for a grande skinny cinnamon dolce latte.
"Our concern is that pricing power has eroded along with a weak U.S. consumer and increased competition," RBC Capital Markets analyst Larry Miller said in a note to clients last month.
That competition is expected to heat up this year, with fast-food giant McDonalds planning to install espresso bars in many of its 14,000 outlets. The company says it expects to generate $1 billion in annual sales of its new coffee offerings. Last year, McDonald's coffee beat Starbucks in a Consumer Reports taste test.
"We'd expect competition to get much worse before it gets better," CIBC World Markets analyst John Glass, referring to Starbucks' prospects.
Price increases, including one over the summer, have hurt more than Starbucks customers. Analysts say higher coffee and milk prices also have been cutting into profits.
But it remains to be seen precisely how Schultz plans to revive the company's traffic growth and fend off competition. In a letter to employees posted on the company's Web site, Schultz says he plans to slow U.S. growth, close underperforming stores and focus more on international growth. Starbucks' management is scheduled to unveil more details of its plans in a conference call with Wall Street analysts at the end of the month.
Schultz says Starbucks is looking to reconnect with consumers who may be defecting to cheaper alternatives and focusing less on launching new stores. That means "reigniting our emotional attachment with our customers," according to Schultz's memo.
Investors were pleased to hear that Schultz is coming back — if for no other reason than it confirms the company's recognition that the business is broken. Starbucks stock jumped more than 10 percent on the news of his reinstatement as CEO.
Schultz' return follows the path of other CEOs who jumped back into their old jobs to revive growth that falters after their departure, including Michael Dell, Charles Schwab, and Steve Jobs. But observers say that, after an eight-year hiatus, Schultz will have his hands full getting Starbucks' day-to-day operations back on track.
"We romanticize the role of the founder," said Jeffrey Sonnenfeld, a professor at the Yale School of Management. "Sometimes they can pull it off."