/ Source: The Associated Press
A former Marine testified Tuesday that he thinks Afghans were killed needlessly by his special operations unit after its convoy was attacked by a car bomb.
"I really felt there were a lot of people who died who didn't need to," said Nathaniel Travers, a former intelligence sergeant who left the Marines last year. "They were just driving their cars."
But Travers, the first witness called at a rarely used administrative fact-finding proceeding that is investigating the conduct of two officers involved, later acknowledged he was unhappy in the Marine Corps and didn't think America should be fighting in Afghanistan.
"My sentiment started to grow more towards, 'What are we fighting this war for?'" Travers said.
The administrative Court of Inquiry, scheduled to last two weeks, will recommend whether the officers _ Maj. Fred C. Galvin, 38, commander of the 120-person special operations company, and Capt. Vincent J. Noble, 29, a platoon leader _ should be charged with a crime. That decision will be made by Lt. Gen. Samuel Helland, commander of U.S. Marine Forces Central Command.
Marines in the six-vehicle convoy opened fire March 4 along a crowded roadway in Afghanistan's Nangahar province after an explosives-rigged minivan crashed into their vehicles. One Marine was wounded in the blast; as many as 19 Afghan civilians were killed and 50 wounded by the subsequent gunfire. Attorneys for the two officers have said the death toll was lower.
Afghanistan's Independent Human Rights Commission concluded that the Marines fired indiscriminately at pedestrians and people in cars, buses and taxis at six locations along a 10-mile stretch of road. But an attorney for Galvin said Monday that testimony will show the shooting was justified.
"If you conclude that, then this court of inquiry is closed," said Lt. Col. Scott Jack.
Marines vs. Army
The case has been marked by disagreement between the Marines and the Army.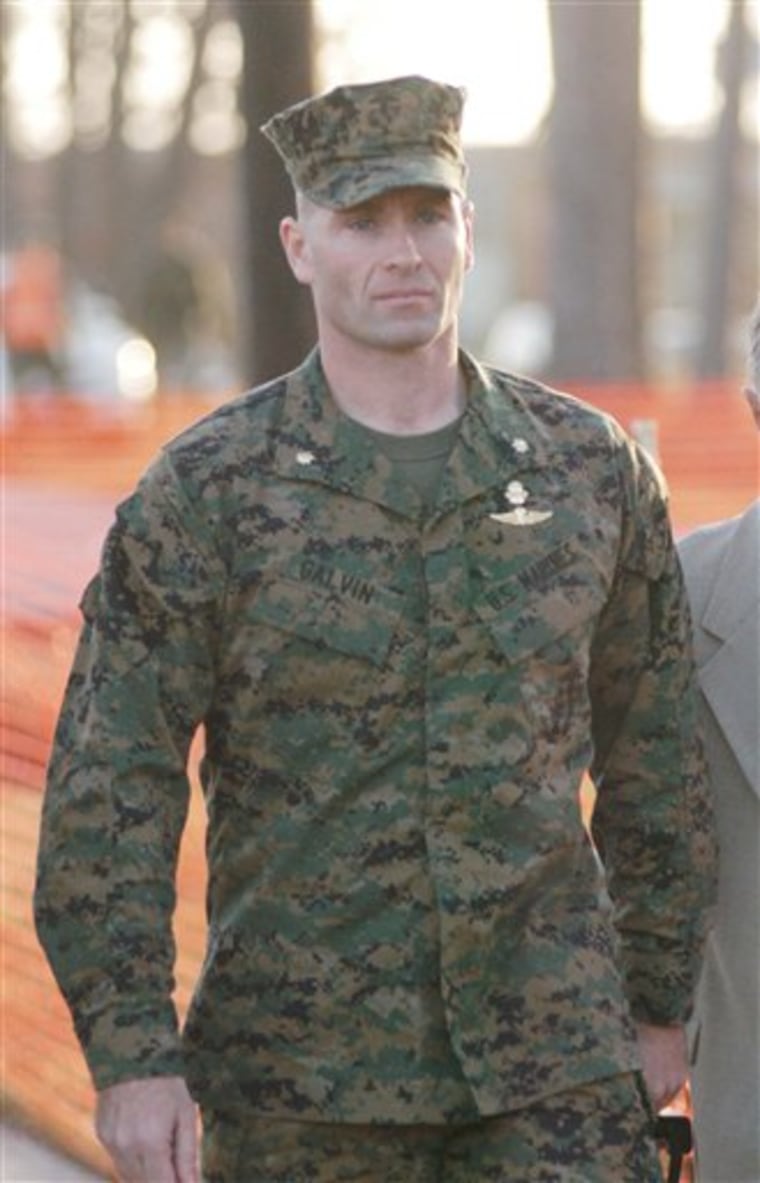 The unit was on its first deployment after the 2006 creation of the Marine Special Operations Command. After the shooting, Army Lt. Gen. Francis H. Kearney III, who led special operations forces in the Middle East at the time, ordered eight Marines back to Camp Lejeune and removed the rest of the company from Afghanistan.
Maj. Gen. Dennis J. Hejlik, the commander of the Marine Special Operations Command, later said that he disagreed with that decision and that the unit responded appropriately. Marine Corps commandant Gen. James T. Conway also criticized an apology issued by an Army brigade commander, calling it premature because an investigation remained under way.
Travers said the patrol from the unit's base at Jalalabad to the border of Pakistan and back was uneventful until the minivan detonated near the convoy's second Humvee. Marine Corps officials have previously said the minivan rammed the Humvee.
After the car bombing, Travers said, he heard gunfire and saw bodies in at least two vehicles as the convoy sped from the area. Some, but not all, of the gunners in the convoy began to return fire, Travers said. After a few minutes, he said, Noble issued a convoy-wide command to stop firing.
"It was a pretty quiet ride back," he said.
Witness didn't have full view
Travers, who now works for the Army Corps of Engineers, said that what appeared to be impact marks from small-arms fire were found on the Humvees after the unit returned to the base.
During questioning by Mark Waple, one of Galvin's attorneys, Travers said he was in the rear seat of the Humvee and acknowledged he didn't see everything. Asked about photographs provided by a civilian witness that show a group of armed men in a nearby dry riverbed, Travers said he didn't see them.
It was unclear whether any Afghans will testify; a witness list has not been released.
The Marine Corps last used a Court of Inquiry more than 50 years ago, and this panel will examine the rules of engagement, fire discipline, reporting of the incident and the "command climate" of the company. The two officers named could eventually be charged with conspiracy to make a false official statement, making a false statement, failure to obey a lawful order and dereliction of duty.